Thanks to fairly competent smartphone cameras and easy-to-use editing apps, photography has become accessible for anyone who is even slightly interested in this hobby. Everyone wants to be the next star on social media with an #Instapic. The fact that photography is going mainstream is further corroborated by the sudden surge of photography pages on Facebook. Digital Single Reflex Cameras (DSLRs) are still the go-to option for many such budding photographers, and remain the weapon of choice for professionals. And deservedly so, because they are engineered to capture images with great details thanks to the presence of bigger sensors. For the camera industry, which was reeling after smartphones all but replaced point and shoot cameras, the DSLR and a growing interest in photography have been a cause for relief.
Now though, the dominance of the DSLR might be coming under challenge - and this time the camera industry is disrupting itself. Today, if you are an amateur and on the lookout for a professional camera to satisfy your urge to shoot high quality images, you don't need a DSLR. Mirrorless Interchangeable Lens Cameras (MILC) give amateurs the tools they need to take high quality photos, with a great degree of versatility. And when you consider the number of benefits that mirrorless cameras have over regular DSLRs, you know that that it is time to start taking these cameras seriously.
Before understanding the reasons to choose a mirrorless camera, it is important to know the difference between a mirrorless camera and a DSLR. A DSLR is constructed in such a way that light travels through the lens, and then hits a mirror. This mirror is placed in front of the image sensor, blocking it. Once the light hits the mirror, it is reflected upwards to a pentaprism, which flips the image so that you can view it the right way up on the viewfinder (look at the image below for reference). When you hit the shutter button, the mirror is lifted and the shutter is opened to let the light hit the sensor to create the image. That's why (if you are attentive enough) you will notice that the viewfinder gets blacked out very briefly when the image is exposed on the sensor.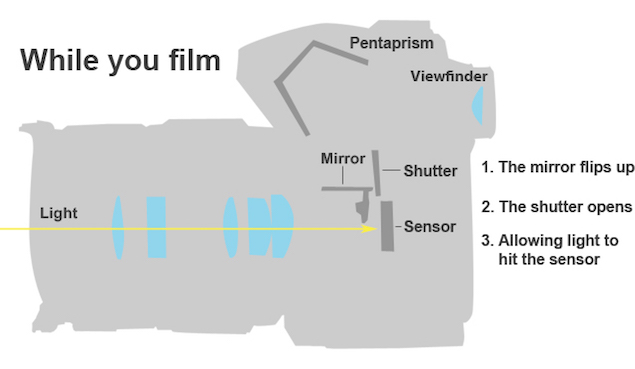 On the other hand, as the name suggests, a mirrorless camera doesn't have a mirror. As the light moves through the lens, the only obstacle is a shutter curtain, before it hits the image sensor. Even vanilla compact cameras and smartphones are mirrorless cameras. That's why the "interchangeable lens" part of the name is important too! This means that the same camera could be used for macro photography or telephoto wildlife shoots, if paired with the right lens. The other thing to note, as we mentioned before, is the sensor size - DSLRs often use full frame sensors. "Full frame" is nothing but the size of the sensor. Sensor size in a camera is very important, as it determines the quality of the image that can be captured.
(Also see: More than megapixels - what really counts in a smartphone camera)
Most mirrorless cameras use what is called a Micro Four-Thirds sensor, which is slightly smaller sensor than a full frame sensor; those are exactly equivalent to a 35mm film roll. Some mirrorless cameras also use an APS-C sensor, which is one of the most common sensors used by DSLRs. Therefore, there is no dearth of options in sensor sizes either. This means that you can take photos that could be printed out or even professionally published without worrying about the picture's resolution.
One of the coolest innovations in camera technology in the last decade is the five-axis image stabilisation (IS) system. This was one advantage that DSLRs had over mirrorless cameras. However, Sony recently introduced a sensor-shifting IS system for the first time in a full frame mirrorless camera - the recently launched Sony Alpha 7 II. Similar technology is also used by Olympus and it was first available in the OM-D EM-5 Mark I and subsequently in the newly introduced Mark II. Five-axis IS enables users to capture some incredibly steady videos, an area that even some really high-end DSLRs struggle with a little bit.

And there are plenty of advantages of to using mirrorless cameras. Since mirrorless cameras don't need a mirror, manufacturers can pull out every trick in the book to make them more compact than DSLRs. This makes lugging them around for a shoot an easier task. As a matter of fact, you might even be able to slip one into your trouser pockets. Moreover, even the lenses for these cameras are much smaller. Thus, a camera bag that can normally fit one DSLR camera with one kit lens will be able to squeeze in a mirrorless camera and two lenses. However, please note that not all mirrorless cameras are compact. You can find full-frame mirrorless cameras like the Sony Alpha 7R, that have the same bridge design that DSLRs and super-zoom cameras use.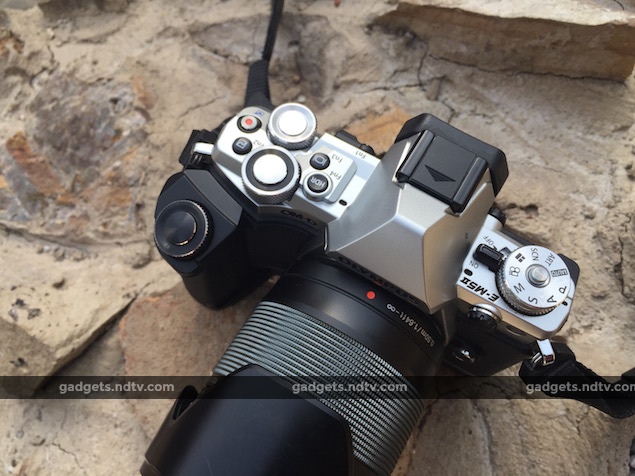 One of the problems with mirrorless cameras earlier was that they were consistently reliant on the inferior contrast-detection autofocus system but now even that is no more a problem because there are a lot of mirrorless camera options available in the market which can do phase-detection autofocus. The difference between these systems is that phase-detection has been traditionally used by DSLRs, is faster of the two, and provides much more information to the sensor than contrast-detection focus. Also, it is a well known fact that owing to mechanical moving parts inside DSLRs, they are generally noisier during operation in comparison to their mirrorless counterparts.
Frankly, the DSLR vs. MILC debate has now reached a point where DSLRs cannot really lay stake to the claim of being the best option for amateurs who're ready to move beyond their phones. Mirrorless cameras do have their shortcomings, in the form of lower number of lens options and a poor battery performance in general. Dedicated professionals would probably still prefer to stick to DSLRs, especially if they've already invested in lenses and other gear. These problems will be solved with time, and for the amateurs buying their first real camera, mirrorless cameras are the more attractive choice today. They are more compact, quieter, and more often than not, cheaper too.
Our current favourite mirrorless cameras are both fairly expensive; the Olympus OM-D EM-5 Mark II, especially for its video capabilities, and the Sony Alpha 7R. The former is available in India for Rs. 74,990 (body-only), and the Alpha 7R can be purchased for Rs.115,500 (body-only). But these are the more expensive options, and if you are looking at some budget solutions we'd suggest taking a look at Nikon's 1 series of cameras that use a 1-inch sensor. The Nikon 1 V1 is available for Rs. 19,999 (do note that the V1 doesn't include an EVF), while budget DSLRs like the Canon EOS 1200D will set you back by at least Rs. 25,000.
So, before making that decision to buy a professional camera weigh your options. Don't just pick up a DSLR camera because of peer pressure but make an informed decision; give mirrorless cameras a try.