If you've been falling short of content on that new 4K TV you purchased recently, have considered creating your own but been dismayed by the professional full-frame cameras out there, Sony is here to the rescue (again). At its pre-CES 2016 press conference in Las Vegas on Tuesday night, the Japanese company upgraded its existing entry-level 4K Handycam camcorder with the announcement of the FDR-AX53.
"4K continues to grow in popularity, reaching more households now than ever before. As 4K awareness grows and the benefits become clear, consumers are looking for new ways to create and enjoy their content in 4K UHD," said Jeff Hiatt, director of the video division at Sony Electronics. "Our new AX53 Handycam brings the wonders of professional quality 4K video to families and video enthusiasts looking to capture and preserve their memories in the highest possible quality."
The new Handycam video camera builds on last year's AX30 that was also announced at CES. It has better optical zoom - up from 10x to 20x - and it has added a 5-axis image stabilisation to the existing Balanced Optical SteadyShot, Sony's trademark system. The company claims the latter will "ensure movie footage is smooth and free of jitters or shake in even the most unstable of conditions".
But the biggest upgrades are to the lens and microphone. First, the AX53 has a new image sensor with pixels that are 1.6 times of the existing model. And the newer iteration also promises roughly 40 percent faster autofocus along with an enhanced microphone that brings about audio from five different directions and manages around 40 percent less noise.
The entry-level camcorder should also appeal to slightly more professional videographers. Not only is it capable of full-HD 120fps high-speed capture and 4K time-lapse imagery, Sony has fitted the AX53 with customisable manual buttons and a high-bit rate of 100Mbps for 4K content.
In case you have a non-4K compatible TV, fret not. Upon being connected via HDMI, the new Handycam can either display a down-sampled full-HD version or allows you to select a portion of the entire 4K frame you shot for display on your high-definition screen.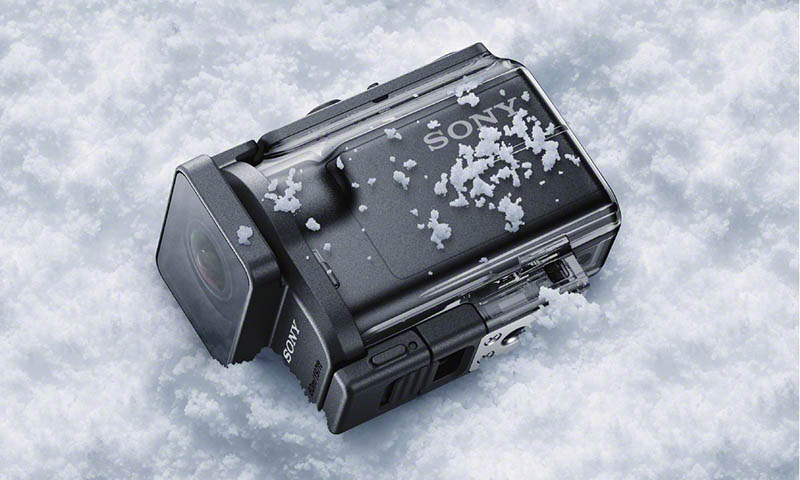 Sony also continues to fight GoPro in the small camera adventure photography category, with the announcement of the HDR-AS50 alongside other launches in the camera department. The new Action Cam is promising full-HD 60fps video and 4K stills for all your time-lapse needs, and unlike the GoPro ships with an underwater housing that helps it survive the cold, dust, water and shocks.
The new 4K Handycam FDR-AX53 will be available starting March in the US for about $1,000 (approximately Rs. 67,000), and the Action Cam HDR-AS50 for less than $200 (approximately Rs. 13,500). In India, the older models retail around Rs. 90,000 and Rs. 20,000 respectively so expect the new ones to release on a similar price point.