It looks like a busy CP+ this year for
Canon
. The camera manufacturer will be going all guns blazing this time, where they will be launching a total of seven cameras across platforms. Of the cameras, three belong to the
PowerShot
family, three to the budget range ELPHs, and one from the Rebel EOS range.
In the EOS section, Canon is debuting its cheapest DSLR, the Canon EOS 1200D (also known as EOS Rebel T5). Featuring an 18-megapixel APS-C CMOS sensor, a DIGIC 4 processor, an ISO range of 100-12,800 and 1080p/30 fps video capture, it is the most affordable DSLR from their current crop. It will retail at $550 (roughly Rs. 34,162) with a 18-55mm f/3.5-5.6 kit lens. The cost of the body is $450 (roughly Rs. 27,951) and will go on sale in March.
The PowerShot models include the G1X Mark II, PowerShot SX700 (compact super zoom) (see below) and the PowerShot D30 (waterproof). The G1X Mark II features a 12.8-megapixel CMOS sensor, a 24-120mm f/2-3.9 zoom lens, a DIGIC 6 processor, 1080p/60 fps MP4 video capture. Available from April, it will retail at $800 (roughly Rs. 49,703). The PowerShot SX 700 has a 16.1-megapixel CMOS sensor, DIGIC 6 processor and a f3.2-6.9, 25-750mm (30x) super zoom lens. It also shoots 1080/60fps video and has Wi-Fi and NFC on board. It will retail in March for $350 (roughly Rs. 21,743) in black and red colours. The PowerShot D30 is a waterproof camera with a 12.1-megapixel CMOS sensor, a DIGIC 5 processor, and shoots 1080/30fps video. It has a 5x zoom 28-140mm lens and can shoot underwater up to 82 feet. In addition it also has GPS. It will retail for $330 (roughly Rs. 20,502) from mid-April onwards.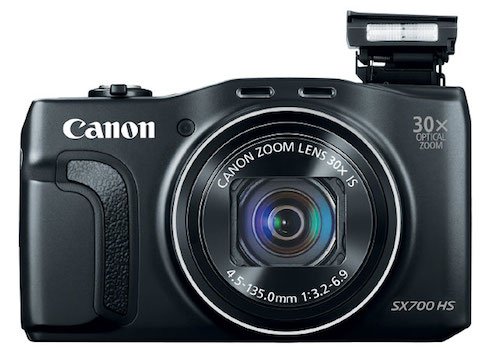 The budget cameras launched from the ELPHs line (PowerShot budget cameras) include the ELPH 150 IS (see below), ELPH 140 IS and ELPH 135. The three cameras are priced at $ 150 (roughly Rs. 9,317), $130 (roughly Rs. 8076) and $120 (roughly Rs. 7,455) respectively. The ELPH 140 IS and the ELPH 135 feature a 16-megapixel CCD sensor, while the ELPH 150 IS has a 20-megapixel CCD sensor. All three have DIGIC 4+ processors, and shoot video at 720fps. The ELPH 150 IS has a 10x zoom, while the other two have 8x zoom. The cameras will ship later in February.