Xiaomi is a smartphone manufacturer first and foremost, but that hasn't stopped the company from exploring other avenues and developing a portfolio of accessories. Today, you can also buy Xiaomi fitness trackers, power banks, headphones, USB-powered LED lights and fans, and even Bluetooth speakers.
Speaking of which, today we're reviewing the Rs. 1,999 Xiaomi Mi Bluetooth Speaker. This small package offers users all the benefits of wireless personal audio at an affordable price, and has all the ingredients of a segment disrupter. Find out if the Mi Bluetooth Speaker lives up to expectations in our review.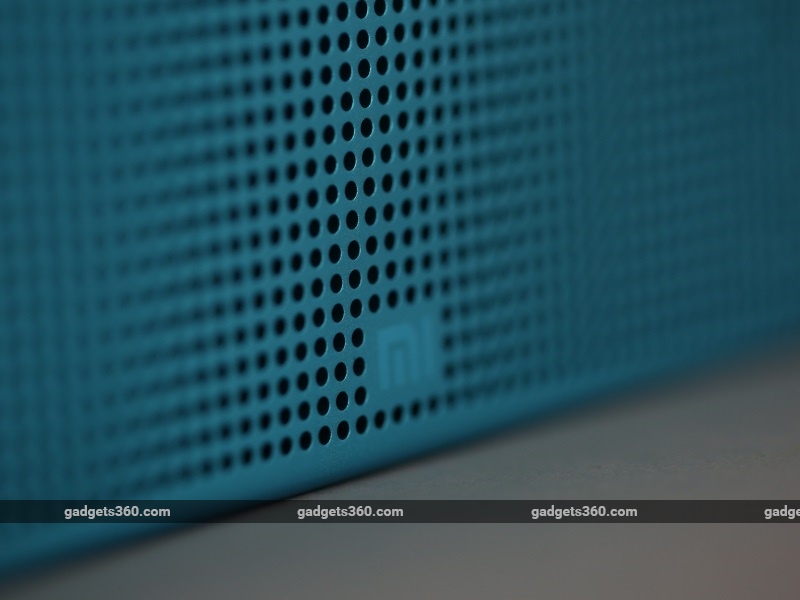 Design and specifications
The Xiaomi Mi Bluetooth Speaker comes in a small package, about the size of a typical student's pencil box. It's also short on basic accessories - the box includes only a pouch and the speaker itself; not even a USB charging cable. The low price of the speaker makes this acceptable to some extent, and since it uses a standard Micro-USB port for charging, you'll likely already have a cable and charger lying around or will be able to buy one easily and affordably.
The speaker itself is compact and quite attractive. With an entirely metal casing, the Mi Bluetooth Speaker looks great and feels solid and well-built. It's small size and sleek profile also make it easy to handle. The front grille has an interesting dotted pattern. It's currently available in two colour options: gold and blue. Both of these look great, but we prefer the more eye-catching blue option. At 270g, it isn't light by any means, but it isn't too heavy to carry around either. The bottom of the speaker has two small rubber feet for grip, which also help in absorbing some reverberation.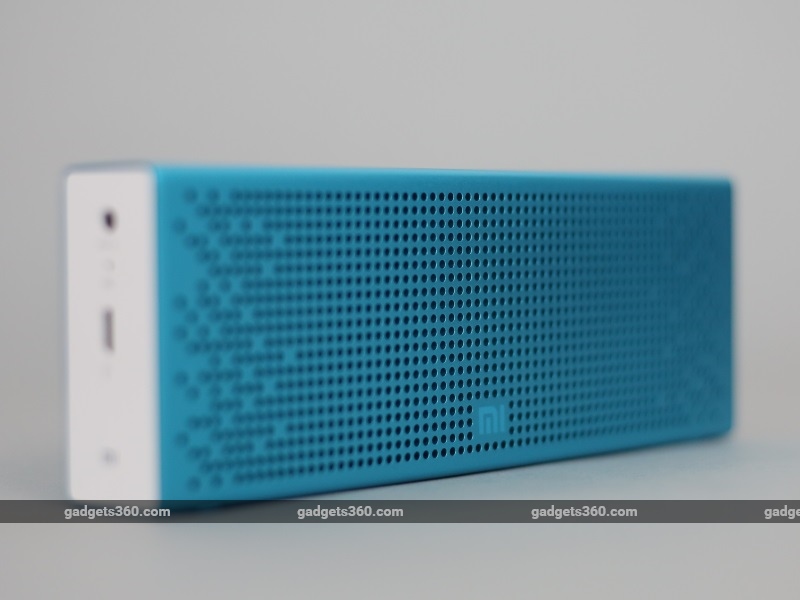 The speaker has two 36mm drivers, with an output of 3W per channel. It supports Bluetooth 4.0 for wireless connectivity, and has a frequency response range of 85-20,000Hz. Pairing was quick and flawless with our devices. The sound is very different depending on what audio transmission mode you use. Bluetooth tended to deliver an equal sound from both channels, while using a stereo cable divided the lows and highs between the two drivers.
There's also a microphone on board so you can use the Mi Bluetooth Speaker as a hands-free device for calling. The speaker has a 1500mAh internal battery, which powered it for about 5-6 hours of continuous playback during our test run. The left side of the speaker has the aux-in socket, Micro-USB port and microphone, while the right has the power, volume up/next, volume down/ previous and pairing/ battery level buttons.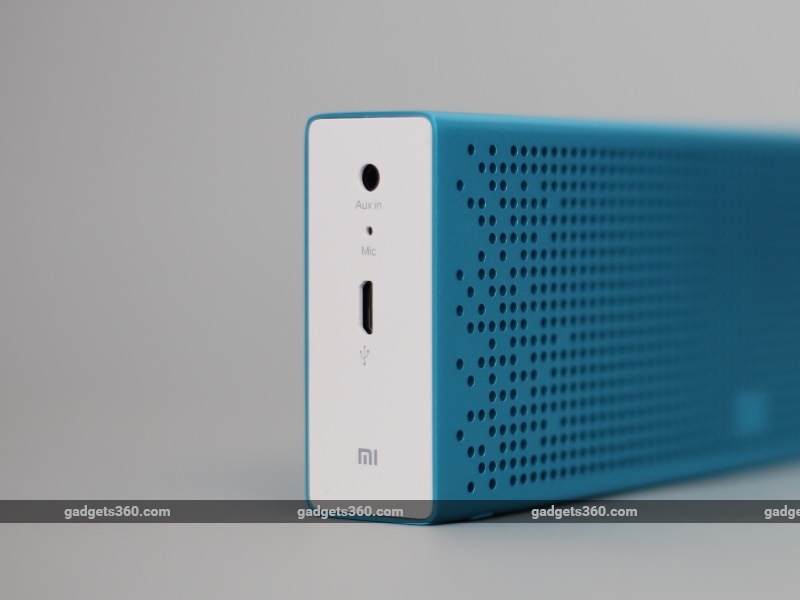 Performance
We tested the Xiaomi Mi Bluetooth Speaker using Android smartphones as source devices, through both Bluetooth and a 3.5mm stereo cable. Focus tracks for the review were Protoculture's Music Is Forever, Bonobo's Ten Tigers, and Mountains from the Interstellar soundtrack. We also used it while playing games and watching videos on YouTube.
We started out with Music Is Forever, a psy-trance track that picks up quickly and drives itself along nicely. We heard some excellent low-end drive, with clear, distinct and strong bass thump. The sub-bass frequencies resonate deeply, and this continues all the way up to the mid-range. The strong drive also tends to cause the speaker to vibrate heavily, which actually made it tip over on a couple of occasions.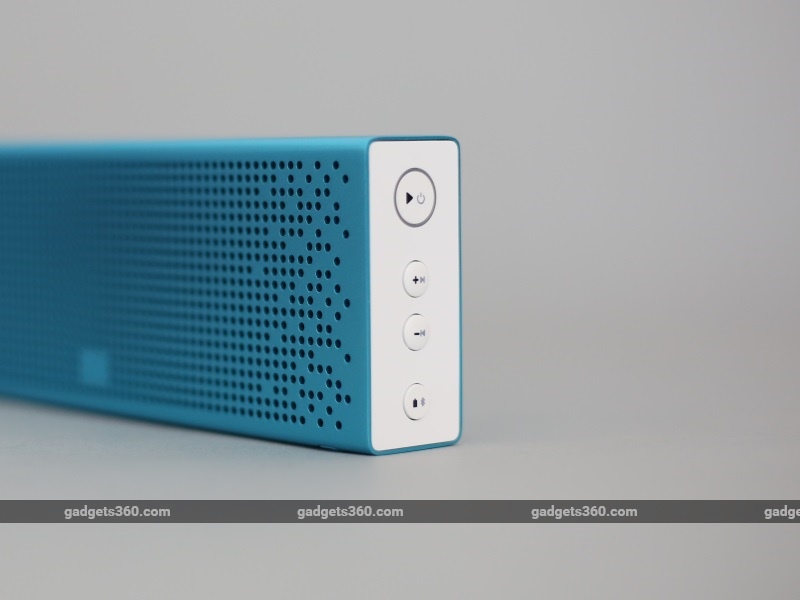 With Ten Tigers, we found that sound is clean through the frequency range, particularly in the lows and mids. Highs are a bit weak, particularly in the responses, but this seems to be more of an effect of the overpowering lows rather than a weakness in the high-end itself. Mids come through cleanly, and on the whole it's a pleasing sound for a speaker that costs just Rs. 1,999.
Moving on to the haunting Mountains, the sound starts a bit soft, bit really picks up and resonates strongly as the track progresses. The soundstage is excellent, thanks to the two distinct drivers, which create a fair amount of width. However, this also highlighted the fact that the Mi Bluetooth Speaker does not quite have the power needed to fill a room. While the sound is lively and attacking as such, it's ideal only for those listening in close proximity.
You'll find a bit more width to the sound when connecting via Bluetooth, but audio transmission using a stereo cable will give you improved imaging and separation. There are no other major differences between the two, and overall quality remains fairly uniform across audio modes and file types.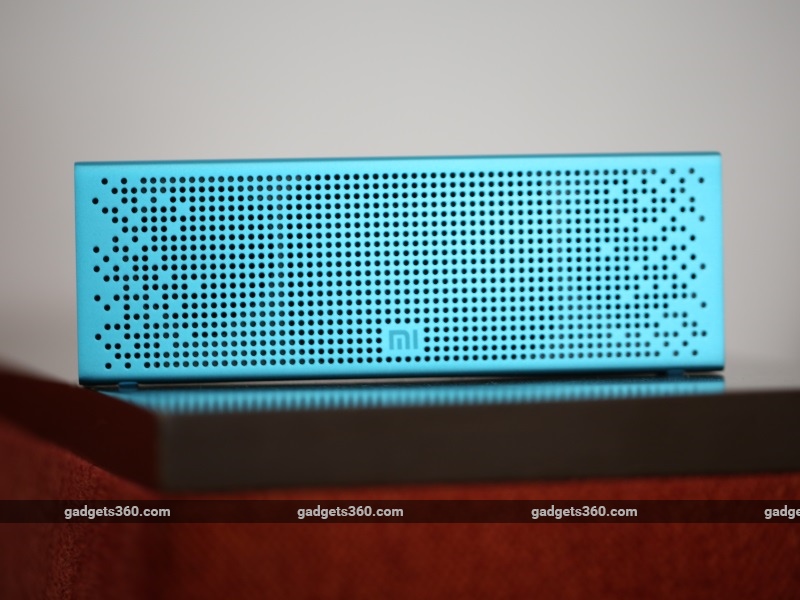 Verdict
Good Bluetooth speakers at under Rs. 5,000 are a rare find, so the Rs. 1,999 Xiaomi Mi Bluetooth Speaker stands out as one of the better affordable wireless options. The sound is immensely satisfying for the price, and you'll find it particularly enjoyable if you listen to bass-heavy music such as electronica and rock. Although the highs come across as weak, the lows and mids are capable enough to make for a decent sound.
The Mi is built well, looks good and is easy to use. The heavy reverberations are a bit of a problem for stability though, but this shouldn't bother anyone too much. However, it's important to note that this is not a very powerful speaker, and if you're looking for something that can go louder to fill up your listening space, you will have to up your budget. For Rs. 1,999 though, the Mi Bluetooth Speaker provides plenty of form and function, as well as an entertaining personal sound.
Price (MRP): 1,999
Pros
Solid build, good looks
Pairing is quick and simple
Punchy, bass-oriented sound
Wide soundstage
Cons
Weak highs
Reverberates a lot
Not powerful enough for a room-filling sound
Ratings (Out of 5)
Design: 4
Performance: 3.5
Value for money: 5
Overall: 4