A quiet success story from India, Portronics was established in 2008 and has grown and captured a significant share of the electronics accessories market in short time. A quick look at popular online marketplaces and at major electronics markets will reveal at least a couple of Portronics products in the top-sellers lists of several major categories.
The company is particularly visible in the affordable Bluetooth speaker space, and its products are priced competitively. One of these popular products is the Portronics Posh. Priced at Rs. 1,583, the Posh offers a lot in a small package. Read our review to find out if the Portronics Posh is worth more than its low price.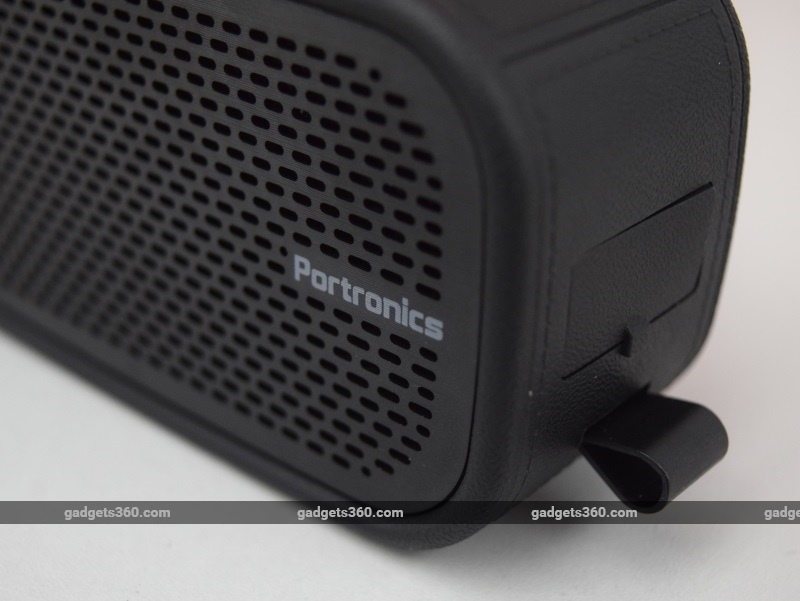 Design and specifications
The Portronics Posh Bluetooth speaker is small, with a convenient shape and size that makes it easy to toss into a bag and take with you wherever you go. There's a total of 6W of power, coming from two 3W front-firing speakers. All that power causes the small Posh to shake heavily. Unlike other options in this price range, the bottom has no grip pads, and this causes the speaker to move around quite a bit while music is playing. On some occasions, it managed to shake itself off the edge of the table it was on.
The front and back both have identical grilles, while the rest of the Posh has a leather-like look and texture that is actually plastic. The top of the speaker has the controls, while the right side has a flap which hides the Micro-USB port and 3.5mm socket when closed. There are dedicated buttons for power, play/ pause and Bluetooth pairing/ phone answer, while the next and previous track buttons double up as volume controls when long-pressed. Pairing is quick, and there's also a microphone on the top to enable use of the speaker as a hands-free device. There are four LED indicators for the battery level as well.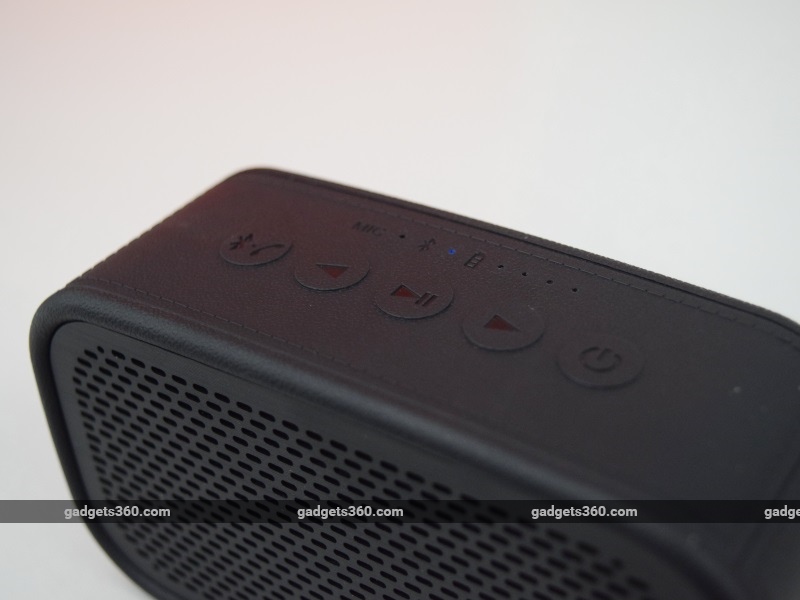 The device is IPX4 water resistant, which means it can safely handle a few splashes or drops of water, but can't really be dunked in swimming pool or washed under a tap. Battery life is rated at 6 hours, but the Poshrealistically lasts for about 4-5 hours on a full charge, which is a bit on the low side. Auxiliary and USB cables are included in the box, but there's no power adapter. The speaker can also be used as a USB audio device when connected to a PC.
Performance
We used the Portronics Posh with a OnePlus 3 (Review) both wirelessly over Bluetooth as well as using a stereo cable. Focus tracks for the review were Shur-I-Kan's Conundrum, Zomboy's Nuclear, and Gotye's State Of The Art.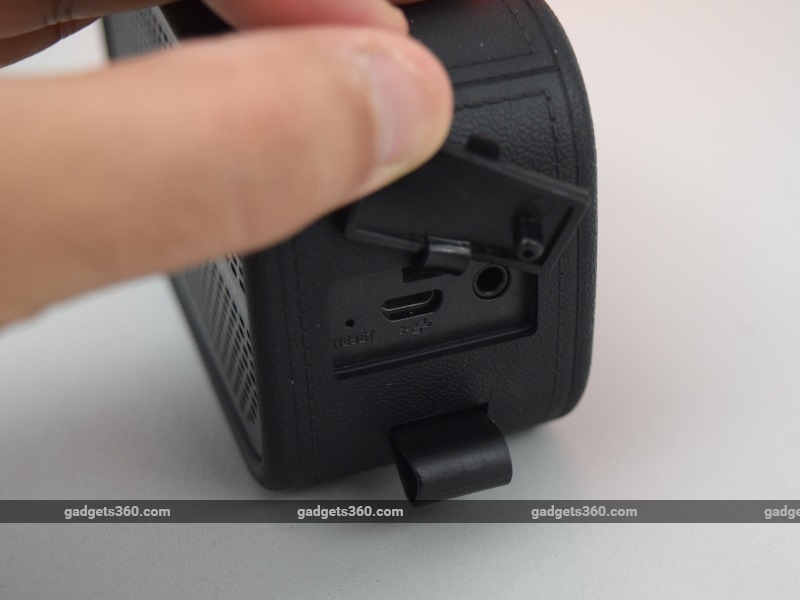 Starting with Conundrum, the Portronics Posh pushes out a loud, aggressive sound with thumping bass that at no point feels overbearing of overpowering of the rest of the range, which could be particularly well heard during the starting beat of the track. The sound is surprisingly good for such an affordable Bluetooth speaker. The two speaker drivers succeed in creating a sound that is wide, targeted and more than enough to fill up a small room, despite the small size of the Posh. Highs and mids are as capable as the low-end, and this makes for a clean, well-driven experience.
With Nuclear, as soon as the heavy bass elements of the dubstep track kicked in, we noticed that the lowest end of the frequency range suffers a bit, in typical fashion for a Bluetooth speaker. Sub-bass frequencies are just a hint unrealistic, but lower-mids are a fair bit better. The sound is a lot like that of the Xiaomi Mi Bluetooth Speaker, despite its smaller size and slightly lower price. The Bluetooth connection occasionally faltered and lagged while listening, although this didn't happen often enough to really bother us.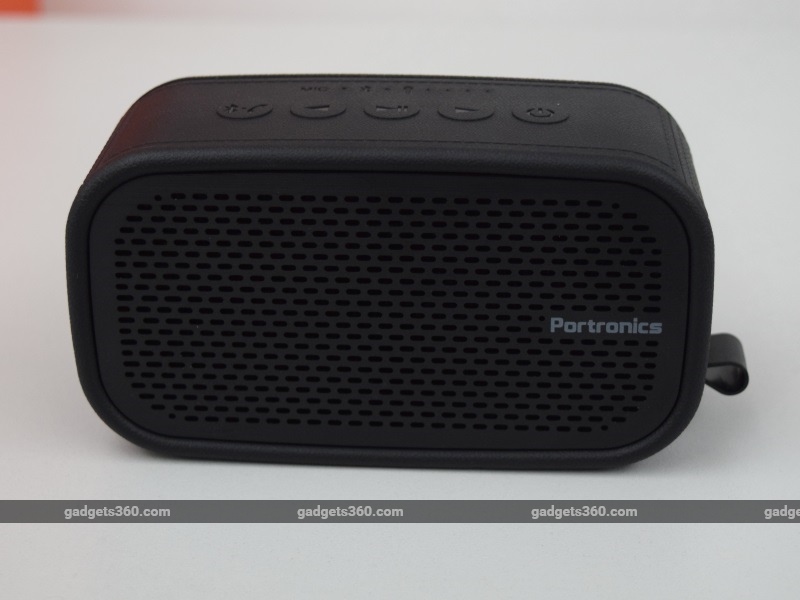 Finally, with State Of The Art, we noticed plenty of aggression and excitement, which again is noteworthy considering the low price of the Portronics Posh. The vocals sound alright, but are occasionally subdued by the highs and lows, and there's definitely a hint of excessive sparkle at the top end. Imaging is as good as it gets at this price, and the sound is wide and open. There are also some very slight issues with sibilance, but this is only audible at the highest volumes. On the whole, the Portronics Posh pumps out a lot of sound despite the small package.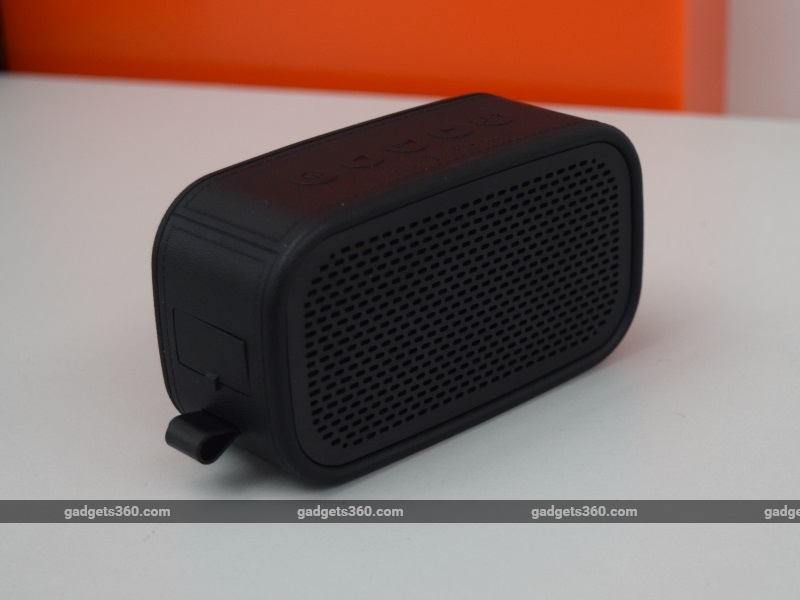 Verdict
At roughly Rs. 1,590, the Portronics Posh is absolutely fantastic. It gives speakers which are a lot of more expensive a run for their money, and manages to do so despite its small size. It isn't perfect, with some issues in the handling of vocals and sibilance, and while it's generally well-built, there areminor design flaws such as a lack of grip which causes the speaker to shake heavily and move around from its spot. There's also no in-built SD card or USB media player, which some users might miss.
However, despite all of this, you're unlikely to find a more exciting speaker for this price, and the Portronics Posh represents tremendous value for money. It's loud, powerful and excellent for anyone looking for an affordable wireless speaker.
Price (roughly): Rs. 1,590
Available at: Amazon, Flipkart, and others.
Pros
Compact size
Two full-range drivers
Great sound through the range
Extremely powerful and loud
Supports USB audio through a PC
Cons
Shakes a lot
No in-built media player
Sub-par battery life

Ratings (Out of 5)
Design: 4.5
Performance: 4
Value for money: 4
Overall: 4
Affiliate links may be automatically generated - see our ethics statement for details.