LG isn't a company that you would usually think of when you're planning to buy a Bluetooth speaker, but the Korean electronics giant does have a small range of wireless audio products out in the market. Although there are plenty of options available from numerous brands, the big-name brands usually stand out because of the promise of better quality.
Today, we're reviewing one such product from LG, the PH1 wireless speaker. Priced at Rs. 4,490, the PH1 is a small, basic wireless speaker, but it looks good and has one interesting party trick in the form of its lighting effects. But does it live up to the expectations of the brand name when it comes to sound? Find out in our review.
Design and specifications
The LG PH1 is small enough to fit on your palm and is fairly easy to keep in your bag and take with you wherever you go. Its round shape gives it a unique look, which is made even more striking by the fact that the middle of the speaker is see-through clear plastic. The single driver is top-firing, and a passage runs down the middle of the device leading to air vents at the bottom.
The bottom of the speaker has a rubberised padding that keeps its steady and in place on a tabletop. This is particularly useful when you have the volume raised, since it keeps the speaker from shaking too much and moving around, as was the case with the Portronics Posh. There are physical buttons for answering calls, play/ pause, power, and volume, as well as a microphone, near the base. There's also a button to control the light effects, and indicators for battery level and Bluetooth connection status. The microphone isn't particularly good, and although this speaker can be used for calls, we found it to be inadequate for this purpose.
One of the key features of the LG PH1 is its lighting effect system, which is the primary reason why it has a clear body. Four LEDs power a ring that surrounds the speaker tube, and can be set to either change colour, pulsate in white, or stay switched off. This makes for some interesting effects that are somewhat similar to the JBL Pulse. Battery life for the speaker is about 4-5 hours when just listening to music, but will obviously be a bit less if you also use the lights often.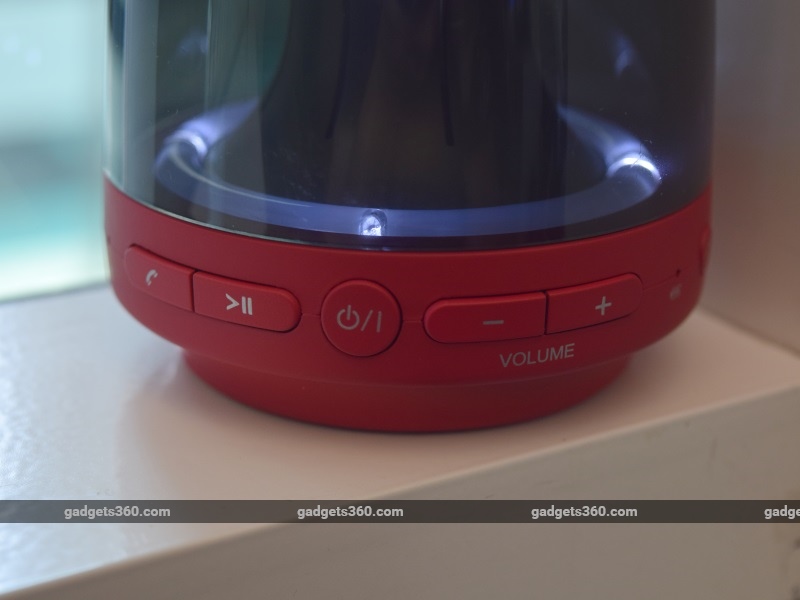 Performance
We tested the LG PH1 using a OnePlus 3 (Review) paired over Bluetooth, and also played music using an auxiliary stereo cable. Focus tracks for the review were Coldplay's Hymn For The Weekend, Paola and Chiara's Viva El Amor, and Croatia Squad's Just Be Good To Me.
Starting with Hymn For The Weekend, we found the PH1 to be fairly loud for a single-driver speaker. The top-firing design means that the soundstage is fairly wide, but lacks the targeting that you would ideally want from a small speaker meant for one person. Frequency response is decent in the mid-range and highs, but lows feel a bit weak and subdued. The track sounded just a bit lacking initially, but gained a bit of quality when the beat kicked in. Beyonce's vocals sounded powerful and rich, as did Chris Martin's.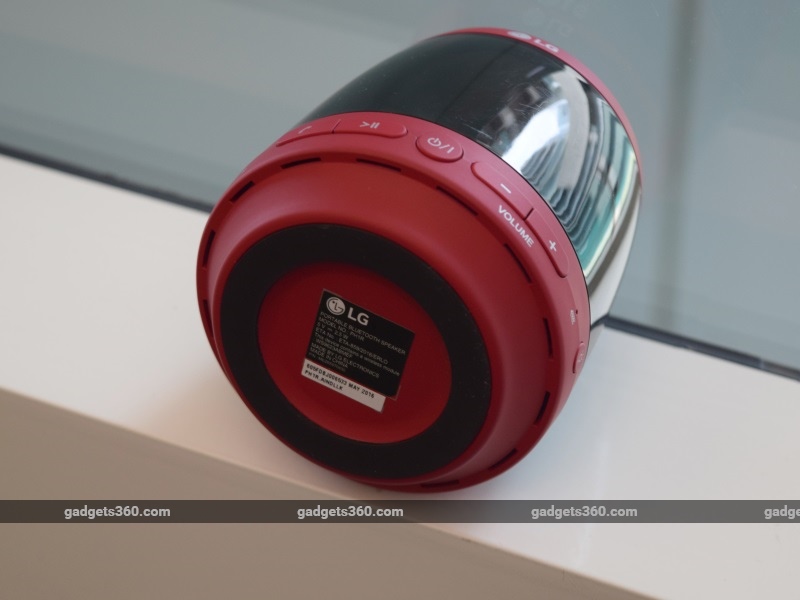 With Viva El Amor, we noticed that there is some attack in the bass, but this seems to be limited to the sub-bass, with a slight drop off in the mid-bass. The strong upper mid-range and highs also caused some issues with sibilance, particularly in the female vocals throughout the track. There isn't much detail or sonic separation, but the sound is not too poor either.
Finally, we listened to Just Be Good To Me, we detected a lack of aggression and drive. It's a sonic signature that works, but only just about. Although there's very little wrong with it to point out, the lack of positives means that this speaker fails to excel in any significant way.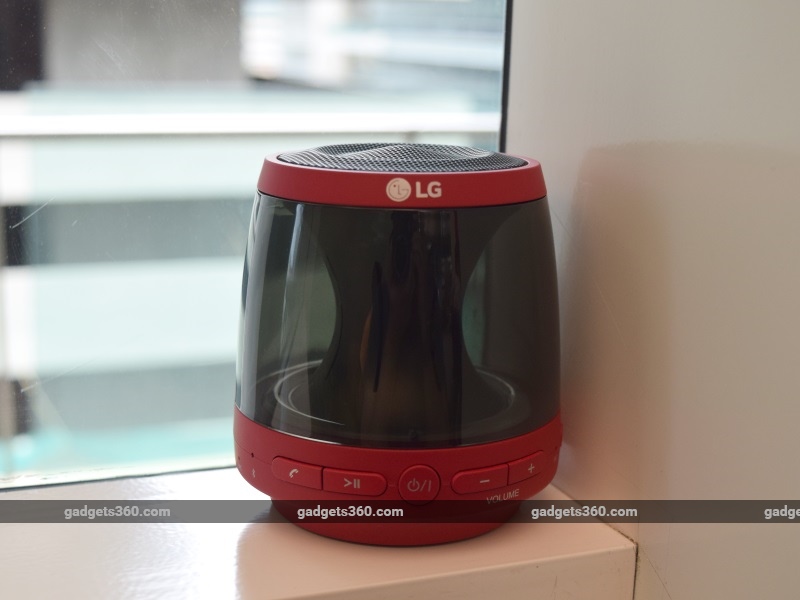 Verdict
The LG PH1 Bluetooth Speaker looks great, and features a light show that entertained us despite not actually being new in any way. It's also small, easy to carry and fairly loud for its size, making it suitable for a small room or for just a single listener. Additionally, the brand value that LG brings to the market will mean that there will be some buyers for the PH1.
However, at Rs. 4,490, we feel that the PH1 is a bit too expensive. It's possible to get comparable and even better-performing speakers such as the Xiaomi Mi Bluetooth Speaker and Portronics Posh for much less. The LG PH1 is fairly average when it comes to performance, but is worth buying if you like its looks and LED light effects.
Price (MRP): Rs. 4,490
Pros
Small and good-looking
LED lighting system
Loud for its size
Decent mids and highs
Cons
A bit expensive
Average lows and bass
Weak battery life

Ratings (Out of 5)
Design: 4
Performance: 2.5
Value for money: 3
Overall: 3