The most common way to improve your audio set up at home is to invest in a home theatre system, but that comes with its own problems. If wiring and placement for five speakers and a subwoofer are too inconvenient for you, it makes sense to consider buying a soundbar. These convenient speaker packages offer you cinematic sound without the typical headaches attached to full-fledged home theatre systems.
(Also see: Tech 101: Everything You Need to Know Before Buying a Soundbar)
Today, we have the JBL Cinema SB250 to review. Although its price is officially listed as Rs. 32,000, the package is available for as little as Rs. 16,000 online and in retail stores. With a single two-channel speaker unit and a wireless subwoofer, it promises big sound from a relatively small package. Find out all about the JBL Cinema SB250 in our review.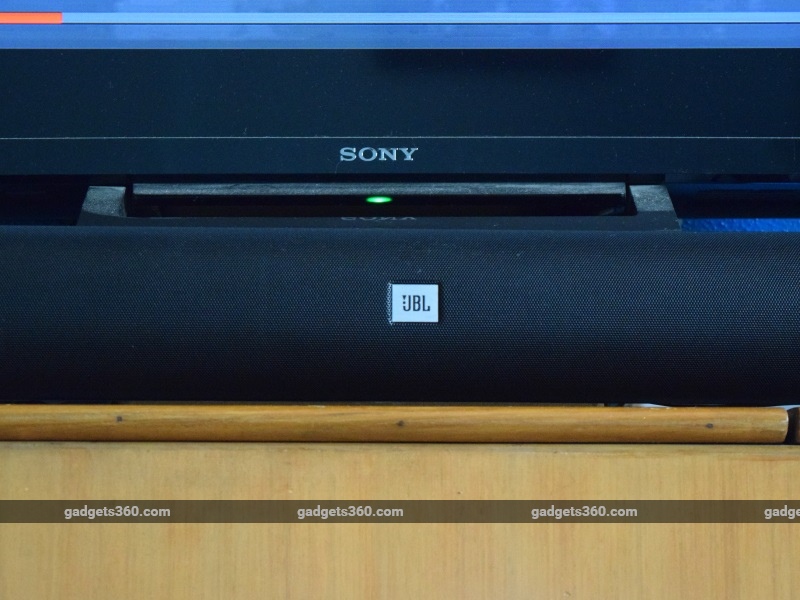 Design and specifications
The JBL Cinema SB250 comes in a misleadingly large box, and isn't as heavy as you would initially think. With just two major components, it's easy to set up yourself, and requires no major wiring. The main soundbar unit is about the width of a typical 32-inch LCD television, which is the ideal size of the TV you should be pairing the SB250 with. The system has a frequency response range of 45-20,000Hz, along with an in-built 200-Watt amplifier.
The speaker drivers are at the two ends of the soundbar unit, with its amplification circuitry located in the middle. The controls are on the top, but there's also an included remote to adjust various levels, change the audio source, and put the SB250 in or out of standby. The soundbar itself has two detachable feet, mounted at the two ends, to keep it steady on a stand. You will need a wide stand and space in front of your TV if this is how you intend to place the speaker, but wall-mounting is also an option.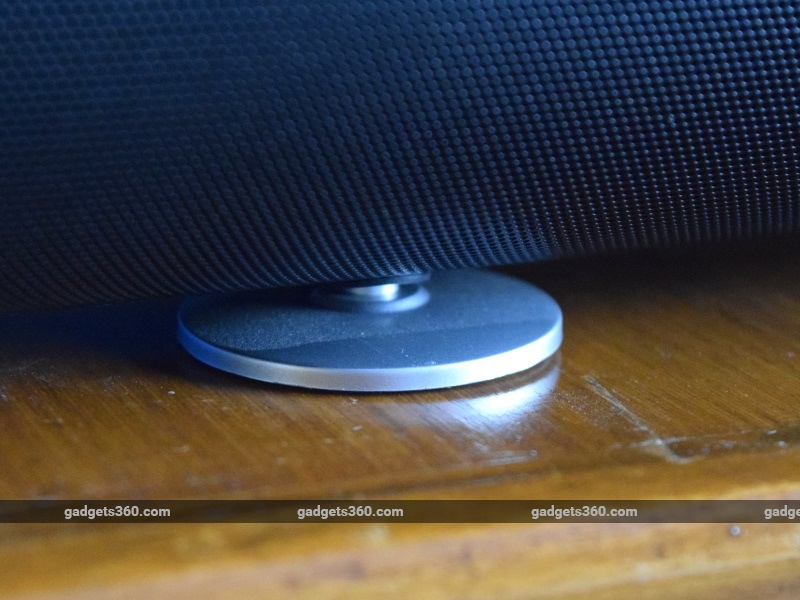 The unit is curved around the front, and curves inwards at the back. There are limited inputs and switches on the rear: a power inlet, the power switch, a 3.5mm input, optical-in port, a USB port for firmware updates, an EQ setting switch for choosing between wall and table mounting, and a button to pair the speaker with the subwoofer for the first time. The EQ switch and pairing button will likely only need to be used at the time of setup.
Connectivity options are limited. The only ways to plug the soundbar in to your TV are through the optical input, or using a typical 3.5mm stereo cable. The package has an RCA-to-3.5mm stereo cable included, but depending on your TV, you might need to use a 3.5mm-to-3.5mm (AUX) cable instead, which was the case with us. The JBL Cinema SB250 does come with Bluetooth support, so that could be used if your TV supports it. Bluetooth can also be used to connect smartphones and tablets, letting you use the SB250 as a standalone speaker system.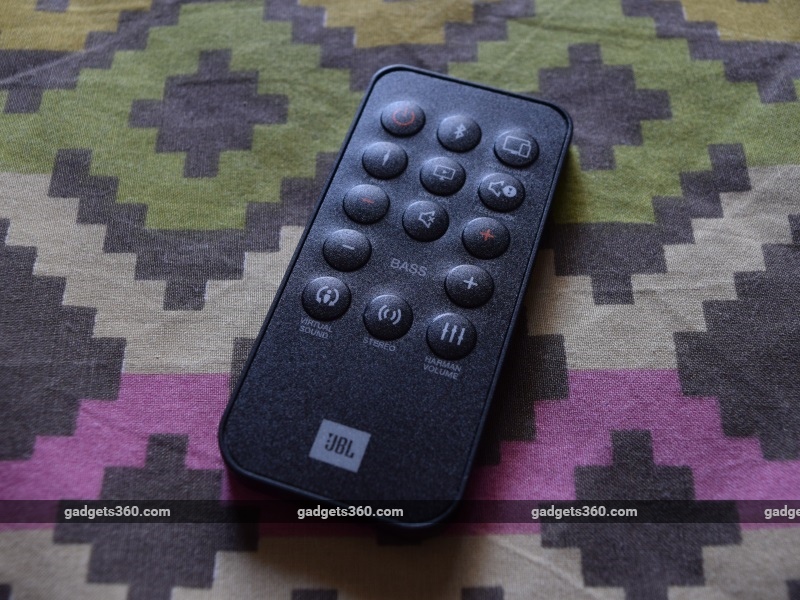 If you plan to stand-mount the JBL Cinema SB250, you will have to ensure that it does not block the TV's infrared receiver. A lot of soundbars have an infrared repeater at the back which solves this problem, but the SB250 does not and could thus block out commands from your TV's remote. This can be solved by placing something under the TV's stand to raise it, but the solutions aren't necessarily as easy as they sound, depending on the actual shape and size of your TV and stand. This isn't a problem if you're wall-mounting the TV or the speaker (or both), but on the other hand, wall mounting will make the SB250's rear panel inaccessible. This may be a bit bothersome if you need to re-wire anything, and you'll lose access to the main power switch entirely.
The wireless subwoofer is large, and will occupy a significant amount of space of the floor somewhere near your TV. It sits on four legs and has a bottom-firing driver and rear-facing bass vent. The sound will be a little different depending whether you place it on carpet or on hard flooring. It establishes a connection with the main soundbar unit and receives its input signal wirelessly, which thankfully means that you don't need to run wiring between the two units. It does of course require power of its own, so be prepared to set aside two power sockets for the package (one for the soundbar, the other for the subwoofer).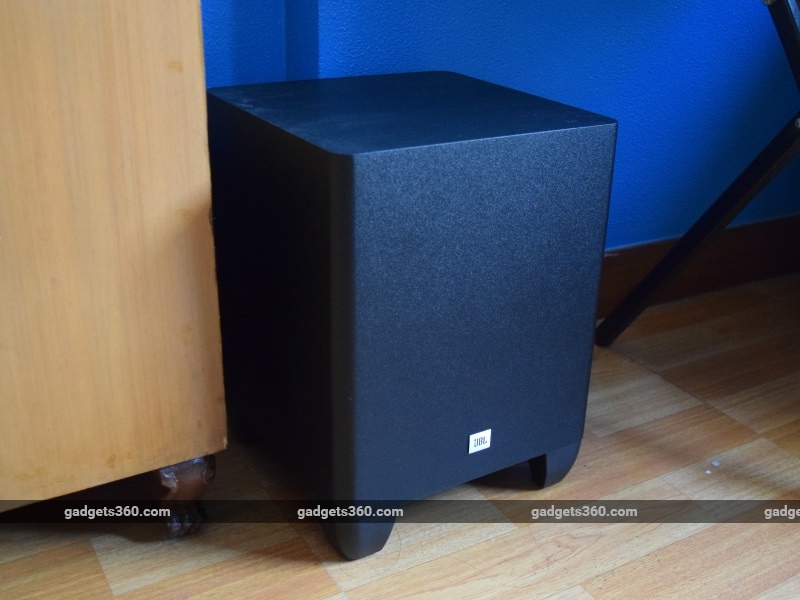 Once paired, the subwoofer will automatically establish its connection with the speaker as soon as the latter is switched on. It worked flawlessly every time, powering on and off in sync with the main speaker. The entire system automatically goes into standby if no incoming signal is detected, and resumes when the signal returns.
The bass level can also be adjusted independently, which will let you set up the bass as you like it. The SB250 does has Harman Volume software coded in, which helps when the same content has a lot of volume variation, such as with ads in between movies. However, levels will need to be adjusted when you change content types. On the whole, the system is uncomplicated and proves to be very easy to use.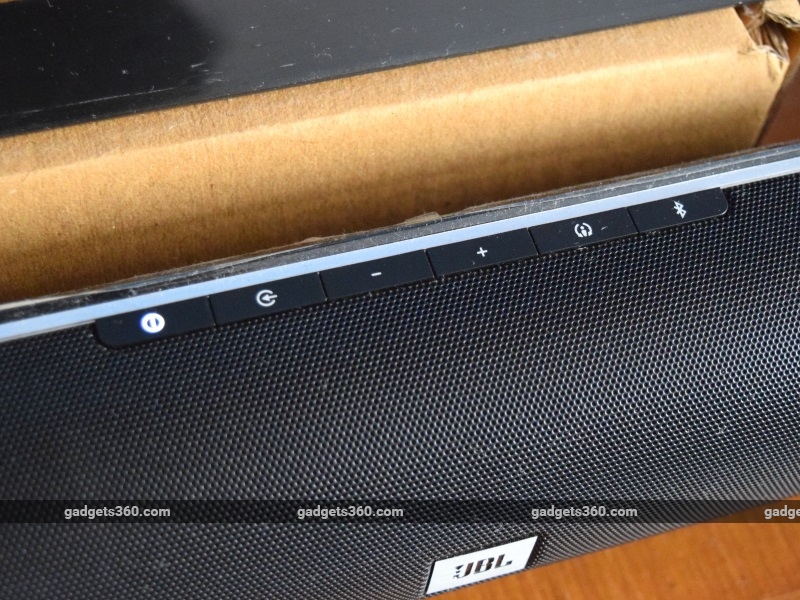 Performance
We used the JBL Cinema SB250 with a 32-inch Sony Bravia LED-LCD TV, along with an Android smartphone to test its Bluetooth audio capabilities. Content ranged from YouTube clips to shows on Netflix, along with both compressed and high-resolution audio tracks.
We started with some television shows off Netflix, focusing on Marvel's Jessica Jones and Better Call Saul. What's immediately noticeable is that the sound is extremely wide, thanks to the sheer length of the speaker and the capability of its drivers. The SB250 gives the impression that the sound is coming from satellite speakers placed in the corners of the room, but definitely falls short of a proper surround effect. It's an extremely clean-sounding package for shows and movies, and is a perceptible step up from the in-built speakers of a TV.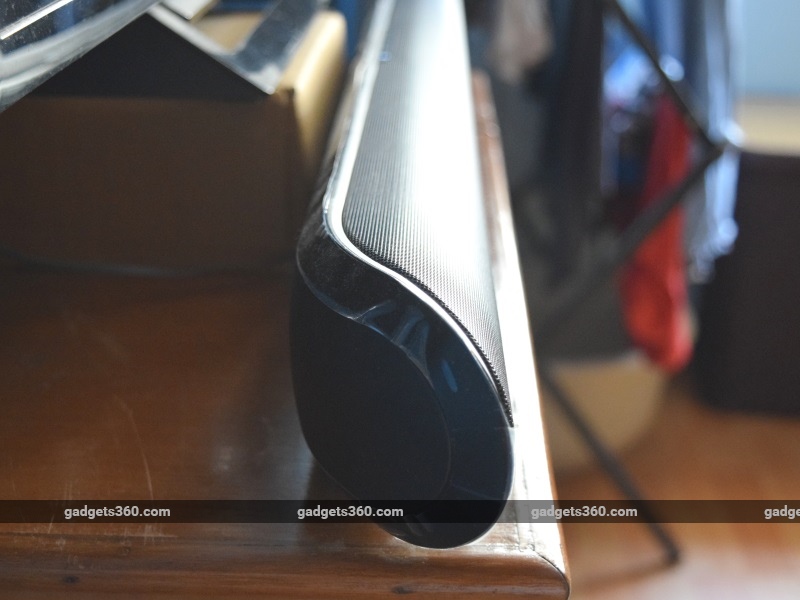 We also felt that the bass is incredibly powerful, and the overall sound is loud and intense. The bottom-firing subwoofer sends reverberations powerfully and capably through the room, and really adds a level of intensity to the sound that could never have been achieved without a dedicated speaker system. Vocals and background scores also sound excellent with a sense of cleanness and definition.
Moving on to movies, we watched Gravity and Pacific Rim. The SB250 comes into its own when reproducing sound for movies, especially intense ones with aggressive background scores and lots of loud noises. The speaker system provides tons of attack and drive, and all of this is helped by the open and wide sound which adds a whole lot of excitement in busy scenes. We noticed this particularly during the Kaiju fight scenes in Pacific Rim, and the SB250 succeeded in adding a whole new element of excitement to the movie which could simply not have been achieved with ordinary TV speakers. Everything from the powerful soundtrack to the actual action reverberated and filled the room with intensity.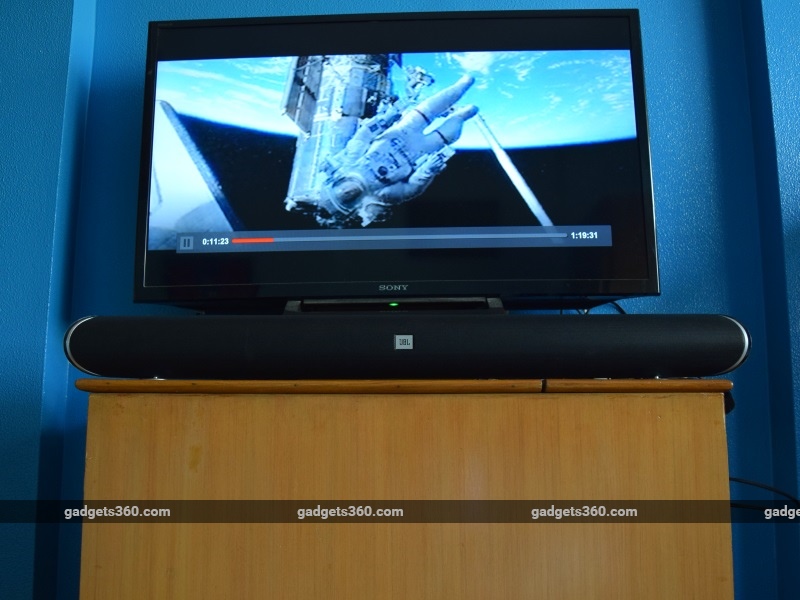 There is, however, a bit of distortion at the loudest levels. Not only is there significant tearing in the bass, but the sound becomes muddied and jumbled up at this point. However, this is only at the absolute loudest levels, which you'll seldom need to reach. In fact, the volume range is so massive that you likely won't even find yourself going above the halfway point.
We also tried the speaker with Bluetooth, listening to some music tracks, including Delta Heavy's Ghost (Zomboy Remix). The wide sound and intense room-shaking bass are in full force, but the width has a detrimental effect on music. It isn't the cleanest sound we've heard, and is understandably not ideal since the tuning is geared towards movies and TV shows. It's acceptable for occasional music listening, but you should intend to use the SB250 primarily with your television set.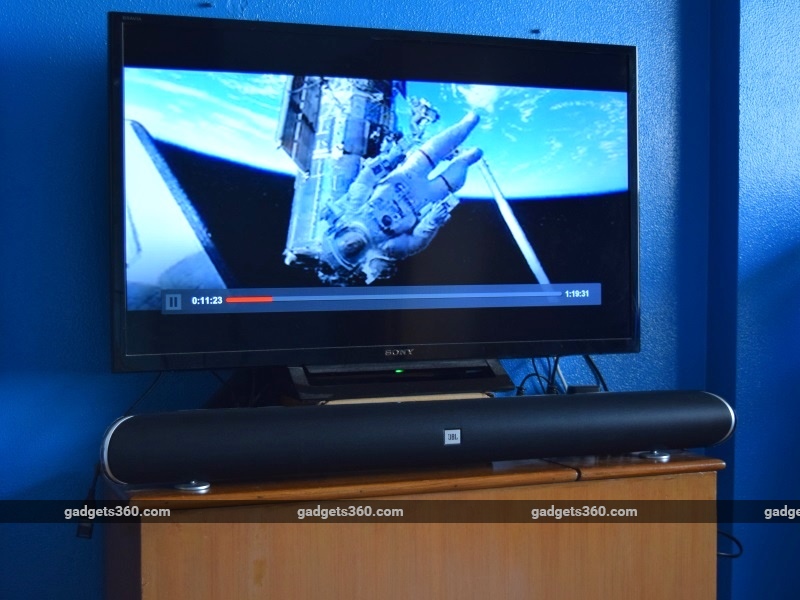 Verdict
At its market price of about Rs. 16,000, the JBL Cinema SB250 is nothing short of excellent. It makes all the difference in turning the average, unexciting sound from your TV's speakers into a cinematic experience, and does so without a big footprint. It's ideal for small TVs in small rooms, such as a bedroom. It will work well even in larger spaces, but you should probably consider a higher model such as the JBL Cinema SB350 if you have a larger room and TV.
Although there are limited connectivity options and placement will require some careful planning, the SB250 set up is an absolute breeze to use once you have it set up. This is a loud, capable soundbar system with a stunning subwoofer, and will more than succeed in transforming your TV experience into something thoroughly enjoyable.
Price (MRP): Rs. 32,000
Pros
Looks good, easy to set up
Loud, attacking and intense sound
Wide soundstage
Good clarity and definition
Extremely capable subwoofer
Cons
Will require some attention during placement
Not very good with music
Limited connectivity options
Ratings (Out of 5)
Design: 4
Performance: 4.5
Value for money: 4
Overall: 4