Affordable headphones generally use dynamic drivers, and the first step up to better audio technology usually involves products that use balanced armature drivers instead. But what do you look at when you want to go even further? Planar magnetic drivers offer you a taste of proper audiophile-grade sound, but this often comes at a steep price, as is the case with the excellent Audeze LCD-3 headphones.
What if we told you that your first serious headphone upgrade doesn't have to set you back by a lot of money? That's exactly what the HiFiMan HE400s is. These headphones give you planar magnetic drivers at Rs. 24,999, which is a fair bit less than what we are used to paying for products that use this technology. Does the HiFiMan HE400s live up to the expectations of the drivers powering it? Find out in our review.
(Also see: Headphones 101: Choosing the Right Type of Drivers)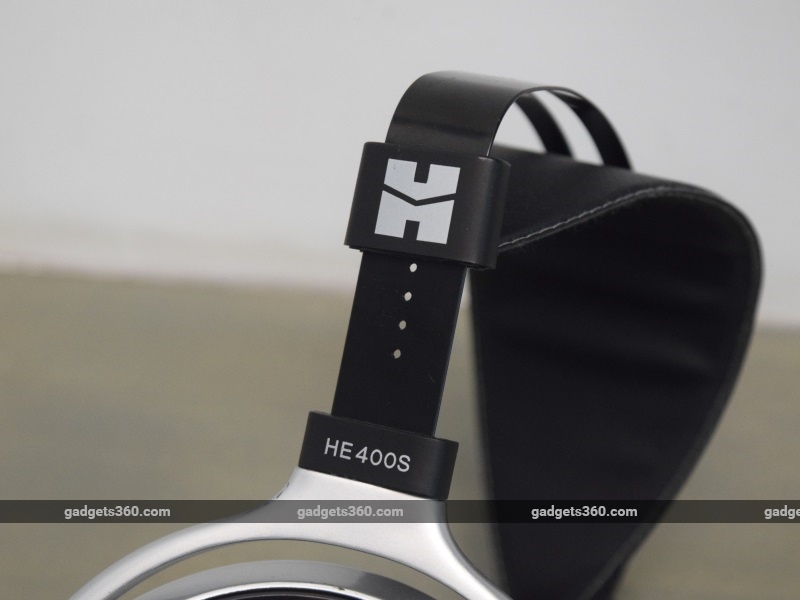 Design, specifications, and comfort
The HiFiMan HE400s features a comfortable over-ear design, supported by big casings that completely envelop your ears. There's soft plush padding, which is thick and incredibly comfortable when resting around your ears. The headband features a self-adjusting mechanism, which also contributes to the comfort and ease of wearing these headphones. The only complaint we have is that our ears tended to get a bit hot under the padding.
A very important thing to note about this headset is that it is open-backed. This design exposes the back side of the headphone drivers, allowing the sound to push outwards rather than have it bounce off the inner casing and return to your ears. This means that people sitting next to you will be able to hear what you're listening to, making these headphones unsuitable for use while commuting or in an office. The HE400s is meant for home use, when speakers aren't ideal.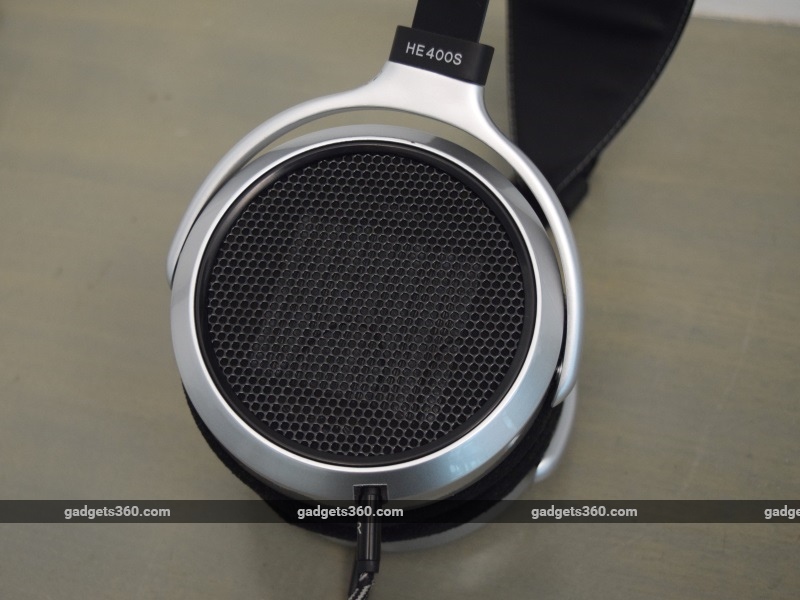 Of course, the open-back design has advantages as well. From a design perspective, it means that you can see the planar magnetic drivers powering the headphones through the grilles, which look interesting and remind you of the calibre of the headphones you're using.
Although the HE400s looks a bit cheap because of the glossy finish on the plastic casings, it feels anything but flimsy. There's a solidness to the product that seems to defy its average and plain looks. The HiFiMan HE400s has a frequency response range of 20-35,000Hz, with an impedance of 22Ohms and a sensitivity rating of 98dB. It weighs 350g, and has a detachable cable that plugs into both driver casings separately. The cable is fabric-coated, which makes it fairly durable but also a bit tangle-prone.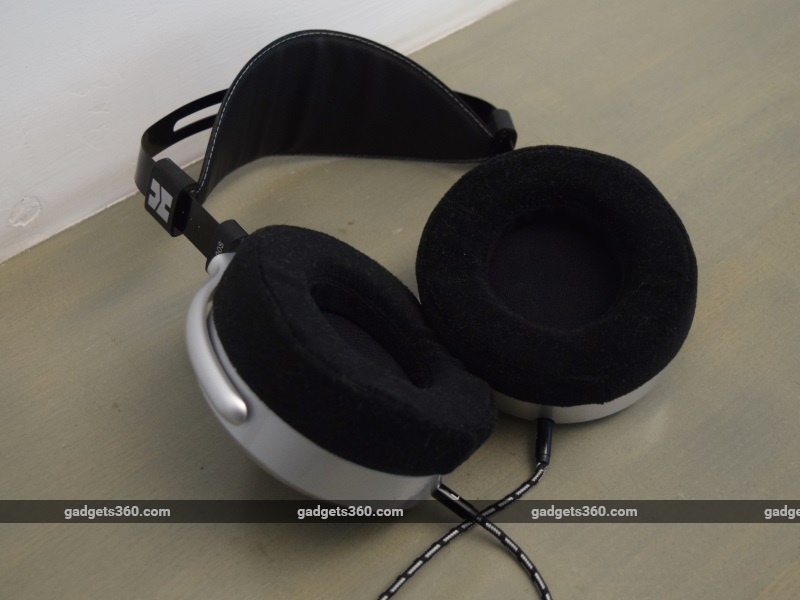 Performance
We used a variety of devices to test the HiFiMan HE400s with, including our reference Fiio X1, an iBasso DX80, a OnePlus 3 (Review) and an ordinary Windows laptop. Although the low impedance of the headphones allows for acceptable sound from basic amplification (as in the case of smartphones and laptops), these headphones are best driven by more powerful dedicated amplification. We had considerably better results from the two high-resolution DAPs that we used, particularly the iBasso DX80. Focus tracks for the test were Daft Punk's Get Lucky, Michael Jackson's Ghosts, and Foster The People's Helena Beat.
Starting with Get Lucky, we noticed that the open back had a significant impact on the openness of the sound, which didn't suffer from the slight reverberations and bounce-back effect that can be heard from typical closed headphones. In this case, the sound feels wide and real, without any of the synthetic characteristics of closed headphones. It's also incredibly immersive when used with proper source equipment and amplification.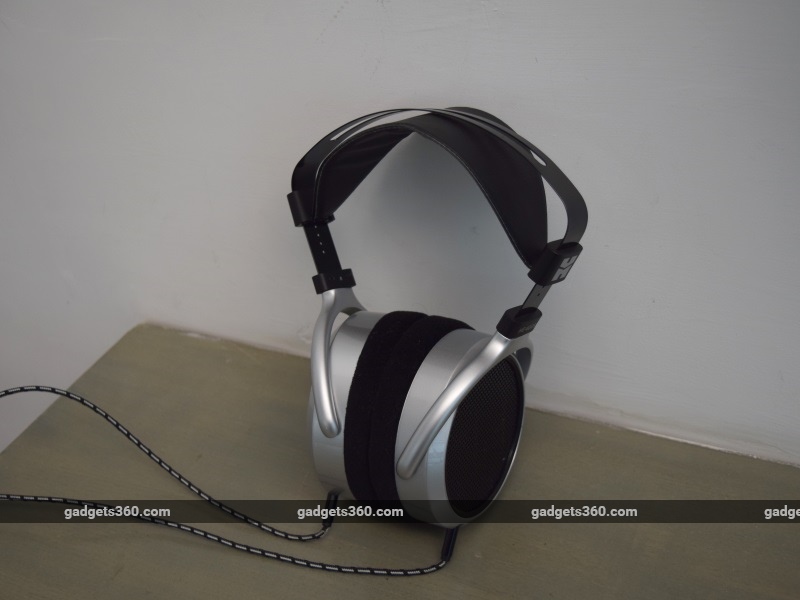 Moving on to Ghosts, we listened for the sonic signature. The HE400s provides a sound that's incredibly neutral. Frequencies across the range feel equal with no section subject to preferential treatment. This allows for a sound that is close to audiophile-level, letting you feel and enjoy tracks in a natural form. The soundstage is incredibly detailed, and sonic separation is fantastic, no doubt helped by the large planar magnetic drivers that allow for more finesse in the sound output. Despite the aggressive bass at the start of the track, the sound remained balanced even when Michael Jackson's vocals kicked in.
With Helena Beat and the volume turned up, we felt just the right amount of attack in the bass, always stopping short of being excessive. Although it isn't quite as punchy as many bass-happy headphones, it achieves a good balance of excitement and neutrality, allowing all kinds of music to sound pleasant. Vocals occasionally felt a bit lower in sensitivity than the rest of the track, but nothing too significant. Detail and flow were excellent as well, and the headphones did as much as they could to stay loyal to the producer's intent.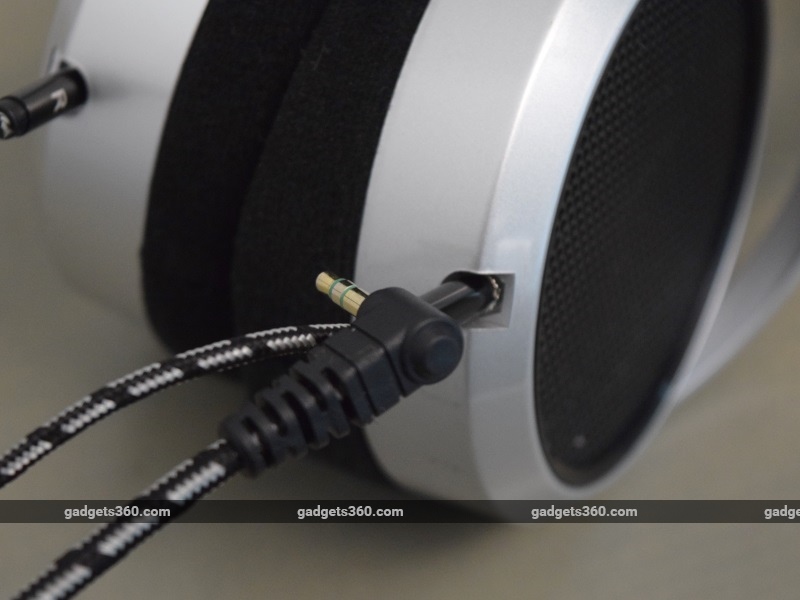 Verdict
Although the HiFiMan HE400s doesn't offer the same level of insight and detail as the far more capable (and expensive) Audeze LCD-3, it's still a great option. At Rs. 24,999, it's relatively inexpensive when compared to other planar magnetic headphones, and offers fantastic comfort and sonic neutrality.
These headphones occupy a niche, and will only suit audiophiles who are looking to make the upgrade to planar magnetic headphones but don't have an especially generous budget. Listeners who are looking for excitement, drive and a bit of character will find options such as the V-Moda Crossfade M-100 and Sony MDR-100ABN more suitable and better looking. Additionally, the need for proper source equipment and amplification means that the HE400s isn't good to go straight out of the box for casual listeners.
Despite all of this, the HiFiMan HE400s is still a great starter option for anyone looking to move up the ladder in their quest for a good audiophile experience, because of its use of planar magnetic drivers. It sounds great for the price, and is definitely worth trying out if you're shopping for new high-end headphones.
Price (MRP): Rs. 24,999
Pros
Incredibly comfortable
Open, natural and detailed sound
Planar magnetic technology at a relatively low cost
Audiophile-grade sonic signature
Cons
Open-backed design leaks sound
Average looks
Not as exciting or driven as others in its price range
Needs good source equipment and amplification

Ratings (Out of 5)
Design: 3.5
Performance: 4
Value for money: 4
Overall: 4