Portable Bluetooth speakers are a dime a dozen and available pretty much everywhere. From no-name brands to respected audio companies, there's usually something for every budget.
Today, we'll be looking at a Bluetooth speaker called the Catz Triangle. The simple name hints at what you can expect in the box, which is a triangular speaker. You should be able to find it across major retail chains across the country at Rs. 2,999.
There's a fair bit of competition in the sub-Rs. 3,000 speaker segment as big names like Creative, Logitech, and JBL have some pretty popular models lined up here. Let's see how the Catz Triangle fares amongst the established products.
Design and specifications
The speaker's packaging reminds us of the knock-off electronic products one typically finds in the market, but we're not going to judge this book by its cover. Inside, you'll find the speaker itself, an instruction manual, a carabiner loop, a Micro-USB charging cable, and a Micro-USB to 3.5mm auxiliary cable.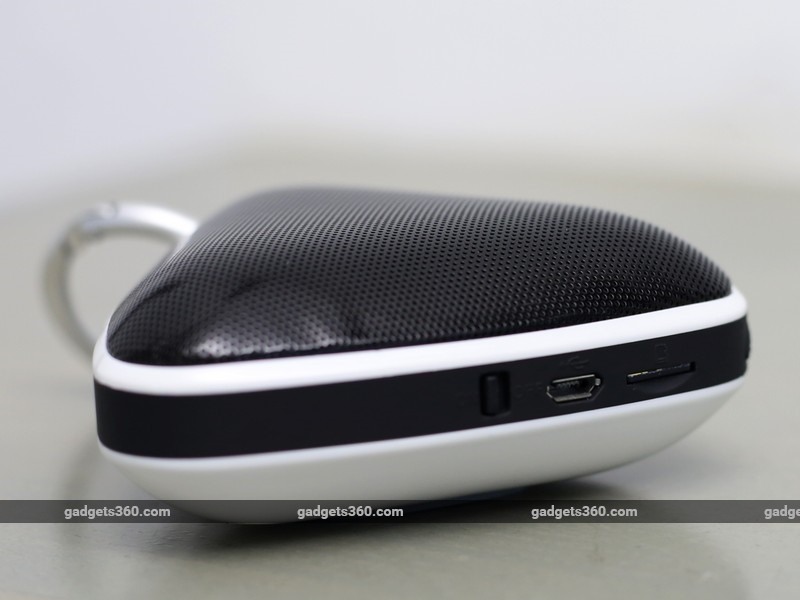 The Catz Triangle has an interesting shape. You can rest it on any of the sides or the bottom, which is how it's intended to be used. The rubber feet on the bottom help it stay in place when playing music. The plastic feels durable but the metal grille over the speakers feels a bit tacky due to unevenness in its design. You can barely see the speaker through the black shroud, but there is a single 3W driver and what appears to be a bass reflex port beside it.
All the buttons and ports are placed along the rubberised edge of the speaker. There's a power toggle switch, Micro-USB port for charging and for the auxiliary input, a microSD card slot, a microphone, and four control buttons. The 'Mode' button lets you cycle between FM radio, auxiliary input, Bluetooth input, and music from the microSD card. There's a voice prompt to tell you which mode you're in and when the battery is low, and it can also read out the phone number of an incoming call.
The Triangle features a large eyelet on the top for hooking up the carabiner loop. It's a nice addition since you can hang the speaker somewhere rather than laying it on a flat surface. There's a single LED under the grille which flashes red while charging.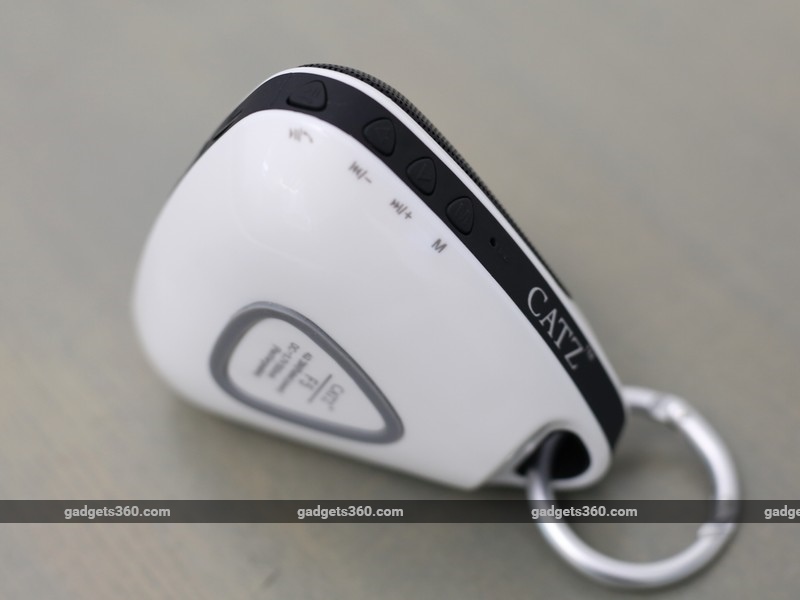 The speaker is capable of playing MP3, WMA, and WAV files directly off a microSD card. We tried a 64GB card, which worked just fine. Other specifications include an impedance rating of 4Ohms and a frequency range of 160Hz to 18kHz. Charging the speaker takes a little over two hours, and battery life is rated at 3-5 hours. During our test period, we manged to get roughly four and a half hours of playback time at medium volume.
Performance
Using the Catz Triangle is pretty simple and straightforward. You switch it on and dive into the mode you want to use. In FM mode, tapping the play button will automatically scan and save all the stations it can find. Music mode will directly start playing compatible audio files on the memory card. You can use the Triangle as a speakerphone, but the audio quality isn't great. Plus, we found that callers had a tough time understanding us with the speaker placed more than a a couple of feet from us. Our test unit was missing the USB-auxiliary cable so we couldn't test this mode.
The Triangle can get really loud but you wouldn't want to max it out as the sound distorts quite badly. The speaker seems mostly meant for personal listening as it sounds the best when the volume is at about 40 percent. However, you can get decent volume and quality by hanging the speaker up on a wall or curtain hook. The carabiner loop gives you more flexibility in placing the speaker around your home, which is something we liked.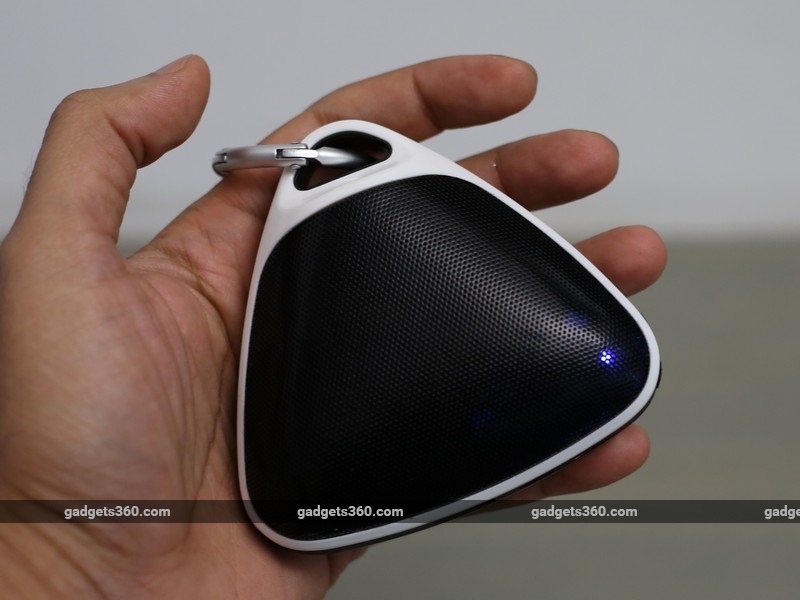 Low frequency sounds often come out muddy when you push the volume above 50 percent. We noticed this in songs like Conduct by The Cranberries and Unforgiven II by Metallica. The bass, while decently punchy, tends to drown out the vocals and mids when the volume is high. Lowering the volume helps but then bass-heavy tracks aren't very enjoyable. Also, since the speaker can only render frequencies starting at 160Hz, you automatically lose out on some of the sub-bass in any song. This issue also affects EDM tracks, which tend to get muddied at higher volume levels.
Songs with more emphasis on mids and highs fare a lot better as the speaker can do better justice to those frequencies. Tracy Chapman's Fast Car and Zero 7's Destiny really shine, as vocals are crisp without sounding shrill. The speaker does a very good job with the treble in such songs, which is clearly audible over the other frequencies.
Verdict
The Catz Triangle is an interesting option in the portable Bluetooth speaker segment. Its unique design doesn't restrict you to placing it on a flat surface which means you can find creative ways to listen to your music. The Triangle is best suited for personal listening and it has the added advantage of being a self-sufficient music player too, which not many can boast of at this price point.
Audio quality is decent, as long as you don't push the volume level too high. The speaker also tends to favour tracks with emphasis on mids and highs, as low frequencies tend to be overpowering and muddy. We're also not big fans of the custom auxiliary connector, because replacements will be hard to find if you lose the one in the box. Finally, the asking price feels a bit too high considering that Catz is a relatively unknown brand and the speaker does have several shortcomings.
The closest alternative to the Catz Triangle is the Creative Woof 3, which costs a bit less and can also read FLAC files off a microSD card.

Price (MRP): Rs. 2,999
Pros
microSD card support
Unique design
Mids and highs sound good
Built-in FM radio
Cons
Low frequencies sound muddy
Distortion at high volume
Proprietary aux connector
A bit expensive
Ratings (Out of 5)
Design: 3.5
Performance: 3
Value for money: 3
Overall: 3
Affiliate links may be automatically generated - see our ethics statement for details.