Apple's iOS - the operating system that powers the iPhone, the iPad, and the iPod touch - is very strict about the permissions granted to any app. Apple's approach has ensured that it is almost impossible for your iPhone to be susceptible to malware, at least when compared to Android. But it also means that a host of automation apps such as Tasker or Llama that are popular on Android will never be allowed on the App Store.
Because of this, there are many things you can do on Android that aren't possible on iOS. For instance, using Tasker you can disable your phone's password lock when you are at home and enable it when you leave home. This is just a tiny example of how automation can be useful, but on the flip side, it means giving complete control over your phone to a third-party app. It's a trade-off between security and advanced features for power users and Apple chooses to err on the side of caution here.
This doesn't mean that no automation is possible on iOS. Apps such as Launch Center Pro refute that notion by allowing you access to advanced features such as launching certain apps or carrying out certain actions when you arrive at or leave an area. Launch Center Pro has a vast array of actions that you can pin to a grid within the app. This makes launching these actions easily accessible. It acts as a hub for a bunch of complex tasks you carry out daily.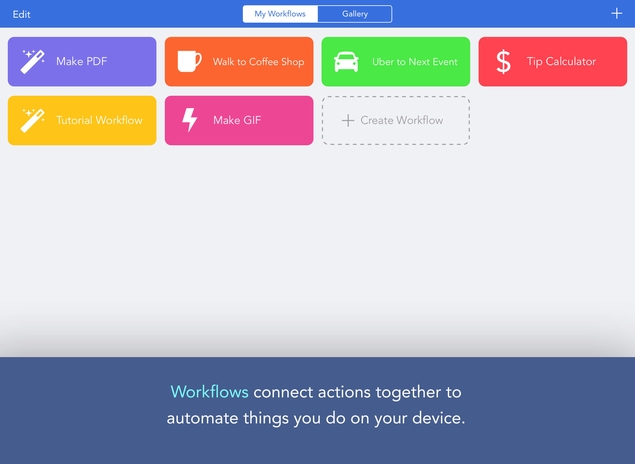 With the launch of iOS 8, Apple has finally lifted some of the restrictions in iOS leading to the entry of third-party keyboards and allowing better interaction between apps. This broadened the scope of what an automation app could achieve on iOS and that led to the launch of Workflow - an app that attempts to push the boundaries of what you can do with your iOS device. Workflow allows you to simplify the tasks you carry out on your iOS devices by letting you chain together different system actions. Launch Center Pro is a great app for this too but Workflow goes a step further by letting you create your own iOS extensions as well. Let's find out more about how Workflow works.
Design
Automation apps can look intimidating and the people who've designed Workflow seem to have spent a lot of time trying to ensure that isn't the case with this app. They've done a really good job here with a nice, bright colour scheme to set the tone for a user-friendly interface.
You start off by creating a new workflow in the app. Essentially, a workflow is a way of automating tasks. You can create a workflow by combining a set of actions such as Select Photos, Get Current Song, Set Brightness, Get URLs from Input, etc.
When you first run the app, it teaches you how to make a gif file. This is a simple action that took less than 30 seconds to create, but more importantly it shows you how easy it is to create a workflow. All you need to do is tap Create Workflow, swipe left to view the actions available, drag the actions you need to the right and arrange these in the correct order for the task you have in mind. For instance, to make a GIF, you'll need to have the Select Photos action above the final Make GIF action.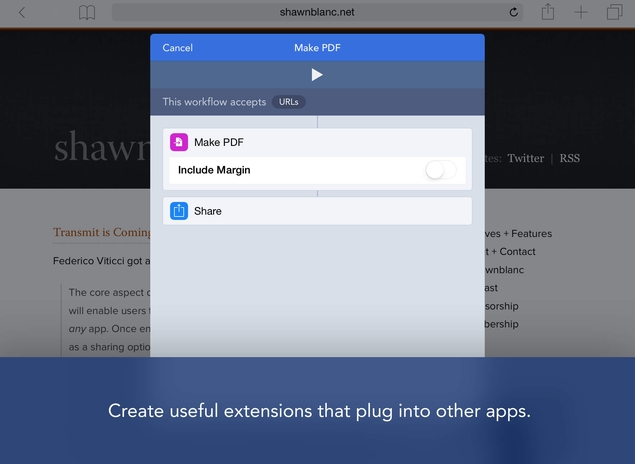 All actions have a user-friendly icon next to them, which makes them a lot less intimidating for those who aren't used to power tools of this kind. Tapping on any action reveals more about it. So you can see what an ambiguous action such as Get Name does simply by tapping on it once. Dragging actions from list on the left to your workflow is a smooth and user-friendly way of creating your workflows. Once you've created a workflow, it appears as a large tile in the app's home screen. You can change the background colour of the tile and the icon of the workflow from a bunch of presets.
It's safe to say that the app has been designed so that non-programmers will have no trouble using it.
Creating and using workflows
One way in which Workflow is different from Launch Center Pro is that it allows you to add your favourite workflows as a home screen icon - similar to how you can add bookmarks to the home screen. There are two types of workflows you can create - one is a normal workflow and the other is an action extension. You can add normal workflows to the home screen, while action extensions will appear when you tap the share icon in most apps. Normal workflows let you do things like get lyrics to a song, play music for a time period of your choice after which the music stops on its own, etc.
If you are on the fence about whether you should purchase this app, the fact that it lets you create your own extensions on iOS should seal the deal. We quickly created two extensions that we sorely missed on iOS 8 - sharing URLs to WhatsApp and Slack, which is NDTV Gadgets' favourite team communication app.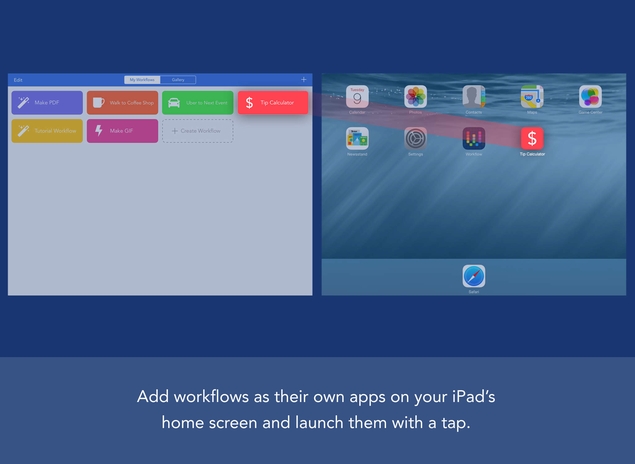 Even if creating workflows doesn't appeal to you at all, the app has a nice gallery of some of the best workflows around that you can import to your device. Complex workflows that let you convert any webpage to a pdf file and save it to Dropbox can be downloaded from within the app itself. The layout of this gallery is similar to that of Apple's App Store.
You can also share your workflows with others and download other people's workflows even if they're not featured within the app. Whenever you share a workflow, it is uploaded to Workflow's website and a link is generated. To download this on another device, you need to open this URL and you'll see a big button labelled Get Workflow. Tapping this button downloads the workflow to the other iOS device, provided it has Workflow installed.
This makes it very easy to find and use other people's excellent workflows and multiplies the app's utility. We found a workflow that allows us to create speed dial shortcuts on the iPhone's home screen, another that reads out text and one that lets you play music for a specific time period such as 30 or 60 minutes. This was all easy to set up, and didn't require us to take steps like jailbreaking our iPhone.
Conclusion
Very rarely do we come across an app that leaves such little room for criticism. The only missing feature is the ability to sync workflows across devices. We have an iPhone and an iPad linked to the same Apple ID but there's no way to sync workflows across these devices short of sharing the URLs and downloading them manually. That aside, this app is as good as the best on the App Store.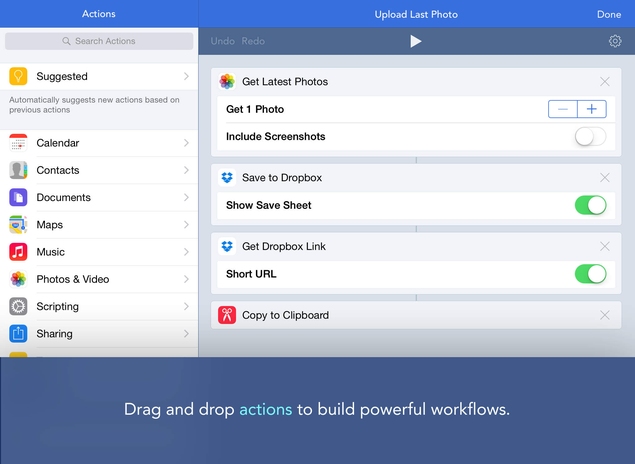 If you are happy with the way iOS works, then you probably don't need this kind of an app. But if you are obsessed with productivity and find iOS' in-built tools limiting for many essential daily tasks, then Workflow offers a degree of control that will please power users. We can recommend this app without hesitation as it is powerful enough for advanced users without being too intimidating for beginners.
Workflow is available on the App Store for Rs. 300.