WhatsApp announced the launch of WhatsApp Web on Wednesday, finally enabling the use of the popular messaging app on desktop computers. While the solution isn't cross-platform and feels like a hack at first glance, it works surprisingly well. We managed to get our hands on the updated Android app that comes with WhatsApp Web support, and here are our initial thoughts.
The first step towards getting WhatsApp working inside your browser is to get the latest version of WhatsApp for Android, BlackBerry, Nokia S60, or Windows Phone (sorry iPhone users) that comes with support for WhatsApp Web. Look for the WhatsApp Web option in the respective apps before proceeding further - the WhatsApp Web website tells you where to find the option inside each app. Android users, make sure you are running version 2.11.498 or later. To check what version of WhatsApp you are on, open the app, go to the menu (three dots) -> Settings -> Help -> About.
Next, open the WhatsApp Web website on your desktop in Google Chrome. This is important as there's no standalone desktop app for WhatsApp and WhatsApp Web will not work in any other browser like Safari, Firefox, or Internet Explorer. Once the WhatsApp Web page finishes loading, you will see a QR code on the top left part of the screen. Now fire up WhatsApp on your mobile phone and select WhatsApp Web from the menu (three dots).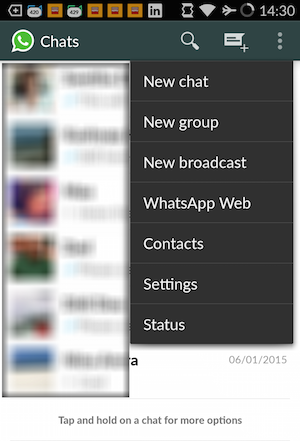 Align the QR code with your phone's camera and, almost instantly, you'll find yourself staring at your recent WhatsApp conversations inside Chrome on the desktop. For those wondering, the QR code generated each time is unique, and by scanning it with your phone, you are associating the current WhatsApp Web session with the one on the phone you are logged into WhatsApp from. Your phone reads the QR code and transmits the session ID and other associated information to WhatsApp servers, which then establish the pairing between your phone and the WhatsApp Web session. This is as elegant a solution as you can have for a service that has no username/ passwords, without resorting to things like one-time passwords or manual input of secure tokens. Have we finally found a use for QR codes?
The WhatsApp Web UI will look familiar to all WhatsApp users. You can of course joining existing conversations (including groups) or initiate new ones. Features like delivery and read receipts are supported, and you can also share pictures (stored on your computer, or by clicking a fresh one using your webcam) as well as voice messages without needing to touch your phone. Everything worked as expected during our testing.
( Also see: WhatSim Lets You Use WhatsApp for Free While Roaming Worldwide )
One thing worth noting is that WhatsApp Web uses your phone's Internet connection to send and receive your messages, so your mobile needs to be connected to the Internet throughout, either via Wi-Fi or cellular data. In that sense, WhatsApp Web is different from other messaging apps like Skype and Viber where every device has its own connection to the servers. This is an example of WhatsApp keeping it 'mobile first', which may not appeal to everyone, but is central to WhatsApp's philosophy.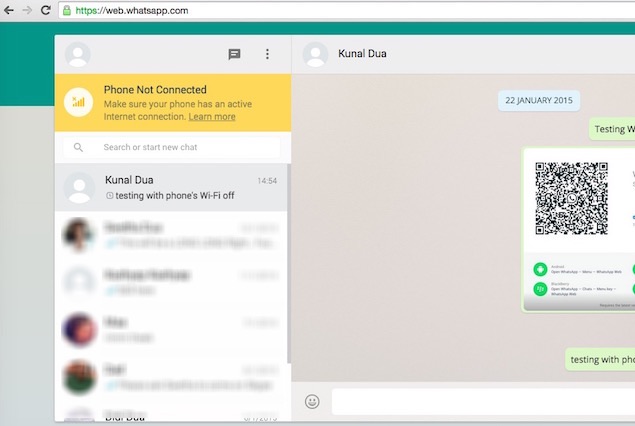 You can initiate WhatsApp Web sessions from multiple computers, but only one can be active at a time - you'll be given an option to wrest control from another session. WhatsApp takes care of the security aspect by listing how many WhatsApp Web sessions are connected at any given time, and by letting you log out of all in one click via the mobile app.
Overall, while WhatsApp Web may seem like a hack at first - what with its use of QR codes and everything else - if offers everything you'll need for a complete(ish) WhatsApp experience on the desktop, as long as your definition of desktop is Google Chrome. Now there's no real reason for us to ignore those lovely WhatsApp forwards while working, except of course the fact it doesn't work with the iPhone. If you are a fellow iPhone user, don't hold your breath, as WhatsApp co-founder and CEO Jan Koum says, "for now, we will not be able to provide Web client to our iOS users due to Apple platform limitations."
We can feel our hatred for QR codes coming back.