Telecom Regulatory Authority of India (Trai)'s new MySpeed app helps you check your Internet speeds and send the results to the regulatory body. The app is available on Android and checks Internet speeds both on Wi-Fi and cellular data. It wasn't available on iOS Trai launched the app last week and we tested the app on various connections to see how it works. Here's what we thought.
The app's design leaves a lot to be desired. If you were expecting a slick app like Speedtest then prepare for disappointment. MySpeed looks decent until you actually start an Internet speed test. Once you do that you notice the badly designed analogue speedometer with an unusually bright speed hand, and that the meter is not even to scale. The gap between 0 and 0.75 Mbps is more than that between 50 and 100 Mbps.
All of this won't really surprise you if you're used to the design on most Indian government websites. What matters is whether the app works. To test this we ran Speedtest's app and MySpeed one after the other on a WiFi and a 3G network. The results matched on the 3G network, with both MySpeed and Speedtest recording roughly the same upload and download speeds. Even on the WiFi network we tested it with, MySpeed's results were roughly the same as those seen on Speedtest. We tested both networks multiple times, and they showed a big difference only once in five pairs of tests.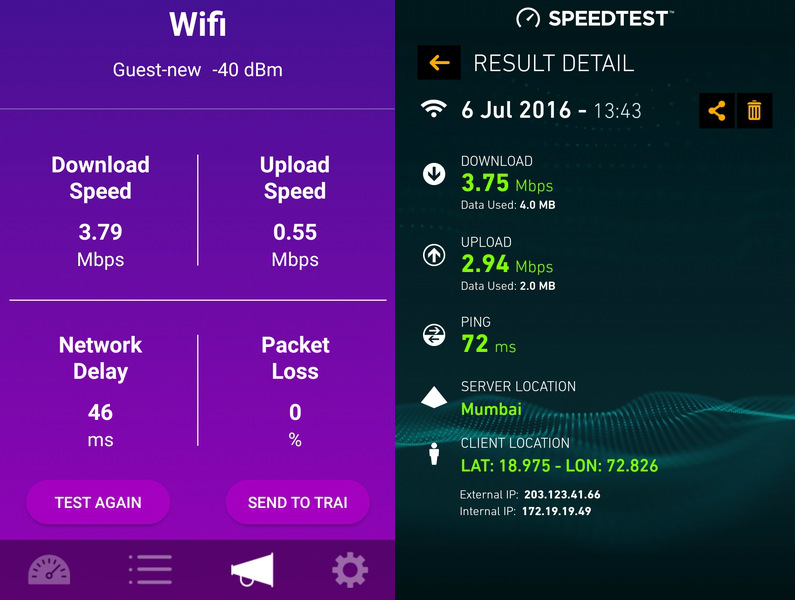 The app also shows data on network delay (ping) and packet loss. In our experience the app reported this data accurately. A word of caution: Internet speed test apps can use a lot of data - up to 30MB every time you run a test. This could be a big concern for those on tight data caps.
If you allow MySpeed access to your location, then its results tab will show you a map with where you recorded each of your speed tests. If not, the map still shows up, but it's obviously blank. Once you've recorded your Internet speed, MySpeed gives you the option to send the results to Trai. The app clearly mentions that these results are not to be mistaken for complaints. It says that if you have complaints about network speed, you should report them to your ISP. The results sent to Trai could be used by the regulatory body to gather data on Internet speeds across the country. Beyond that it remains unclear what Trai intends to do with Internet speed data from the app.
We don't like the app's design but we like the fact that MySpeed doesn't have ads and that its results are reliable. It doesn't let you share your results on social media but you can always take a screenshot and post it yourself. If the design doesn't bother you, MySpeed is a nifty app that does one thing and does it reasonably well.
For the latest tech news and reviews, follow Gadgets 360 on Twitter, Facebook, and Google News. For the latest videos on gadgets and tech, subscribe to our YouTube channel.
Related Stories