A hunter waits for his prey in the jungle on a rainy night. At long last he spots a deer and lines up a shot. Just as he pulls the trigger, he's attacked by a wolf. The baby deer and hunter have both collapsed. The hunter's spirit wakes up. As punishment for his violence, the hunter's spirit is placed in a deer's body and that is where you start playing The Deer God, one of the more interesting looking new games to release on iOS (it's also available on Android, PC, and Xbox).
The hunter becomes the hunted and thus begins your adventure as a deer that doesn't know what tasks it has to complete. As a deer you can't do much more than run and jump, but you do get certain powerups along the way that can extend your abilities. Instead of large levels that you can clear through, The Deer God just repeats the same few puzzles, until you find and complete certain tasks. For example, an old man will ask you to find his monocle and until you do that, you will keep running in circles even if you keep moving forward. In a way that is good as you don't need to turn back, but it can get frustrating if you don't spot what you're supposed to find.
You start the game as a fawn and over time you grow into a stag - that is if you don't die. As you grow you can jump higher and charge into other creatures to attack them. The game has a karma system where killing creatures gives you negative karma points. Get too many negative karma points and when you die, you are reborn as a weak animal such as an otter or a rabbit instead of a fawn. Thankfully you can play the game without killing any creatures, except a few bosses. The game is delightfully environmentalist in several such ways. In case you didn't notice it already, the god of deer makes you atone right at the beginning.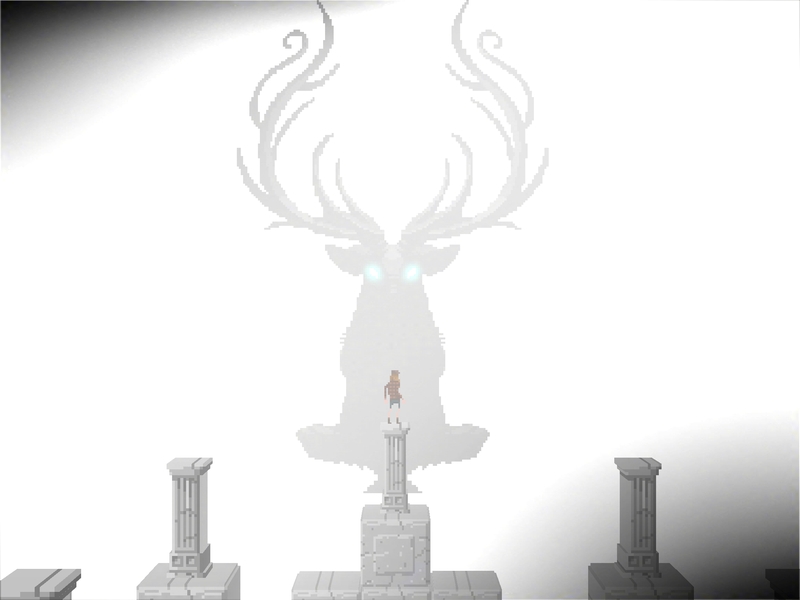 It took us a while to get the hang of The Deer God because the game doesn't really explain what you're supposed to do. Sidescrollers such as Super Meat Boy and VVVVVV give you definite goals - save Bandage Girl or your crew members, in those two games. The Deer God offers no such goals. Just play as a deer and figure out your mission along the way is how the game works, which takes some getting used to. Once we did that we started enjoying the game.
The world of The Deer God has a deliberately retro style, which is reminiscent of Superbrothers: Sword and Sworcery. It's a highly stylised look, and it can be difficult to decipher what's happening on the screen, but there are more than a few moments when you're running with abandon and the camera pulls back to reveal more of the landscape, when you just get caught up in the joy of movement. While the games are very different, in some ways, The Deer God evokes a bit of the joy of playing Journey; something that is only accentuated by its excellent use of music and audio cues.
Although we enjoyed playing this game, we have our share of complaints. Many times The Deer God expects you to take leaps of faith. You jump off one platform but there is no way to see if there is a platform below. You find out once you land and many times our poor deer landed on huge spikes and died. This gets frustrating considering that the entire game involves jumping from one platform to another.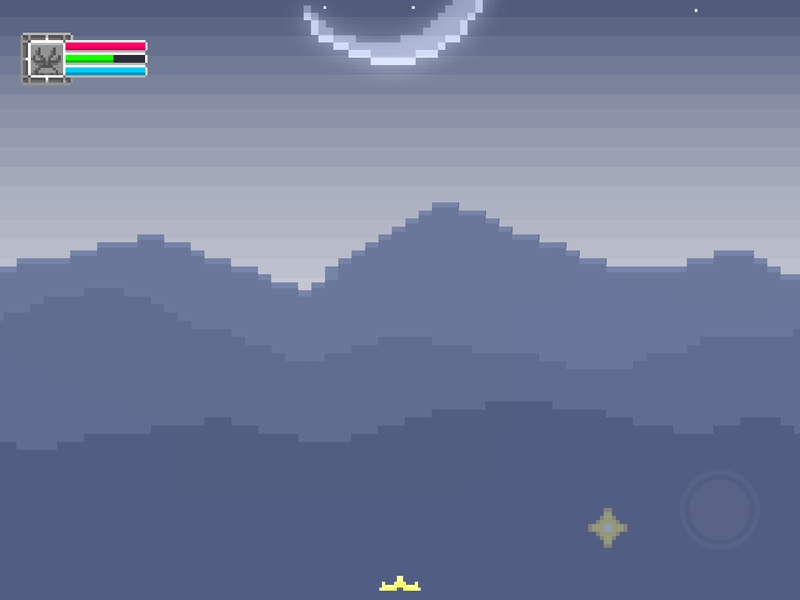 We tested this game on an iPad, where it launched recently, and encountered a game-breaking bug. We'd managed to survive 15-30 days in the game multiple times and hit the home button after the deer died. When we resumed the game, all we could see was the background. All foreground elements, including the deer we're supposed to control, were not visible. We could move the deer (evident from the shifting background) but that's about all we could do. This didn't happen every time we hit the home button either. Force quitting the game and trying to load the saves didn't work either. We hope the developer fixes this bug soon.
Overall, The Deer God is a fun game with some frustrating flaws. Once its game-breaking bugs are fixed, we wouldn't hesitate to recommend it.
The Deer God is available on iOS and Android at Rs. 420, on Steam for $14.99 (approximately Rs. 1,000) and also available on the Xbox One for Rs. 940, with PS4, PS Vita, and Wii U versions coming soon.