Money is a scary subject that many Indians aren't really comfortable with. We're not used to actually talking about our finances, savings, and investments. For many young adults, it's something that your parents take care of for you, until you eventually "find a guy" to handle these things. While that may work for some, overall, it's not a great approach.
Luckily, these days there's an app for just about anything, and there are several apps that you can use that try to help you with your financial planning. One that we tested out recently is Takecharge, by Scripbox - a company that lets you invest in mutual funds online.
Takecharge is a little different from the website - it's not just a utility. Instead, it also offers financial education. The goal is to teach you financial jargon, explain how tax planning works, and show you different methods of wealth creation. The idea is that by educating users financially, it will create a userbase that doesn't get scared off by the kind of jargon that gets thrown around when investing, and they will actually use self-service tools like this one, instead of trying to "find a good money guy" instead.
This works in a number of ways - there are straightforward articles that explain some of these concepts to you, and calculators that help you to quickly understand how you could earn money from investments, or how much you can save on your taxes. These are tools that help you to quickly think about how much more money you could have, and if that's not a strong motivator, then nothing is.
The app is divided into three sections - Learn, Plan, and Act. The Learn section shows you a lot of articles that cover topics such as: "How to avoid financial stress if you work for a startup", "A list of action verbs you should add to your money dictionary," and "Why I stopped wasting money on convenience."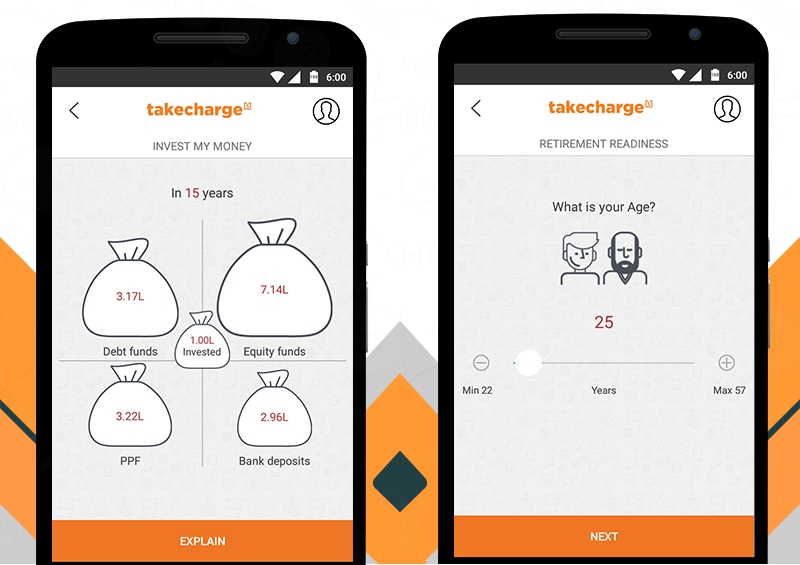 The layout of the app is clear and appealing, and the articles themselves are to the point, so you can pick up a lot quickly. The article on action verbs, for example, listed seven verbs starting with the letter 'A' such as "accelerate your earnings", and "acquire assets that give good returns", with simple explanations for these points.
If Learn is about general knowledge, then Plan gets more specific to help you calculate your taxes, and to decide how to invest your money. There are a lot of different calculators, such as a tax calculator, or one that helps you work out how much money you need to save to finance your children's education. If you're bad with finances, then it can be quite an eye opener.
The Wealth Checkup took just three minutes to carry out, and asks for some pretty basic information, before showing you a score on how you're doing for your age and the city you live in, and what all you can do better. In case you're wondering, the score it returned for us was a pretty bad 45 percent; at which point you can ask for a report that shows you how to improve this score. Suggestions included articles on how to invest in Fixed Deposits as short term investments, and articles on what you need to think about for the long term. It's a good way to learn more about your finances and what you're doing wrong, without jumping in headfirst into a world of jargon you can't really understand.
The final section of the app, titled Act, lets you sign up for Scripbox using our Aadhaar or PAN number. Here, you can invest in mutual funds across equity, debt, and tax saving funds. Once all the data is entered, you have to take a printout of the form that's emailed to you, sign it, and send it to the company, in order to start your investments. This is a mandatory regulation but it's for your own safety so honestly, it's not anything to be put off by.
Once that's done, you can select the type of investments you want to make, whether you want to do short term or long term investments, and balance the portfolio. The funds are selected by Scripbox using algorithms, though the exact process isn't very clear; then again, that's true no matter what mutual funds you go with.
Once you're satisfied with your choices, you can also make your payments to Scripbox through the app, using netbanking - the app does not support credit or debit card payments.
Currently available only on Android, Takecharge is a useful, free, and well-designed application, and a version for iOS is under development according to the company. Unlike most apps that deal with finance, its design makes it less intimidating, and there is a lot you can learn from the app. It's not for everyone of course; people who are absolutely clueless about their finances are the ones who will really benefit. Others who have more understanding about these things should look for more advanced resources. But if our colleagues are any indicator, there are plenty of people this app can help.