When you start Swing Copters, there is no doubt that this game was created by the same mind that brought us Flappy Bird. The Mario-styled pipes are gone, but they've been replaced by equally familiar girders, jutting horizontally into the screen, with swinging hammers on chains attached at the ends. Your protagonist looks a little like a potato wearing a beanie-copter, and some clouds in the background round out the art.
(Also see: Flappy Bird Creator Took Down Game Because It Was Just Too Addictive)
Like the visual elements, the sounds are also familiar and simple. Unlike Flappy Bird, where the audio was tied to your taps, in developer Dong Nguyen's latest game there is the persistent sound of your helicopter in action - and of course, there is the extremely frequent sound of you dying.
But the strongest link between games is the screen you see on starting. Your character waits patiently, in both cases, with a grey version a little further along your path showing how the game is played, along with the word "tap".
Both games are one-touch games - you can tap anywhere on the screen, and the entirety of gameplay comes down to understanding - and then mastering, if you can - how a single tap affects your character's movement.
(Also see: Five Reasons Why Timberman Is Not The New Flappy Bird)
At the first tap, your potato man jumps up, and veers sharply to the right - if you touch the edges of the screen, or the hammers, or the girders, then it's game over - and changes direction to head to the left at a touch. Tap the screen again and he turns and swings right in response.
That's it - that's the entirety of the game. It's a vertical Flappy Bird, with the gap between the girders coming at different points on the screen, so you have to frantically tap to turn your flyer and ensure that he heads in the right direction.
Getting the timing right is a lot harder than it looks - that's another thing that Swing Copters has in common with Flappy Bird. For the first half hour after playing, our high score was stubbornly fixed at one, and getting to five felt like a great achievement.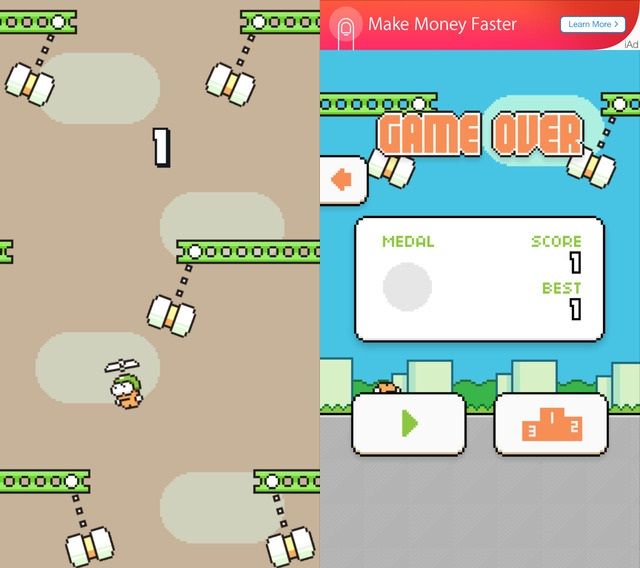 The game is really simple (which is not the same as easy) and so you can always tell what went wrong, and why you died. The game is hard, but it doesn't seem unfair. It spells out its rules clearly from the beginning, and sticks to them, so over time, you can get better.
After all, at first, getting past five seemed impossible in Flappy Bird, but an hour later, our high score had crossed 100.
Sticking to Swing Copters - free on Apple's App Store and Google Play - will make it easier to understand the game's rhythm, and get better scores. In fact, according to the description, you can unlock new characters by winning medals, so the developer clearly expects people to score well.
At the same time, this is a harder game than Flappy Bird. It requires faster reflexes, and there appears to be a smaller margin for error this time. The "hitbox" for Flappy Bird didn't leave much scope for making mistakes - Swing Copters feels even less generous.
The movement in Swing Copters also feels like it lacks the precision present in Flappy Bird. This could largely be an illusion, but Flappy was all about understanding the parabola you started with each tap. The bird would only go so far before it started to fall again. Here, there is a definite component of acceleration involved, but by giving you control over the change of direction, the precision of movement is sacrificed.
(Also see: Here Are 800 Flappy Bird Alternatives That Are Not Simple Clones)
Also, tapping doesn't instantly turn the potato-man and send him spinning in the other direction. There's a very small delay - to simulate momentum perhaps - and this further affects the precision of your movements in the game. This would be fine in some other game, but in Swing Copters, a single touch against anything means death, and you usually have a narrow "safe" path to follow.
The game demands precision and fast course corrections, though the taps don't appear to give you the same degree of control as Flappy Bird did. This makes Swing Copters a little harder, and a little more frustrating, than its predecessor.
Could it still create a viral sensation and become a huge hit?
That's hard to say. Few could have predicted the success of Flappy Bird - Swing Copters on the other hand has the advantage of being launched by "that Flappy Bird guy", and could well see early momentum simply by virtue of its creator.
However, the increased difficult could put people off. For all its difficulty, Flappy Bird made it possible for you to get that occasional big score - the one you would share on Twitter while hiding the strings of ones and zeroes that preceded it. If you can't get there in the first half hour of play though, are you likely to come back and try again?
Some people (like us) certainly will, but that might not be enough for Swing Copters to repeat the magic of Flappy Bird.