Emoji have grown to occupy a central place in text-based communication. Just ask your 9-year-old niece, or her 65-year-old grandmother. No wonder then that it's prompted people to organise a World Emoji Day (it was earlier this month) and undertake research on how variation in the existing emoji palette from one system to another can actually cause miscommunication. No one wants any miscommunication, and it turns out that's possible to solve.
While an app can't help change how emoji appear to different people, it can help you pick better suited ones for your messages. That's what SwiftKey - now owned by Microsoft - is trying to do with its latest app: Swiftmoji. It's an emoji keyboard app on iOS, and a full-fledged keyboard on Android that combines the power of SwiftKey with a dedicated row for emoji. The app promises emoji prediction in response to what you're typing, but it behaves completely differently depending on what device you're using.
On iPhone and iPad, Swiftmoji is meant to replace Apple's default emoji keyboard, and works as a companion to your regular keyboard. To harness its power, you must type a sentence in another keyboard, and then switch to Swiftmoji by tapping the globe icon, whereupon you'll be presented with three rows of 18 emoji predictions. It does have one feature its Android counterpart doesn't - that's called "emoji storm" and it gets activated by holding down on the Swiftmoji icon. If you choose to do so, it will throw in all 18 emoji at once. That's like a WMD for the emoji world.
The Android version is a little different - the flexibility and openness of the Android allowed the developers to tack on emoji on top of your regular keyboard, which gives you direct access to its predictions. Plus they are updated in real-time too, so SwiftKey will analyse words as you type, and try to suggest relevant emoji out of what it claims is a bank of 1,800 emoji. The company says that it has also worked in "worldwide emoji trends" studying the habits of millions of people around the world to give you better predictions.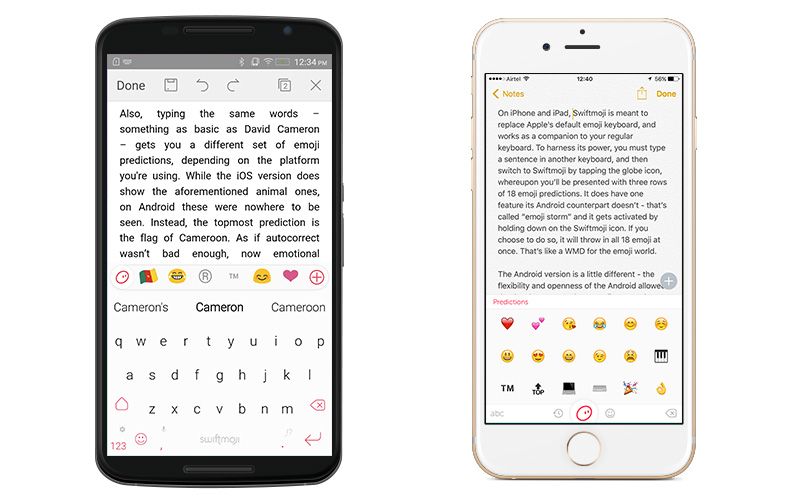 (Also see: Here's How You Change Your Default Keyboard on the iPhone)
Swiftmoji goes one step ahead, though. It can identify the names of popular people - such as ex-Prime Minister of Britain David Cameron, popstar Beyonce, and late boxing legend Muhammad Ali - and suggest emoji based on their traits. And incidents, in one case. So type in Cameron's name and the pig face 🐷 and nose 🐽 will crop up, while for Beyonce, the app throws up the crown 👑 and bee 🐝 emoji. And because Ali has been widely regarded as the Greatest Of All Time (GOAT), fans seem to associate the goat emoji 🐐 with him. (The company didn't comment if this list of individuals would expand post-launch.)
That's all well and good, but there are problems with Swiftmoji that become clear within five minutes of using it. Some of them are iOS-only issues. One, thanks to limitations of the platform, it can't do real-time suggestions on iOS as you have to swap between Swiftmoji and some other keyboard to type words. Because of this, it can't change its predictions if you move the blinking edit cursor around.
Also, typing the same words - something as basic as David Cameron - gets you a different set of emoji predictions, depending on the platform you're using. While the iOS version does show the aforementioned animal ones, on Android these were nowhere to be seen. Instead, the top-most prediction is the flag of Cameroon. As if auto-correct wasn't bad enough, now emoji auto-correct is making things worse.
What's worse, despite being a standalone emoji keyboard app, Swiftmoji doesn't support direct search and word replacement on iOS unlike our favourite keyboard - Gboard. Say you were looking to find all possible emoji that have finger(s) in them. Type in 'finger' and open up predictions, you're treated to a set of emoji that aren't very helpful. On iOS, the first eight emoji actually involve faces before the index finger 👆 shows up. On Android, only three out of a total 24 emoji showed fingers in them. With Gboard, using the word 'finger' gets you access to 10 different emoji that all revolve around human hands. Plus, Swiftmoji only supports word replacement with its Android version so you'll need to manually go back and erase the search terms on iOS once you've found the right option.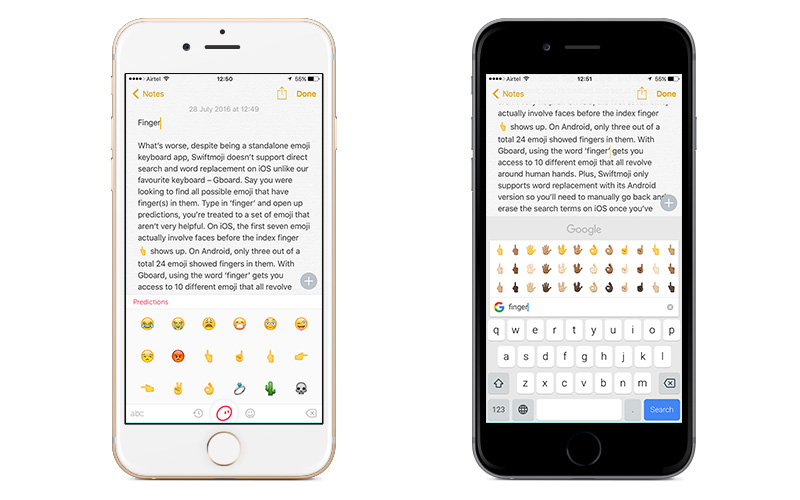 (Also see: 30 Incredible Keyboard Apps for Better Typing on Your iPhone or iPad)
But that in some ways is a deviation from what the app promises. Swiftmoji works best when it's given a string of text to work with. In such cases, Gboard is utterly powerless while Swiftmoji will scan your lines of text to come up with predictions. Here's what it thought of with the preceding lines: 😂 🎶 💫 👆 💌 👍 👶 😍 🆙 ‼ 💯 😉 ❤ ☝ 🎧 😁 💸 ⤴ Some of those are based on the list of most-used emoji, while a couple are based on the words in the sentences.
That's helpful, but it's still a limited use case and one we feel would have been best served by integrating it within the existing SwiftKey app. Sure, Swiftmoji on iOS allows iPhone owners to keep using the default keyboard app for text input alongside it. But what about the iOS SwiftKey users? Should they really have to switch between two keyboards made by the same company for a tiny additional feature? And while Android users are potentially better off with their version of Swiftmoji, its existence as a rival to SwiftKey is completely unjustified.
At its worst, Swiftmoji is a half-baked invention that would have been better served by a complete rethought of its day-to-day usefulness before launch. And at its best, Swiftmoji could have been a clever little feather in SwiftKey's cap. For now, it's neither and that's disappointing.