If you've ever had to sign a stack of documents, you know it's a tedious process that will make anyone shudder. The only thing that's worse than having to sign 20 sheets of a single document, is having to first print out the document, then sign every page, and then scan it back in to send on email. With more and more services now accepting electronic signatures, this is getting even more pointless.
SignEasy is a universal iOS app (the same version works on iPad and iPhone) that lets you sign documents without having to print them. These electronic signatures are now accepted by a number of government offices in India; for example, you can do this to file your IT returns.
SignEasy has been around for a while and a recent update brought support for iOS 8 and Touch ID (fingerprint scanner), which means that you can authenticate your signatures using your fingerprint. Before you do that, the first step is to add your signature to the app.
First, tap the hamburger icon (three horizontal lines) at the top-left and select Signature & Initials. Now tap Add Signature to get started. You can draw your signature using your fingers or a stylus (whichever you prefer). Hitting another button confirms the signature. You can also draw your initials in a separate tab in the same menu.
There's an undo button, so you can take your time and get this right. The signature can be red, black, or blue, in case there are any rules you need to follow about the colour of the signature.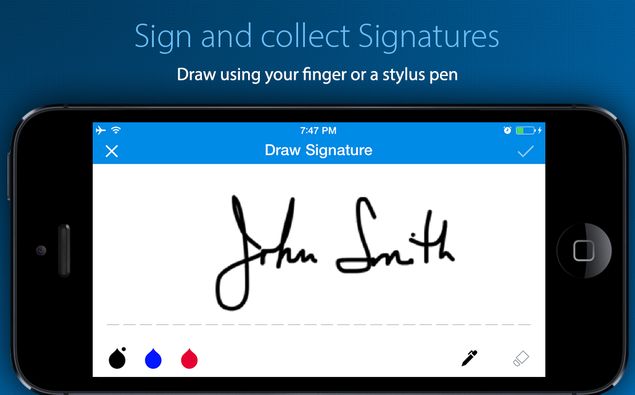 Once your signature is saved, you can easily add it to documents simply by verifying your thumbprint. The app itself has a pleasant looking blue-white theme, and stored documents are colour coded for easy recognition - original documents have a black icon, drafts are light red, and signed documents are green.
The app lets you import documents (it supports PDF, Word, Excel, Text, Open Office, HTML, Apple Pages, JPEG, PNG, TIFF, GIF, BMP formats) from your photo library, email, and from popular cloud storage services such as iCloud, Dropbox, Evernote, Box, OneDrive, and Google Drive. Once imported, the documents show up in the app's main screen. Tap any document to open it and tap the big blue button at the bottom and tap signatures to select your signature.
Up to three people can sign any document using this app, which is very convenient in case you have documents that require witnesses' signatures. Witnesses signatures can be saved, but only for the document you've got open - they aren't saved once you seal the document.
You can choose to pick your saved signature or have up to two others draw their signatures. As a security precaution, signatures are only stored locally on your devices, and not on SignEasy's servers. This does mean that your saved signature can't travel between handsets, but that is a minor inconvenience when compared to the added security. Signed documents are stored on the cloud though. The app also lets you add initials, today's date, custom text, checkmarks and images to the document. That makes the app pretty useful for filing up digital forms as well.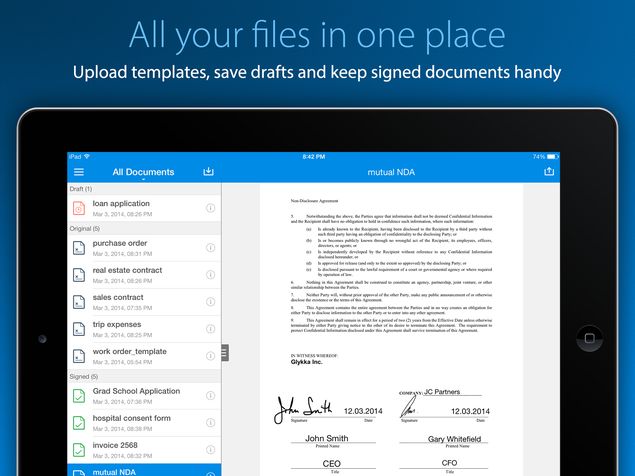 We tested all of these features and had no trouble using any of them. You can place text, signatures or any other elements on a document, and the app lets you easily move these via a simple drag-and-drop gesture. You can drag a corner of the element to resize it too. This eliminates the need for any other software or machine to fill up most forms. The only thing we found a bit odd was that the app doesn't enable a passcode or Touch ID by default. You have to go to Settings to enable these. Once enabled, it worked flawlessly.
The only bug we spotted was on the iPad version of the app. When we tried to change the default formats for ink colour, date and the text (normal, bold or italics), the iPad app showed us blank drop-down menus. This worked as it should on our iPhone though and we hope that the developers will fix it in a future update. SignEasy stores all your documents on its servers, so you can use the app on multiple devices - we signed a document on an iPhone and it showed up on our iPad almost instantly. You can send the document to others via email or upload them to the cloud storage services mentioned earlier.
If you live in a place where electronic signatures are commonplace, we wouldn't hesitate to recommend SignEasy. In India, where physical paperwork is still the norm, the app is less useful. However, you can download the app for free and sign up to three documents. You can unlock more documents using in-app purchases - a one-year pro subscription for $30 (Rs. 1,850) that lets you sign unlimited documents and a pay-as-you-go subscription that costs $5 (Rs. 300) for 10 documents.
The app is also available for Android and BlackBerry

SignEasy on the iTunes Store (Free)