There are lots of ways to keep in touch with people living in other countries but most of the free ones require a stable Internet connection - which is often a major stumbling block. When you're at home on a fast Wi-Fi connection, it is easy to video-chat with friends and family using services such as Skype and FaceTime. But it's very hard to find a stable 3G connection when you're on the move, even in big cities such as Mumbai and New Delhi.
Aside from this, for a while it looked like Airtel was going to charge extra for access to services like Skype for both prepaid and postpaid users. While Airtel's move is on hold for now, this could change soon.
(Also see: Is Anyone Thinking About Net Neutrality in India?)
At the same time, a telephone call can be extremely expensive. We recently called up a friend in Dubai and ended up paying over Rs. 50 for a three-minute conversation. Ringo, an app that claims to let you make "Internet-free" international phone calls at low rates wants to solve both these problems, of cost and connectivity, at the same time. Ringo recently arrived in India and its call rates looked appealing enough for us to see if it works as advertised. Here's what we thought after using it for a while.
It's not totally 'Internet-free'
Ringo lets you make phone calls to mobiles and landlines in other countries. Only you need to install the app on your smartphone. The other person can answer the call without installing Ringo, so you can call anyone who has a working phone connection.
Ringo is a well-designed app that checks your contacts and lists only those with an international number. This is a nice touch to ensure that you don't have to sift through a tonne of local contacts to find those you need to call. All you have to do is tap any of these contacts to request a call. Ringo says when a user from India contacts someone in the United Kingdom, the app automatically dials out a local call to the Indian user and another local call to the UK user and connects the two over reliable carrier circuits.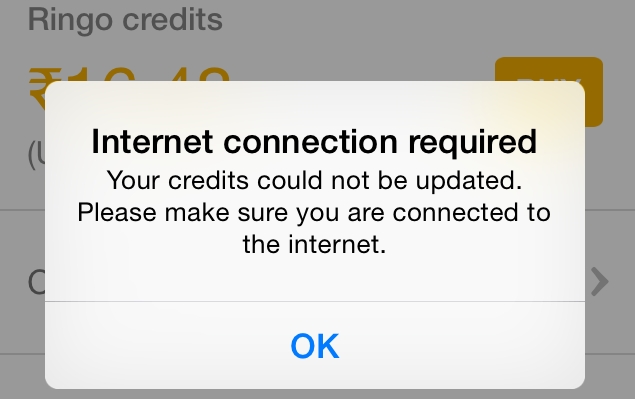 Once you send the request, you'll get a call from a Ringo number. Answer that call and an automated message will play, telling you that you'll hear a series of beeps until the other person receives your call. Once your contact answers the call, the experience is just like any phone call. The call was clear, barring a minor drop in voice quality when the person we called passed through an area with poor network.
While you don't need an Internet connection to speak to your international contacts, you'll need an Internet connection to request a phone call via Ringo. The app also uses a data connection to for the billing at the end of the call, tracking your Ringo credits - which are like the balance amount on any prepaid mobile connection.
Ringo credits
You need to buy Ringo credits to make phone calls, just like you get a prepaid recharge. This can be done within the Ringo app or from the website. When we tried to buy credits via Ringo's iPhone app, a pop-up informed us that we'd get Rs. 42 in Ringo credits (+ Rs. 18 first time purchase bonus) by paying Rs. 60. We bought a recharge via the app and got an email from Ringo stating that transactions made through the iPhone app are subject to 30 percent fees from Apple.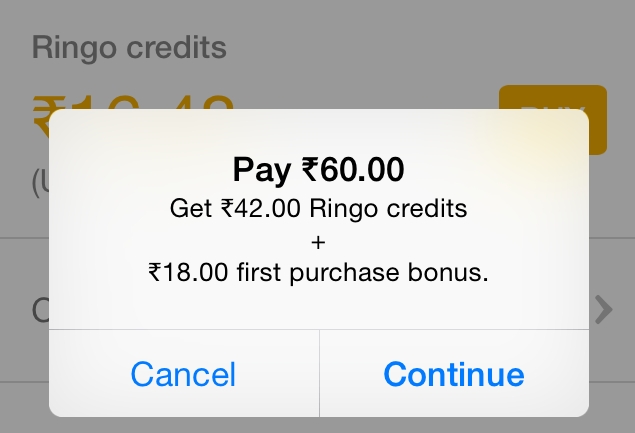 The mail asked us to get a recharge via the website to avoid this. We got ourselves a recharge from the website and can verify that you get credits worth Rs. 63 when you buy a $1 recharge.
Another additional charge that's not advertised anywhere is that missed calls are not free. If you request a call via Ringo, you get a call from Ringo and you wait until the other person answers the call. If the person doesn't answer the call, you pay for the minute or so that the attempted call lasted for anyway. As regular users of VoIP services would know, this is the case with other apps in this category (such as Skype) as well. With Ringo, this may set you back by a minor Rs. 1.08 if you're calling someone in the US; however, a missed call to Dubai will cost you Rs. 8.62 because the call rate for UAE is higher than that to the US.
Is it worth it?
Despite these issues, Ringo is actually offering a pretty good deal. Its rates are a lot lower than those offered by telcos. If you're thinking that you can just buy a calling card from telcos to get low ISD rates then you're probably forgetting that these cards are valid for a limited time and often have additional charges in the fine print too.
(Also see: Beyond Skype - 3 Apps for Cheap International Phone Calls)
Ringo is not the only one offering low-cost outgoing calls and we have written about three other services that offer similar features - Nimbuzz, Line and Viber, in addition to the popular Skype. A quick glance at their fare charts reveals that calls to the US are cheaper using Nimbuzz (although Skype has a promotional offer that makes calls to the US free till March 1, 2015), but for UAE, Ringo's rates are lowest. We looked at rates for several other countries and found that Ringo offers competitive prices. But with Ringo, you don't need to have a fast Internet connection - you just need to be able to send the connection request, and the rest of the call happens on your phone line.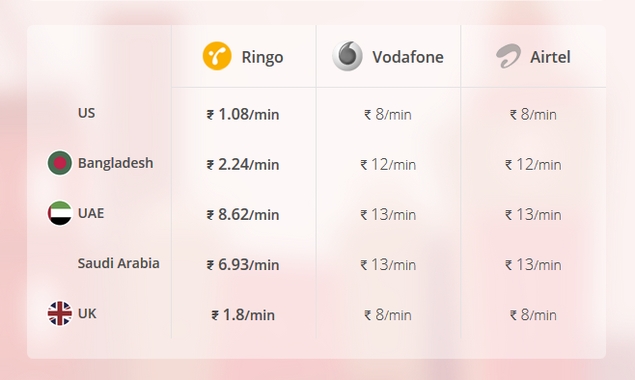 Ringo's credits don't expire, unlike those offered by Line which expire in 30 days. Skype lets you pay a fixed subscription fee if you want lower calling charges, but we prefer having low rates without paying a monthly fee - which Ringo offers. Ringo is a lightweight app that focuses only on letting you make phone calls. If you don't want an app with other social features such as instant messaging, you will like Ringo. But if you are a regular Viber or Line user, then there's no real reason to switch to Ringo unless its call rates are lower for the country you want to call.
Of course, it's still cheaper to make voice calls via the Internet using a chat platform like Skype or Facebook Messenger. We made an audio call using Facebook Messenger and checked our data balance before and after the call. This told us that we used roughly 0.6MB of data during a call that lasted for a minute. On 3G plans, most telcos charge around Rs. 250 for 1GB of data, which equates to roughly 25 paise per MB. Various broadband plans make data even cheaper. That means our minute-long VOIP call cost us around 15 paise or even less if we were chatting while connected to the Wi-Fi.
The problem with free VOIP services such as Skype, FaceTime, and Facebook Messenger is that both speakers need to be connected to the Internet, and both need to be using the same chat app, and have connected to each other. Most of us have probably gone through the ritual of making a short phone call to get the other person to switch on their computer and log into Skype in order to talk, and Ringo takes that hassle out of the picture entirely.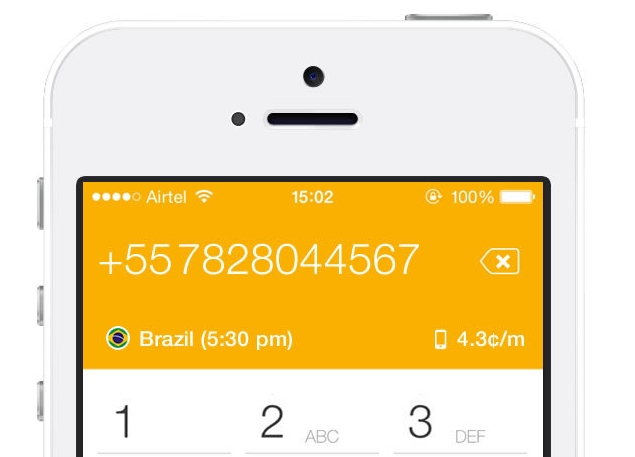 Even if you are on a slow 2G connection, it is possible to request a call through Ringo (it just takes a little while longer). The rest of the process is offline and should present no problems unless there are network issues on either end. You don't have to worry about call drops due to a flaky Internet connection or getting the other person to install apps and register with any service.
Conclusion
Ringo offers an easy and affordable way to make phone calls to international numbers. We found that it works reliably and is a good option to call those who don't have a stable Internet connection. As long as you are getting a recharge through the Ringo website, it's a good deal for those who frequently call people living abroad.
Ringo can be downloaded for free on iOS, Android, and Windows Phone.