PepperTap is a supermarket app on your smartphone, not to be confused with PepperFry, which delivers furniture. Confusing name notwithstanding, we found that PepperTap actually lives up to its promise of delivering groceries and other staples within two hours of placing the order.
Of course, on-demand grocery is a busy market right now, with Grofers being perhaps the best known app in the category, and other competitors like Local Banya and ZopNow also jostling for space on your home screen. These apps are useful because the local kirana store often might not have all the products when you want them - instead of calling multiple stores, you can simply place your order with these apps, and leave the work to them.
PepperTap, which was launched in November 2014 in Gurgaon, today covers all of Delhi NCR, Bangalore, Hyderabad, Chennai, Chandigarh, Jaipur, Kolkata, and Pune, with plans to expand into smaller cities as well. It delivers goods in seven categories: fruits and vegetables, food and drinks, staples and spices, breakfast and dairy, bath and body, home and hygiene, and baby needs. It promises to deliver within two hours of placing the order (between 10AM and 10PM) or you can place the order in advance.
You can buy a maximum of 20 items per order, which can make bulk buying a little inconvenient - but if you're a regular shopper then the PepperTap app is actually quite convenient, particularly as you can get everything from flour and oil, to tea leaves and coffee powder, to fruits, vegetables, sauces, pickles, and health and sexual wellness products all from one app. Delivery is free for orders over Rs. 250, and if you're ordering for less than that, the Rs. 50 delivery charge is a bit steep, and in such a scenario you're probably better off calling the shop directly.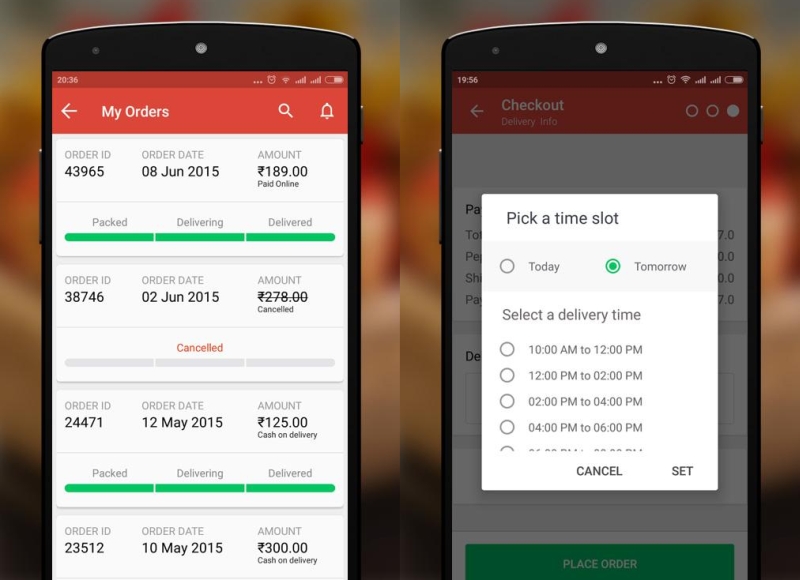 Actually using the app was quite easy and there was no lag on our Android phone. We used the app for deliveries in Greater Kailash 1 in Delhi, and had no issues, with the deliveries arriving on time even when we ordered during a day with heavy rain. On one occasion though, we weren't able to place an order for delivery because there were no slots available.
In terms of the design, there are a couple of things that could use improvement. For one thing, the Favourites section automatically lists items that are frequently purchased, but there's no way to add items to this section yourself. Secondly, you have to choose online payment first, and then select the mode of online payment i.e. cards, netbanking, or PayUMoney. That seems like an unnecessary extra step and we also wish that the app adds other popular payment options such as MobiKwik and Paytm.
As is the case with most new companies in India, PepperTap is also offering a lot of discounts to shop on its platform. The first time you shop on PepperTap, you'll get a 20 percent discount, and there are frequent discounts at other times too. And when you're shopping, you'll often see discounts offered on specific items as well.
So how does it measure up to Grofers? While the overall applications are pretty similar, there are some differences between Grofers and PepperTap. Grofers lets you choose which store you want to buy from, which you can't do with PepperTap. Grofers also wins for now, because of its wider selection. However, at times you will find better deals on PepperTap, so it's worth it to check both apps when you're not in a hurry.