What happens when Crossy Road meets Pac-Man? You get one of the smartest takes on the classic game, bringing in elements of an endless runner without losing out on that which is quintessentially Pac-Man.
We've described Crossy Road as either the best or the worst game out there, and included it in our 10 favourite mobile apps and games of 2014. Crossy Road was a smart take on the oversaturated endless runner genre, bringing in some fresh concepts to a type of game that hadn't really evolved since Subway Surfers hit our screens.
On the other hand, everybody knows Pac-Man. Launched in 1980, Pac-Man was one of the first video games you probably played - on an arcade machine if you were old enough, or on a computer or home console. In its 35 years, the game hasn't changed much, despite multiple iterations, including Pac-Man Championship Edition, which first released in 2007 for the Xbox 360 and PS3 consoles, but is now also available on iOS and Android. In 2010, for the 30th anniversary of Pac-Man, Google also commemorated the little yellow fellow with an interactive doodle, letting you play Pac-Man on its website.
So when Pac-Man owners Namco-Bandai teamed up with Crossy Road creators Hipster Whale to create Pac-Man 256, there wasn't really much that could be done to freshen up the formula - we thought. The results though, are nothing short of amazing.
The original Pac-Man includes 255 levels - the 256th level of the game was unplayable, with half the level missing - and the Map 256 Glitch therefore marks the end of Pac-Man.
Pac-Man 256 takes place in the 256th level of the game - you're in a normal maze collecting pellets, power-ups, and collectibles like fruit, but the map extends endlessly upwards. From the bottom, the glitch is slowly creeping upwards - it's not really a huge threat (unlike the eagle from Crossy Road) but it means that you can't backtrack too much - and you've got to keep moving through the maze, dodging ghosts and picking up specials.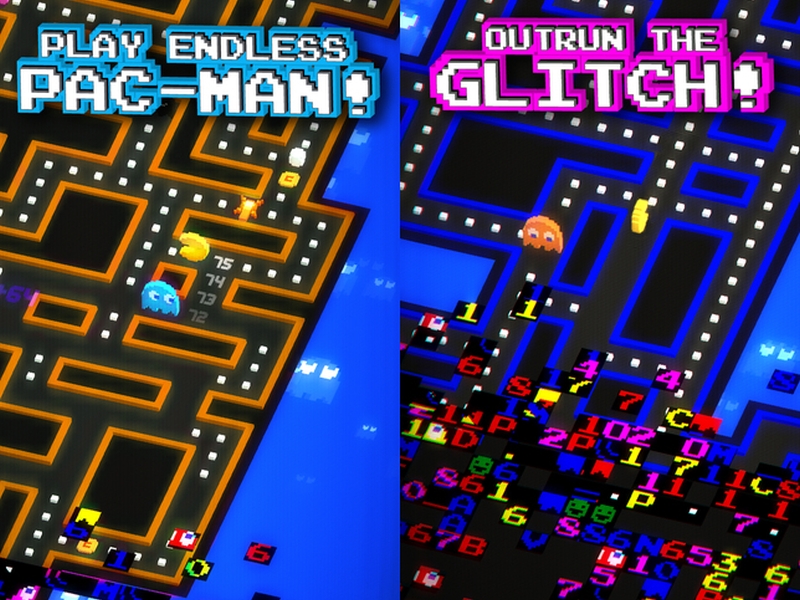 Visually, it's a bit of a blend of the classic Pac-Man design, but with an accent of the chunky visuals that Hipster Whale used for Crossy Road. Considering how deliberately retro Crossy Road was, it's not too surprising to see that Pac-Man 256 also looks excellent.
There are some other tweaks to the formula as well. For one, the game now includes load-outs, for powerups. These include lasers to zap the ghosts, and boosts to make you move faster. Unfortunately, the power-ups also form the basis of the freemium elements of Pac-Man 256.
That's because, apart from pellets and power pills, you can also pick up credits as you run through the maze. And if you want to play with your power-ups activated, then you need to spend a credit to start each round of the game. Also, if you get hit by a ghost, you can spend one credit to continue the game, or you can choose to end the game and start over.
It's not much, and the game is fairly generous with credits - a 15 minute session on your commute should get you around 10 credits if you're careful, and you can periodically watch short videos to earn more credits, or complete challenges to earn them - you can also buy a coin-doubler from the Pac-Shop, for Rs. 279 on Android or Rs. 300 on iOS. There's also an unlimited credits IAP of Rs. 490, which makes more sense to us than buying the coin doubler, as it is a one-time purchase that takes away the premium elements from the game.
Pac-Man 256 also supports Bluetooth controllers, and we were able to test this feature out as well. Using a joystick to control Pac-Man feels great and brings back our earliest memories of playing Pac-Man, but the game has been designed to work really well with touch controls too. All you have to do is swipe and Pac-Man turns in the desired direction - the controls are really quick and precise, so there's no need to use a controller - and these fast and accurate controls are one of the reasons we really liked the game.
Overall, Pac-Man 256 is an excellent game that makes the most of the original game while adding a very smart and modern twist to it, and the free game is definitely something you should download on your mobile phone, particularly as the freemium elements are used in a very reasonable fashion.
Pac-Man 256 is free and available on Android and iOS, with in-app purchases ranging from Rs. 60 to Rs. 490.