Notification Centre widgets have become a useful part of iOS since they were first unveiled as part of iOS 8. If you have an iPhone or iPad, you can pull down the Notification Centre and add installed apps' widgets to the Today view by tapping Edit. From weather updates to sports scores, these widgets let you quickly check useful information without having to open apps.
Most apps have a useful companion widget in the Notification Centre, while there are some that exist only for their widget. Orby Widgets is an app with 12 widgets that you might want to try. We checked it out to see if these widgets are useful.
(Also see: Ten Amazing iOS Widgets That Ensure You Don't Need to Open the App)
Design
The Orby Widgets app isn't much more than a few cards that show you what each widget does. A button at the bottom left brings up the list of widgets and lets you tweak how the widgets display data. The app's design is satisfactory but we would've preferred it if the widget settings button was more prominently placed. The settings icon doesn't make it easy to guess its purpose either.
Still, with this kind of an app, the design isn't that big a deal. As long as it lets us configure the widgets and tells us what each widget does, we have no reason to complain. Orby Widgets does that well, which brings us to the design of the widgets. Most of these widgets use a simple design without much colour. White lines, against the Notification Centre's slightly transparent grey background, look elegant. A few of the widgets do use colour, but these don't look as good. For instance, the storage widget uses purple to show the space used in device. The visual data looks good, but the purple text under the chart is rather hard to read.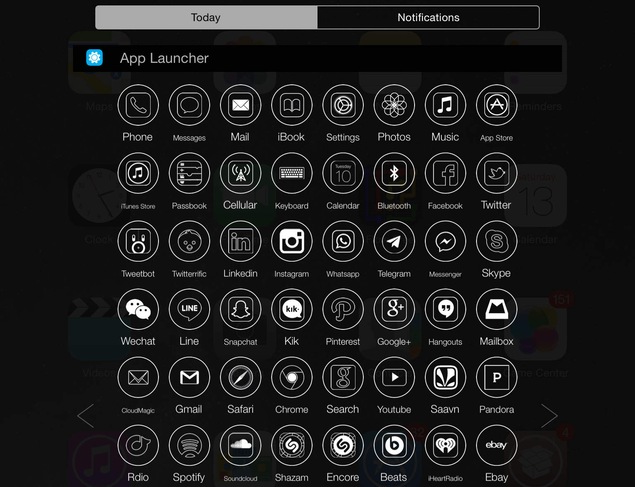 Another minor quibble was with the font size in the App Launcher widget. This widget lets you launch apps and you can see the name of the app under its icon. Apps with slightly long names, such as Google Maps, were reduced to a tiny font size that was almost unreadable. The developer says, "Since there's not lot of space to accumulate elongated text for a defined area, we let the system handle those changes. Even if we provide support for dynamic handling, UI would feel a lot inconsistent comparatively and there's limited space you might not want to waste in Notification Centre," but that only affects the apps that aren't already included by Orby Widgets. Supported apps like Google Maps also look strange because their names are too long to display.
(Also see: How to Add Widgets to iOS 8's Notification Centre)
How useful is it
Tapping the index icon on the bottom left part of the app brings up the list of widgets - memory, CPU, storage, battery, share, speed call, calculator, conversations, app launcher, network, network addresses, and runtime. As you can tell, seven of the 12 widgets, such as memory, CPU, or storage, are status indicators. If you're a developer or the kind of person who loves monitoring your iOS device's system status, then these widgets might be useful. But for most people these widgets wouldn't be very useful, even though they work as advertised.
That brings us to the five remaining widgets. The app has a basic calculator widget, similar to the ones you can find in free apps such as Wdgts or PCalc Lite. The app launcher and conversations (message, email shortcuts) widgets are akin to what you'd find in apps such as Launcher. That app is free to download but if you want to add more than three rows of widgets to Launcher, you'll have to pay. Orby Widgets is a paid app but it lets you add as many rows of apps and contacts in its widgets.
The speed call widget lets you add speed dial contacts. It also lets you dial numbers manually from within the widget. No one really remembers phone numbers anymore, but this feature saves time and could be useful for those two or three important numbers you do remember. The final tool in the app's locker is the share widget. It has two icons - one for posting to Facebook and Twitter. All it does is open a box where you can post your tweet or Facebook post and we don't see how it is any faster than opening the Twitter or Facebook apps and doing the same thing.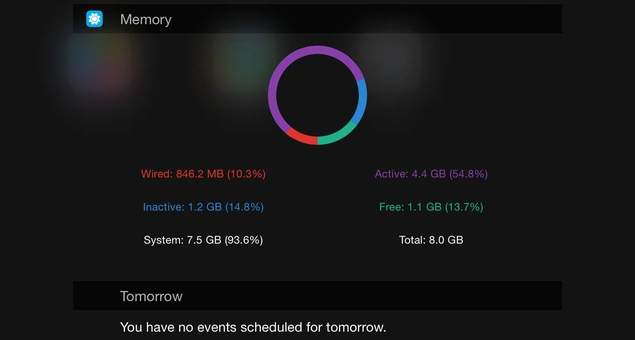 (Also see: The Best iOS 8 Notification Centre Widgets)
But this widget has one interesting feature for avid music listeners. You can tap and hold the Facebook or Twitter icon in the widget to share the song currently playing in the default Music app. This feature would have been a lot more useful if the app could pick up songs from other apps as well. For instance we played podcasts and songs from streaming apps but the widget couldn't share songs from those apps. The developer says this is due to an iOS limitation as apps are sandboxed.
We did encounter a problem that the developer needs to fix. The first was with the conversations widget. We tried to add a shortcut to iMessage a contact, and the widget worked fine when we added the person's phone number, but not when we added an email address. Apple's iMessage lets you add contacts via phone number and email address. The widget introduced two forward slashes (//) ahead of contacts' email addresses when we tried to set up iMessage shortcuts. The developer says this will be fixed in an upcoming update.
One more minor issue was with the app launcher widget. Orby Widgets supports many apps that can be added with a few simple taps to the launcher widget, but the ones it doesn't support need to be added manually by entering the app's URL on your device, for example "overcast://". This is simple enough, but when you do that, you also have to select an icon for the app. If you don't have it, then you'll end up with a generic gear icon glyph that doesn't stand out next to the beautiful white glyphs that supported apps get. The developer says that it isn't possible to have glyphs for all apps on the App Store and hence people will have to add their own if an app they use is unsupported. The app Launcher just uses app icons instead of glyphs, but Orby's design choice puts the onus on you to add a nice glyph. However, this is unlikely to bother most people.
Verdict
Orby Widgets does have 12 widgets but unfortunately we didn't find most of them useful. The competition is tough on the App Store and other free apps have similar widgets, even if you'll have to install two or three of them to get all that Orby Widgets offers. If you'd rather have one app for all your widgets, then Orby Widgets is a decent option, and at Rs. 60 it isn't a bad deal at all despite a few minor bugs.
Orby Widgets is available on the App Store for Rs. 60.