Opera Mini is back with a new update that brings some useful new features to the mobile browser. If you haven't heard of Opera Mini before, it is a mobile browser that is popular for its data saving features and customisations. Opera Mini is available on iOS and Android as a free application.
Design
The design of the Opera Mini browser is clean and smooth, and it feels lighter than the other browsers. We were using Opera Mini alongside UC browser, which is one of the most popular mobile browsers on Android, and felt that Opera Mini has a less cluttered interface, though UC browser has more tools.
We tried opening quite few tabs to see how the interface looked and performed and the tabs don't look cluttered while multi-tasking. The main interface is quite intuitive. You can also view pages in night mode to avoid eye strain, or select themes to dress up your browser.
Features
On the iPhone, there are three modes for the Opera browser - Opera Mini, Opera Turbo, and Off Mode. Opera Mini maximises the speed and data savings when you are on a slow connection, giving you many different settings to choose from to maximise data savings. If high resolution pictures are eating up your data, you can decide whether you want to see them in a lesser resolution. Simply go to the browser's advanced settings and select the image resolution - low, medium or high, or you can even choose not to load images. This is great when you are on a slow connection.
On Android, you can switch on the Extreme mode. This mode, like the Turbo mode, boosts data savings and speed on poor networks. Some heavy pages don't work seamlessly on this mode. The video boost and the images feature on Android work the same way as on iOS. You can always switch the mode off if you want to continue browsing without data saving functions.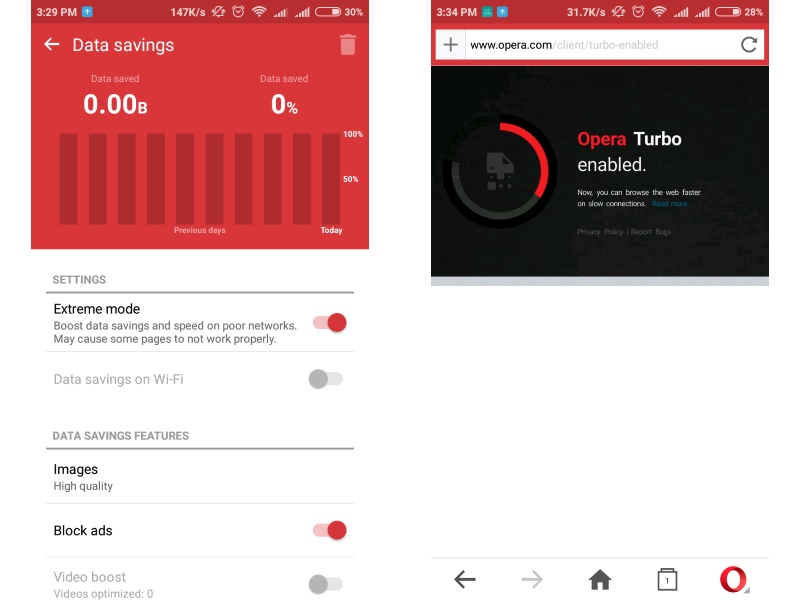 Turbo mode also gives you speed and data savings by letting you block ads, or play videos faster using the video boost feature. Once, you turn the video boost on, it will compress the resolution of the video, so that you will have less buffering on slow connections. We logged on to a couple of websites that usually bombards us with ads, and we saw the difference. Videos also played faster than the other browsers, but Facebook took a little longer to load on Opera, when compared to Chrome.
The third mode is the "off" mode where you can disable all data savings. When you are in a fast data connection, this works well. This is ideal for when you're at home or in office and are connected to a Wi-Fi network, and want to load pages with all the visual elements in place.
One thing we liked was the customisation possible in the browser. For one thing, you can change the language of the browser UI into your language - English, Tamil, Afrikaans, Hebrew, etc. There is a speed dial feature where you can add websites to the main page, making it easier to get to your favourite sites.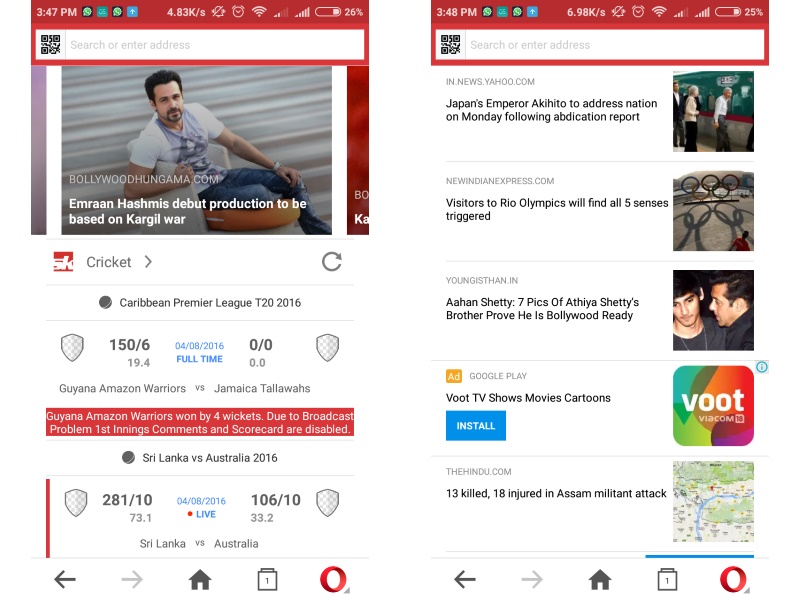 Opera Mini also has a news feed that has news on global affairs, entertainment, sports, food, business, arts, and more. You can customise this according to your tastes as well. The news feed works fine when you want a quick glance at what is going on around you. You get your content from all sorts of publications depending on what country you are from. There is also region specific content, so you'll find stories from India in Hindi, for example. Of course, if you're more interested in, say, a global perspective on technology, that's available too.
Verdict
Between Opera Mini or UC browser, it is about whether you are a minimalist or you like to have a lot of features. For data savings, Opera Mini has an edge over UC browser. It's faster and consumes less data. It also has a lot of customisation options which is great. For a country like India where you end up browsing in slower connections, Opera Mini is a good option.