These days, Gameloft is known for making good looking 3D games like Modern Combat 4 and Rival Knights, or making movie tie-ins like Captain America: The Winter Soldier. While the company has released some games that have an up-front price, the bulk of its releases are free, and loaded with excessive in-app purchases.
So when we saw that Ninja Up, the company's latest release, is free to download, we were expecting another IAP-loaded experience. It turns out though that the game is completely free. Ninja Up doesn't have timers or consumables you can pay for - instead, you can just download the game and start having fun.
And there is a lot of fun to be had. Ninja Up is a 2D jumping game a little like Doodle Jump in that you keep rising upwards, and need to move from side to side to avoid obstacles. However, in Ninja Up you don't directly control the little ninja as he bounces up - instead, you have to swipe the screen strategically, to place trampolines for the ninja to launch off. A short trampoline makes him bounce faster and higher, but make it too small and you might miss him on the way down.
By angling your swipes, you can adjust the direction in which the ninja bounces, and that is important because there are a lot of obstacles on your way as you rise. At first, there are just cranes fixed to the sides of the screen, and dodging them is pretty easy. Soon you'll start seeing other ninjas in the sky - the red ones hang in one place, while the yellow ones move from side to side, and the game gets trickier. As you rise higher, the obstacles grow in number and get harder to dodge, and eventually, you're going to crash into something.
That's the entire game, and with its simple visual design and the tight focus on a single gameplay mechanic, it doesn't really feel like a typical Gameloft game. The visuals have a sense of whimsy - the backgrounds could be hand drawn, while the characters (your ninja and the various obstacles along the way) have a blocky appearance, as if made from Lego blocks.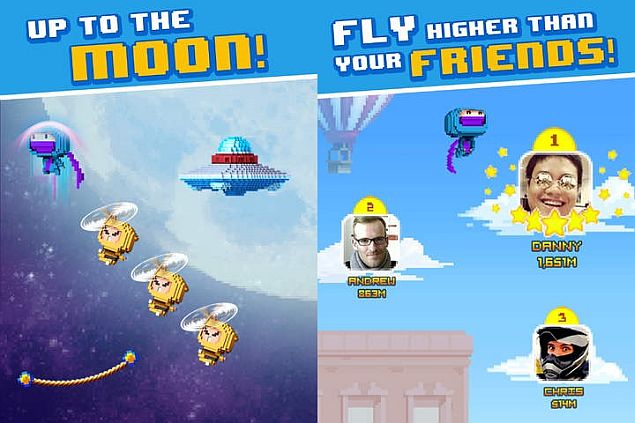 The audio isn't a great fit for the visuals - it's got this stereotypical "mystical east" thing going on, it is honestly a little too noisy and fast, and can distract you from the game. We ended up keeping the game on mute most of the time.
While the basic gameplay is very simple, Ninja Up is actually a very difficult game. The collision detection is highly unforgiving, and a single hit ends your jump, leaving you to start from the ground up in an instant. That's part of the appeal of the game, of course - since the gameplay is so straightforward, you can always see what went wrong, and playing for just one more round to do better next time is almost irresistible. We played the game on an iPad, but it looked like it would be equally enjoyable on an iPhone's smaller screen.
Unfortunately, that's where things fall apart. The reason Gameloft is not attempting to make any money directly off Ninja Up might just be because it sees the game as a way to advertise all their other games. After you die, you have to hit the restart button to start again, and once you do, there is usually an ad that plays before you can start jumping.
The ads are for Gameloft's other games and they take a couple of seconds to load. Once you dismiss the ad, it still takes a second to start the game off again. This delay completely kills the momentum of the game. When you look at games where death is always just a second away (think Canabalt, or Super Meat Boy, or even Flappy Bird), the appeal is that you should always be able to see what went wrong, and the games all restart instantly, so that you're starting a fresh attempt with all the momentum intact.
By putting those ads in between jump attempts, Gameloft has broken the flow of an otherwise enjoyable, if difficult game. Still, it's completely free with no IAP either, so it's definitely worth checking out because the core gameplay itself is pretty enjoyable, despite the annoying ads.