The Pushbullet app allows you to share files between your desktop and mobile devices, and share messages between all your devices. This can be done without installing any software on your computer, and works even when your devices are not on the same network. A new update now allows Pushbullet on Android to also look through your phone's SMS inbox and to send SMS's to people from your computer.
(Also see: Nine Things You Can Still Do Only on Android)
The app was recently updated to improve SMS conversations and the new version works extremely well. The app itself is only around 5MB to download on Android, so downloading and installing it didn't take much time. When you start Pushbullet, it can look a little confusing, but actually using it is pretty straightforward.
After you sign in to the app using either Facebook or Google, it shows you a list of all other contacts who are also using Pushbullet. You can then message them directly using either the Pushbullet app on your phone, or the Pushbullet app for Windows, Mac or even the Pushbullet website. It can read the notifications that come to your phone, and show them to you on the desktop, so you can leave your phone in your bag without missing out on anything important while you are working on your desktop.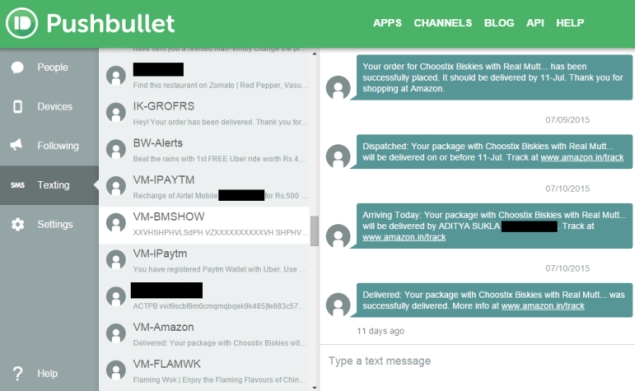 The app itself is divided into three main sections - chats (which shows your conversations with friends and between your devices), devices (which shows all the devices logged into Pushbullet with the same account), and following (which shows different subjects you're following, like the latest updates from the webcomic XKCD, for example) - and on the desktop, you have one extra option, SMS Texting.
The "SMS Texting" tab in the desktop or Web view shows your phone's SMS inbox. You can scroll through your inbox and see all the text messages you've received. Clicking on any one of them loads the whole conversation thread. Earlier, Pushbullet only showed messages as they came in, and let you reply to them. Now, you can enter a phone number and send a fresh message, or reply to any message in your inbox. Sending an SMS from the desktop is possible as long as the phone which is actually sending the text is connected to the Internet, even if it is on a different network from your computer. The only catch is that outgoing messages are limited to 140 characters, against the usual 160 character SMS limit.
Other than that, we also tried sharing files. We sent some photos and some audio transcripts to our phones from the desktop, and vice versa. The process worked flawlessly in both cases - it's even simpler than using Dropbox in this specific scenario - and if you're sharing files from your computer, it's as simple as drag and drop. All of this works even when you're on different networks, which means that you could send files to your office computer using your phone while commuting, or if you've signed into the app using multiple devices, you could send files between them even on the road.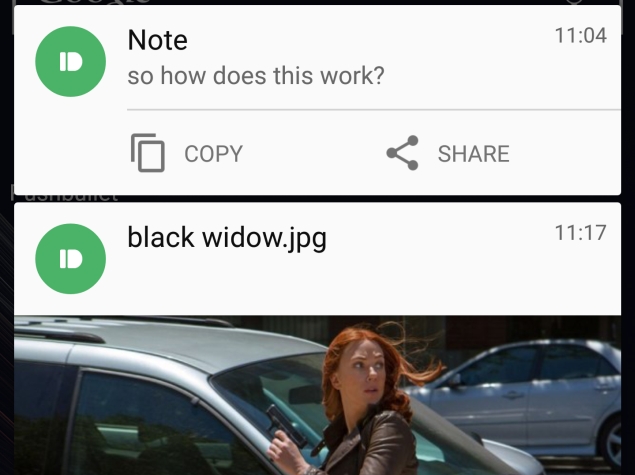 The app also works on iOS, though that version is a little less powerful, due to the limitations of Apple's operating system. For one thing, you can't reply to SMS messages using Pushbullet. For another, the sending and receiving messages between devices using Pushbullet was also visibly slower. Another big difference is in sharing files. Anything you share to Pushbullet is saved to the app, and used from there. This means, for example, that if you have some .epub file, for example, legally procured and DRM free on your Android phone (we had several thanks to the Humble Books Bundles) then you can't share the file using Pushbullet, and then read the book using iBooks. You can do that if you share the book using email but even after the book is saved, we couldn't find a way to bring it into iBooks.
Similarly, pictures shared through Pushbullet can be viewed there or shared through various apps,, but are not saved to your photos roll. And while Android users can go through the file structure and share anything they want, iOS users are limited to just sharing items in your Photos roll. These are all limitations of iOS and not Pushbullet, but if you were thinking of using the app on an Apple device, it's important to know these facts.
On Android though, we really liked using Pushbullet. We're already into the habit of switching our main communications systems - Slack, email, and WhatsApp - to desktop clients as soon as we get to the office. With Pushbullet, we're taking SMS and other notifications to the desktop too, and just leaving the phone in the bag, with a Bluetooth headset taking care of the pesky voice calls.
The Pushbullet app is free to download on iOS and Android, and the desktop browser extension is also free. You can also use the Pushbullet website from your desktop, so you don't need to install any software on your PC to use Pushbullet.