The countdown to the Olympic Games 2012 set to take place in London has barely an hour to go before the opening ceremony to the highly anticipated Games begins. The coverage for the Games is expected to be one of the largest digital event in history. Social media apps come to the rescue of fans wanting to catch the athletes in action right at their fingertips. Here are some of the apps to keep you updated with the event.
1. London 2012: Official Join In App for the Olympic and Paralympic Games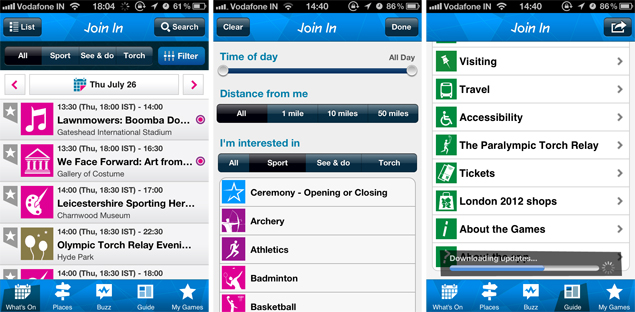 This app will feature every single moment that takes place during this year's Games; beginning from the Olympic Torch relay to the Olympics and Paralympics as well as the opening and closing ceremonies.
The user interface is beautiful not just to look at, but in functionality as well. The app is loaded with tons of features. There's a full guide for users to browse through various ceremonies, events, activities and more.
Users can get live updates with new, photos and commentary from the games.
They can plan best routes to competition venues. Filter and search tools will prove useful to find out what's happening nearby.
The My Games section allows them to plan their Olympics experience accordingly. Users can share their interests via social networks like Facebook, Twitter and Foursquare.
The iOS version has a really cool feature wherein users can tap or shake their device to ring in the London 2012 Olympic and Paralympic Games.

Available on: iOS, Android, BlackBerry (Free)
2. London 2012: Official Results App for the Olympic and Paralympic Games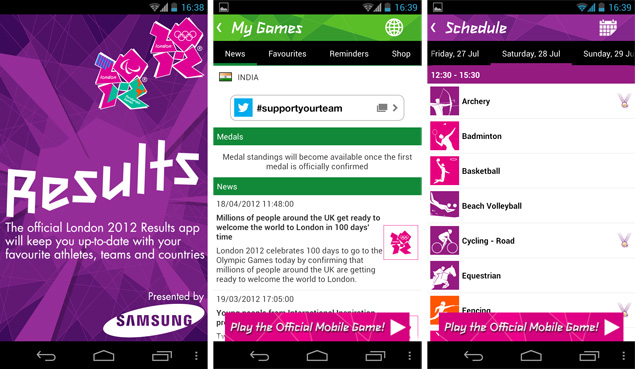 The Official Results London 2012 app features live updates, results, calendar schedules,details of all 36 sports and more covered during the Games.
Users can also view information on athletes participating in various sports along with their current standings in the Olympics 2012. They can set reminders and favourites for every sport they wish to follow and also set notifications and alerts to stay updated at all times.
A future update of the app will offer more details on Paralympic games. Twitter integration allows users to support their team by sending a message from within the app.
Available on: iOS, Android, BlackBerry, Windows Phone (Free)

3. Reuters Olympics London 2012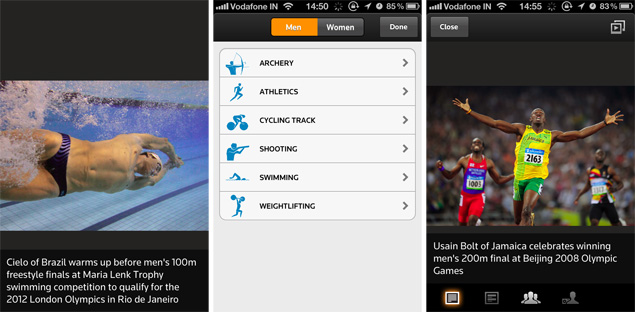 For users interested in revisiting the breathtaking moments captured during the Games, here's an app from Reuters.
The app includes archives of some of the best Olympics pictures taken by Reuters' photographers. Users can skim through Olympic records and check schedules and results of various events by sport or date. The Photo Filter option allows users to choose and view photos by sport.
There's a Photo Stream as well accessible under settings which plays a slideshow of all the pictures in the app. Users can choose to set the speed, loop and captions settings too. Facebook and Twitter integrationallows users to share the pictures on the social networks.
Available on: iOS (Free)
4. PlayUp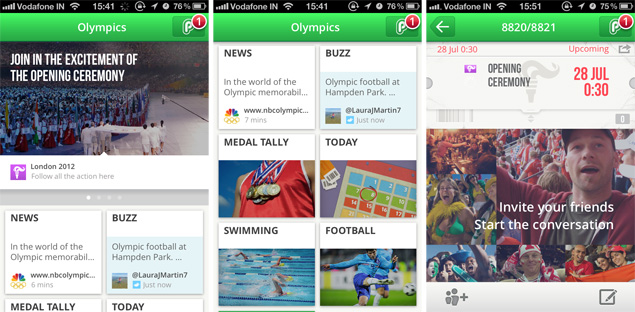 The app is a result of the collaborative effort between Samsung and PlayUp, a social network dedicated to sports. It looks and feels really slick on both iOS and Android versions.
PlayUp promises live action for 17 days across 26 sports, 39 disciplines, 302 medal events at your fingertips. The interface is quite reminiscent of Flipboard, though there is no flipping action. Users can follow their favourite teams and athletes and stay atop of all the sporting action including latest news, medal tallies, schedules and watch videos too.
The home screen features a running countdown to the start of the 2012 Summer Olympics and has access to several sports. Till the games begin, these links will display the history of the particular sport at the Olympics.
The app provides live scores and key stats of various games. Users can create hangouts and share messages with friends during an on-going game. PlayUp users can send direct messages to each other.
5. Tweethletes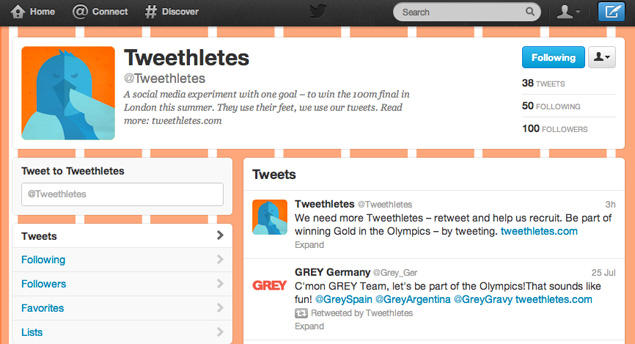 What do you get when you combine Twitter and athletes? Go figure! Tweethletes.com caters to Twitter fanatics looking forward to the Olympics 2012.
The microblogging site has come up with an interesting and rather engaging way to attract fans of the Olympics. The idea allows users to race athletes with their tweets at the time of the 100m relay scheduled for August 5th.
Everytime a user tweets, they advance a distance of 2.5cm. By correct calculations, a total of 4,000tweets would add to a 100 metres. So Twitter users, here's your chance to compete by just tweeting away.
Available on: Web

6. Olympic 2012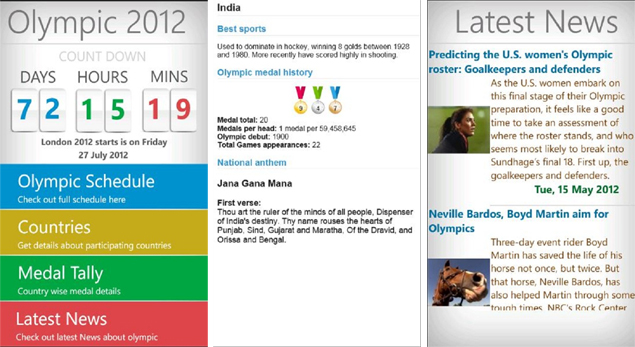 This Windows Phone app lists a full schedule of the event by venue, sport and date. Users can access country specific details, medal tallies and the latest news. Latest News can be further refined country, sport and athlete wise.

The interface is pretty simple and easy on the eyes. Users can also view history details for each country which includes the best sport, Olympic medal history and the National Anthem too.
Currently, the home screen depicts a countdown to the Games, which will be replaced by live updates once it begins.Future updates for the app include integration with Twitter.

Available on: Windows Phone (Rs. 55.00)