Pinball is an age old arcade game that has a big place in the digital age in no small part because of its inclusion in Microsoft's Windows XP. Innumerable variations of the game have been made over the years, which is why our first reaction to Inks, a new pinball game for iOS, was less than enthusiastic. However, that changed once we saw screenshots and the trailer video on the App Store. State of Play, the maker of beautiful games such as Lumino City, is the team behind Inks and we were drawn to the game thanks to its art.
Unlike an ordinary pinball game, Inks isn't about racking up a high score. Each of Inks' levels looks plain, apart from a few colour boxes or circles. To clear the level, you have to use the flippers to make the ball hit these colours. Hitting colours makes them splash on the board and the ball begins to leave a trail of the colour wherever it goes. The level ends once you've hit all the colours, leaving you with a kind of a painting that you can save or share if you wish to. Each level is likely to generate a unique painting, and even those of us with almost no understanding of art found it beautiful. The levels themselves are laid out as puzzles as you work to hit the colours despite changing obstacles.
It might be a puzzle, but Inks' basic gameplay is like pinball. There are two flippers at the bottom of the level, and you control these by tapping the left or right side of the screen. There is no permanent death in the game. Instead, it rewards you with badges, depending on the number of strokes needed to finish the game, and the number of balls lost. Each level has a target number of strokes, and if you finish the puzzle before hitting that number, you get a golden badge with a red star. If you exceed this but finish the puzzle without losing a ball, you get only a golden badge.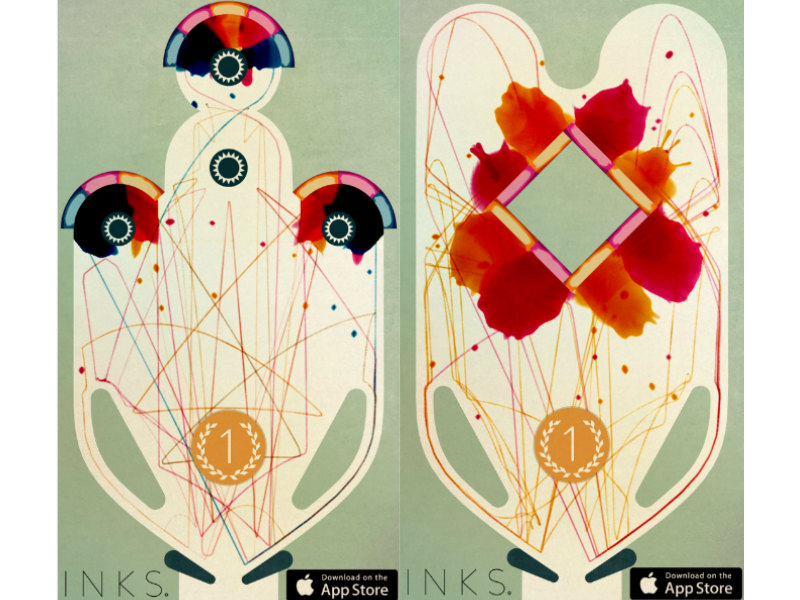 The game has five sets of 24 puzzles each. Inks will make you toil to hit ball at just the right angle to splash certain colours and more often than not, there are obstacles just where you're most likely to aim. Some of Inks' levels have a black hole or two that you need to keep the ball away from, and you also lose a life if you let the ball fall, between the flippers. You get a green badge clearing a puzzle after losing one life, and a maroon badge for losing two. If you lose more lives than this, then the ball turns black and leaves an ugly dark trail across the board, which makes your puzzle look bad.
Aesthetically, and in terms of the game's mechanics, Inks does a great job, but the controls could do with some tweaking. Tapping on the left of the screen activates the left flipper, and similarly, you can tap the right side for the right flipper. However, there is a no-man's land between the two, and many times we ended up tapping the middle of the screen, or a little bit too much to the side and neither of the flippers moved. Aside from this, the upper half of the screen is a giant play/pause button - a questionable design choice if you're playing the game on a small iOS device. We played Inks on our iPhone 5s and were left feeling that most of the game's testing was done on devices with larger screens. Quite often we ended up hitting the pause button when we wanted to hit a flipper. This might not be be a problem on larger iOS devices.
We enjoyed trying to crack Inks' puzzles and were surprised to find just how many levels we went back to, just to land that elusive red star. The game has five sets of 24 puzzles each, but two of those sets are locked behind Rs. 60 IAPs each. Some people could object to paying extra for levels after paying Rs. 120 for the game itself, but we don't think it's a problem. Offering more levels at an extra cost is definitely one of the better ways to monetise, and doesn't hurt the core game. When you consider that Inks' beauty lies in its level design, the cost seems quite small for what you get in return.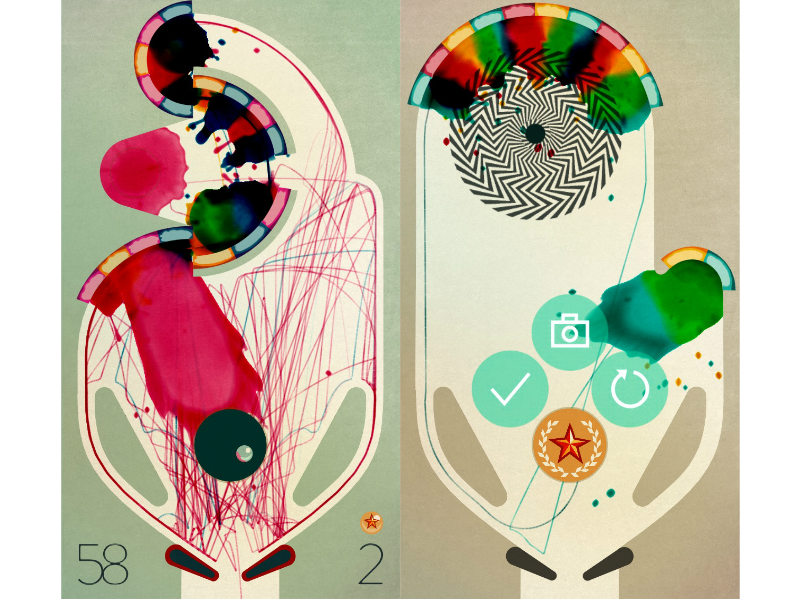 Inks also offers a couple of power-ups - the ability to slow down time to determine the perfect angle for a stroke, and blockers to keep the ball from being lost. These are not required to complete the game and you can use them a few times for free. Such pay-to-win power-ups dilute the game's challenge and could be done away with - this kind of an element is best kept away from premium iOS games. We'd be willing to overlook this if there was any way to earn in-game credits to use these power-ups, but sadly real money aside, there is no way to do so.
For a game standing on the shoulders of the extraordinarily popular pinball template, Inks surprised us because it manages to stand out. Its art and puzzles are good enough to make us recommend that you buy this game, even if its control scheme is a bit of a letdown on smaller devices.
Inks is available on the App Store for Rs. 120
Pros
- Beautiful art
- Thoughtful level design
- Challenging puzzles
Cons
- Awkward controls for 4-inch devices
- Pay-to-win power-ups
Rating (out of 10): 8