IFTTT, or If this then that, the web automation service that lets users perform actions through the web services they're registered on when a certain event related to another service gets triggered, has launched its iPhone app by the same name.
For the uninitiated, the IFTTT service works through 'Recipes' which are essentially tasks with 'actions' assigned to be executed whenever a 'trigger' or event is invoked. Users can even access and activate recipes created by other users who choose to share their recipes.
In plain speak, users can ask the service to perform a certain action when a condition assigned by them is met. For instance, you can create a Recipe that says that whenever your email ID receives a main with attachments, the service should save the attachments to your Dropbox account.
The iPhone app now allows users of the service to create and enable Recipes through their phones, and even use iOS Contacts, iOS Photos and iOS Reminders as triggers which can lead to other actions. For instance you can create a recipe to receive an email whenever there's a new reminder or upload a photo to Facebook whenever you click one through the iPhone's rear camera. Through this functionality, the service now includes your iPhone when you want to automate every day tasks. This is significant in a world in which our smartphone is an integral part of our life.
It's worth mentioning that IFTTT supports 67 web and native services which are referred to as channels. While the web services include the likes of Twitter, Facebook, Foursquare, Feedly, Flickr, Evernote and Dropbox, among others, the iPhone app includes three channels namely, Contacts, Reminders and Photos. With each channel, you'll find several triggers and actions. For example, the Facebook channel has five triggers including for new status messages, photo uploads and tags. Similarly, it has three actions, for creating a status message, a link post and uploading a photo from a URL.
You'll need to activate each of these channels either by entering and verifying your user credentials or by giving the app permissions for accessing native services of the phone.
To use the IFTTT iPhone app, you'll need to sign-in (or register) for the service, following which it will automatically activate some channels. The main page offers a day wise feed of your activity which is listed in chronological order and includes notifications related to channel activations, recipes created, turned on and off. Swiping to the left gives access to Recipes, which can be browsed and added through respective buttons and activated and turned off and on. Tapping on the Settings button takes you to the Settings page where you can keep a tab on your shared recipes, channels, and sync options.
The Triggers that are specific to the iPhone include the addition of new contacts, new photo, new photo taken through the front camera, new photo taken through the rear camera, new screenshot, new photo added to album, new reminder, reminder completed, new reminder added, and reminder completed in list.
The friendly interface of the app makes it extremely easy to use and intuitive. It's also well designed and would not need a refresh when Apple rolls out iOS 7 to all users, later this year.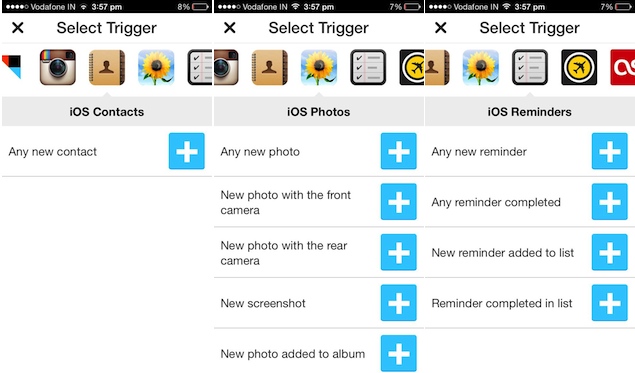 We wish more triggers and actions could have been included. For instance, sending or receiving messages, iPhone calendar events, web browser or alarms. We believe these might not have been included due to the limitations of the operating system and for preventing accidental transfer of information. Perhaps, the app would get new triggers and actions once iOS 7 comes out as Apple has promised that it's going to make its mobile OS more open.
IFTTT app for iPhone is now available as free download from the
App Store
.