So many shopping apps are available these days, and many even promising a guaranteed same day delivery. That's great when you want to order a last minute gift or a book you really want for the weekend, but if you're ordering fruits or vegetables, or you realise you've run out of detergent for your washing machine, then you can't wait for the next day.
Grofers seems to be pushing the limits - promising the delivery within 90 minutes of placing the order. The company founded by two IIT alumni, Albinder Dhindsa (who was also the head of International Operations at Zomato) and Saurabh Kumar.
But why will one order from the app and not call or visit the kirana store? The answer is simple - most stores don't have all the products under one roof and usually only accept cash when you want a delivery done. If you're not carrying much cash around, then it can be useful to have a single app for all your daily needs instead.
Grofers claims to have tied up with 300 vendors so far, offering 20,000 products across various categories. Its catalogue includes groceries, fresh fruits, vegetables, and bakery products. The site claims to be able to deliver products within 90 minutes of taking the order if it is available at a vendor within a 6-km radius of your address.
When you start the app, it lists the nearby stores depending upon your current location. You can change the location from the top tab of the application. The app is divided into 5 sections, Promotions, Grocery, Bakery, Fresh Produce and Pet Shop. The Promotions tab is further divided into Summer Store and Discount of the Day. The Grocery tab has the local stores like Godrej's Nature's Basket, More Supermarket, and smaller local stores. The Bakery section has a mix of local chains like Dunkin Donuts and Starbucks, and local stores like L'Opera, Open Oven and others. Fresh Produce offers fruits, vegetables, and flowers. The Pet Shop lets you order for biscuits, dry food and even shampoo for your dogs and cats. All the stores show the expected time of delivery ranging between 70-80 minutes.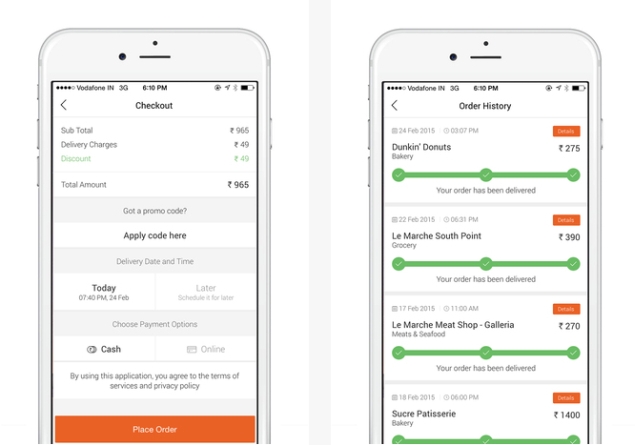 As of now there are no charges for delivery if orders are above Rs 250, else delivery charges of Rs 49 apply. Once you add your products to the cart, you can select your preferred date and time of delivery. You can pay online or pay cash On delivery.
Over the course of few days, we used the app to place orders. On one instance we placed a pre-order from a grocery store at midnight which was delivered next day at 10.30AM. The store opens at 11AM, so it was a delivery before time. Moreover the second order was a pudding from a bakery, which was delivered within 60 minutes. Both the orders were placed via credit card.
The app's design is slick and easy to use, and we haven't experienced any lag in using it. We tested Grofers in Greater Kailash 1, in South Delhi. The app listed a total of 18 stores in this area under the various categories ranging from Grocery to Pet Shops. The hyperlocal delivery space which Grofers operates in is growing in popularity - there are plenty of competitors like PepperTap and LocalBanya.
PepperTap's service area is restricted to Gurgaon and they currently accept only cash payments, while LocalBanya is mostly restricted to Maharashtra for now. It covers Mumbai City, Thane, Navi Mumbai, and Pune, along with Hyderabad in the South.