Many don't know about Google Currents, a magazine-style news reader app available on Android and iOS, that made its debut last December. Well, we're here to tell you it's a hidden gem, and is an absolute must-have. Yesterday, the app received a significant upgraded so that it now reaches out to an international audience.
Google's Mobile Blog post explained "the top features readers requested were to make the app available internationally and to allow content to sync quickly." This has been made a reality.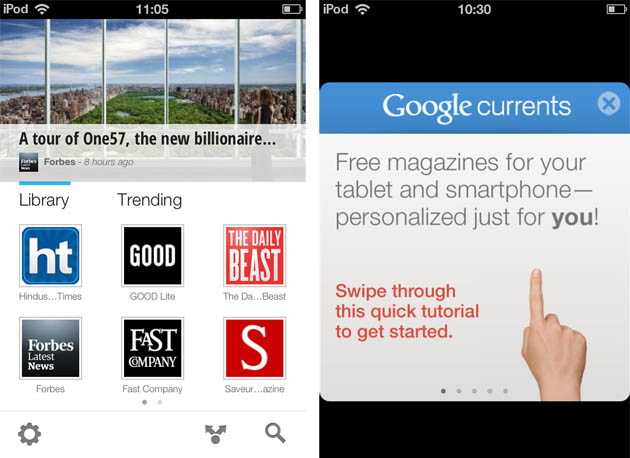 For one thing, the app is now available across the globe. It means you'll be able to read any edition from any place and also add local blogs to your news feed. Local publishers can add their content through the 'Google Currents Producer' tab. News editions that have both video and text have dedicated sections - the videos are all in one place and the text is in another.
You can even customize your news feed by adding and removing editions; you can even go so far as to remove pre-loaded feeds. It's like creating your own personal 'newspaper'.
Translate articles into one of the app's 38 supported languages with just a click. Not only this, but your edition feed automatically changes if you change your location - If I were in New York for example, the New York Times would show up on my news feed rather than The Hindustan Times. Your taste might run differently though, and you may prefer to always have Indian news on your fingertips. But, you can always manually add editions of your choice.
I was particularly happy that it supports a plethora of regional Indian languages - Hindi, Telegu, Tamil, Bengali, Gujurati, Kannada, Malayalam, Marathi and Urdu.
The only problem is that the new translation feature is publisher-selected. In other words, only if the publisher has enabled an article to be translated into other languages will you be able to read it in your preferred language.
The 'Trending' tab displays the top 5 trending stories across 8 topics - World stories, Sports, Business, Entertainment, Health, Technology, Science and the current 5 Top Stories across all categories. You can choose which categories you want displayed.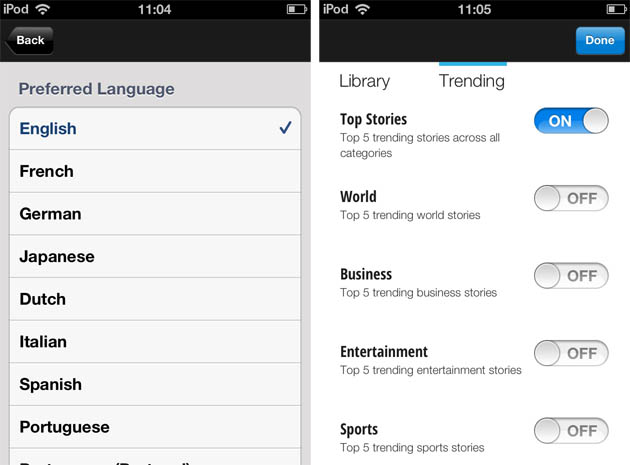 Google Currents also features a "dynamic sync", which means that your editions get updated automatically and you have the freshest content at all times. This is made even faster thanks to a 7X speed boost in its latest upgrade.
The app is easy to use and gives Flipboard a reason to worry. Personally, I find it easier to swipe through news articles like in Google Currents rather than flipping through pages like in Flipboard. But, to each his own. However, Flipboard's design wins hands down - it is so much more elegant than Currents.
There are few differences when it comes to social integration on both apps - both allow you to share stories via common social networking sites like Facebook, Twitter and Tumblr and various other apps. Google Currents also lets you decide to store stories and read them offline, too.
An important point to note while distinguishing the two apps is how Flipboard has bumped up its iPad application to support the new Retina display. This is not included in Currents recent update.
Where all three apps fall short I think, is that none of them provides any indication if you've read an article. Of course, the fact that the apps are designed to be like an actual magazine may make this critique somewhat moot.
Google Currents has captured the simplicity of Zite and combined it with a Flipboard-like look, to give its users an incredible app
Google Currents
(iOS - Reviewed Here)
Google Currents
(Android, Free)