When you need to book a cab these days, you end up launching the app of services you know. So let's say you start by launching the Ola app, and it displays the cabs that are available nearby. If there's nothing that's close enough, then you launch another app like Uber, or TaxiForSure, or Meru, and work your way through the list until you find something that is close enough to book. Sometimes you want to compare the apps to see if you can save five minutes by changing your provider. This can be quite inconvenient and wastes a lot of time going back and forth between apps.
That's where the Ixigo Cabs app for Android comes into the picture. Ixigo aggregates results from top taxi services, along with other offline taxis all in a single app. Ixigo lists available online and offline transportation providers. It currently aggregates data from Ola, Meru, TaxiForSure, Easy Cabs, and more. The company is in talks with Uber too. The app also lists over 250 offline transportation service providers in over than 100 cities across India, so you can hire a local taxi as well. The app helps the user to compare, book and cancel taxis from different providers.
The interface is simple and easy to use. After you've confirmed your details and phone number with the app, it starts at the booking screen. The top half of the screen displays a map, showing various taxis nearby. The taxis are shown in different colours, so you can see which companies car is nearest to you. The problem is that you can't really see too much detail in this view. Meanwhile, the lower half of the screen lists the various operators according to the least expected arrival time. Tapping on these listings displays their ratings in stars and the respective fares for online providers. The big plus point to Ixigo is that it doesn't just let you compare cabs, but also allows you to make a booking without switching apps.
This is only true for some of the operators, unfortunately. But if you want to get a car from Taxi For Sure or Easy Cabs, then you can make the booking for Ixigo itself. If you're trying to book a Meru or an Ola cab, then tapping the book button launches their respective apps, if the apps have been installed. Otherwise, it redirects you towards the Play Store. It also displays nearby offline providers, and their phone numbers. There's a call button located next to these taxi listings, and tapping that dials the number so you can make the booking.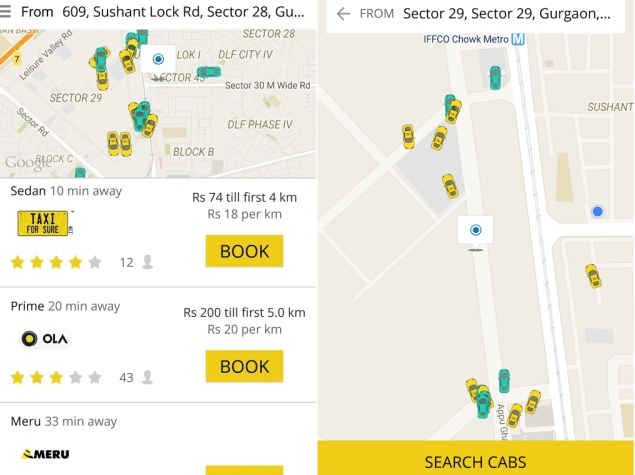 This might not seem important, but outside of the bigger cities, taxis are still largely run by these offline cab companies, and even when testing the app in South Delhi, we saw 5 online providers, and 30 offline taxis in our area.
While the first screen shows you a list of cabs and a map, you can see more details by tapping on the map to launch it in full screen mode. This isn't very useful though. You can't filter the cabs on the map, and the result gets a little confusing since you'll see a lot of different taxis and colours with no key. To pick a taxi, you'll have to go back to the previous view and choose from the list of cabs. After you select your taxi from the list, you will see the rating of the service and the driver, and you can choose between an immediate pickup, or a pickup at a particular time. Then, you can complete the booking process and you'll get an SMS from the cab company. You can also check the booking details in the app.
There is a menu you can access by swiping in from the left. In this menu, you'll see options to Book a cab, Current bookings and Past bookings. There is also an option to send feedback via email to Ixigo. Book a cab is the main screen you normally see, but with the other two you can look at upcoming rides or see previous journeys if needed. Overall, the app is quite simple, and we love the idea behind it. The execution is a little haphazard - for one thing, the fact that you can book some cabs through this app but not all feels like an incomplete feature. For another, the map view is quite superfluous and you end up relying entirely on the list to actually use the app. The developers should have found a way to make the map view more useful as well.
Despite these shortcomings, the ability to quickly see which company's cabs are nearest is a plus point, for us. You could also check out ScootApp, if you're not looking for local taxis - Scoot only aggregates Uber, TaxiForSure, and Ola in India, but in some parts of the world also checks Sidecar, Lyft, and Hailo. For the Indian cab companies, it also lists offers they might be running. Unlike Ixigo though, Scoot does not support booking for any of the cab companies and instead will either launch their apps or redirect you to the Play Store. Because of this, Ixigo has a bit of an edge, though it could also improve in this area.
The Ixigo Cabs app is available only on Android phones.