Flipkart's online digital store, Flyte has now come to Android. The Flyte MP3 app allows users to buy, download and listen to legitimate music directly on their Android device.
You can begin by logging in to the app with your Flipkart username and password. Creating one won't take much of your time. The home screen displays a categorised list of albums under New Releases, Most Popular, Featured Albums and Flyte Recommends. Tapping a particular album will take you to its list of songs listed with their price. The MP3 files can be downloaded at prices starting Rs.6 for a song and Rs.25 for an album.
Flipkart uses its Wallet service that allows you to make in-app purchases. On the down side, you can't make a purchase directly using your debit or credit card or even net banking. You will have to login to flipkart.com to add funds to your Wallet as it is not available in the app.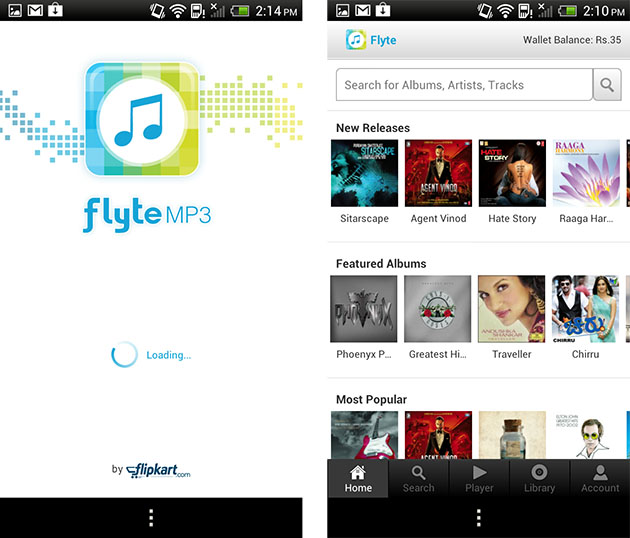 Another drawback that we noticed with the app is that there is no dedicated section to view your orders. You will have to check the details of your account by visiting the website.
The songs are DRM free that allows users to share and transfer them as per their liking. The app also has preference settings for bitrates. You can choose the bitrate in the Account section for downloading the MP3s and if it is available, it will be downloaded. If not, it will give you the best available bitrate. You can choose and select music from a wide range of 40 Indian and foreign languages across 28 different genres.
The user interface of the app is very neat and extremely simple. The menu icons are placed at the bottom of the screen that allow you to manage your songs. The Library section is divided into Online and Offline library. Once you've downloaded the song, you can listen to it offline as well using any media player on your device.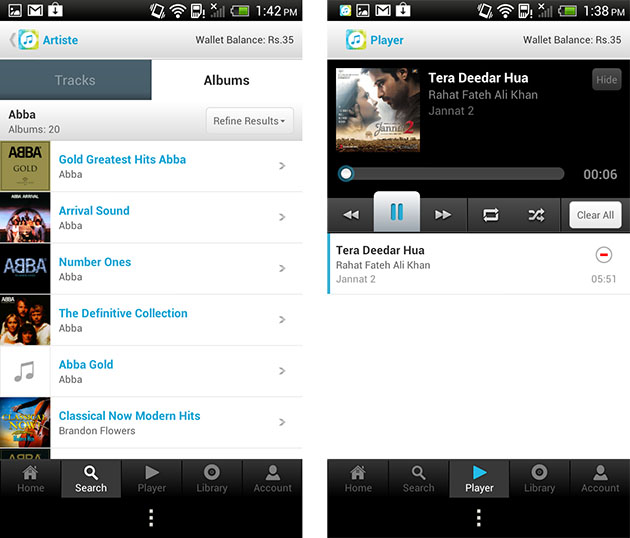 The app's in-built player looks chic with an aqua blue colour scheme and has all the basic player controls. The list of songs you purchase appear in the playlist below the player. The app provides a legitimate way to download songs which seems to be a great initiative to stop piracy.
The songs are very reasonably priced. A Music CD of Kahaani will cost you Rs.160 on the T-series web store while Flyte offers the same at Rs. 54 which is a great deal. English tracks and albums are a little expensive as compared to the Hindi ones, but still quite affordable.
The fact that the songs can be downloaded legitimately for a price may appeal to only some users. Flipkart will certainly have to make greater efforts to target more users. But the app will come as great news for Android users already using the online store. Those who haven't heard of it should not miss the opportunity to experience it for free.
Flyte MP3
(Google Play, Free)
For the latest tech news and reviews, follow Gadgets 360 on Twitter, Facebook, and Google News. For the latest videos on gadgets and tech, subscribe to our YouTube channel.
Related Stories