Whenever you head out of town, you probably end up missing workouts. Unless you are staying at a five-star property, it's not easy to find gyms or group fitness studios in an unfamiliar place and it's probably even harder to find one that lets you sign up for just a day or two. Instead of being a full time member of a gym, wouldn't it be great if you could just go to a nearby gym wherever you are, whenever you want? If this is something you've thought about, then there is an app that helps.
FitMeIn lets you find the nearest fitness studio and sign up for workouts at reasonable prices. The app has partnered with several fitness studios in Mumbai and Delhi and if you are in either place, you might want to check it out.
The app uses your location to find the nearest places for you to workout, and lets you search for specific workouts such as strength training, yoga, among others. This means that FitMeIn is only as good as the fitness studios near you. If you live in a pocket of town where there are no good workout options, then there's nothing any app can do about it. On the other hand, suppose you're travelling to either Mumbai or Delhi for work, but don't want to miss your workout? The FitMeIn app lets you find some great deals.
In our locality in Mumbai, we found a one-day pass for a gym at Rs. 150, which is reasonable considering that the gym itself is pretty good. FitMeIn lets you search for eight categories of workouts but we found that one particular studio with several branches in Mumbai dominated search results.
That's not the only quibble we had either. The app also didn't have detailed descriptions of what to expect from various places. Even when you're buying a day pass at a gym, you'd probably want to see photos of the gym, and what equipment is available. FitMeIn didn't show us anything like that. Similarly, there were no details about two-hour mixed martial arts workouts. A short summary would really help people to make a good choice.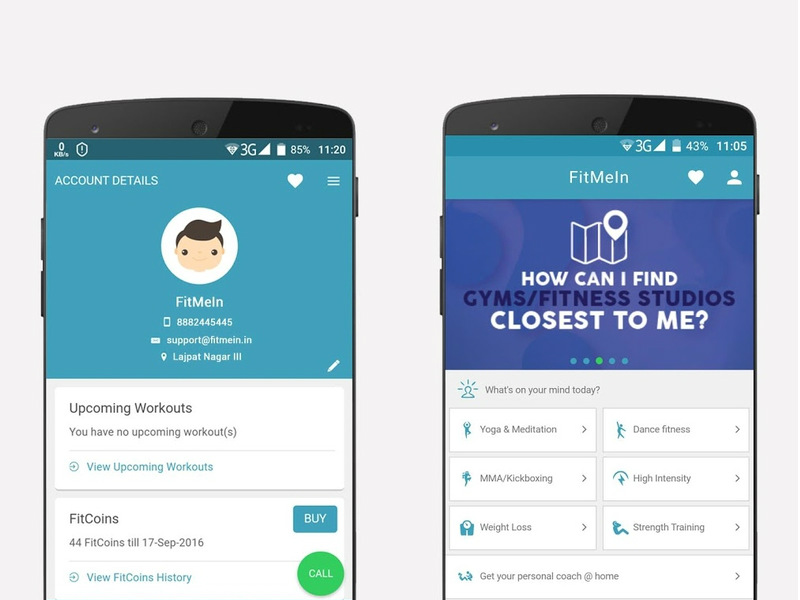 Things like these made us feel that FitMeIn's focus is on aggregation alone and not much on making it easy for people to select the place they want to visit. This is emphasised in the app's design or lack thereof. The app has a sliding gallery of featured articles at the top, all of which are articles that tell you how to use the app. That takes up a significant chunk of space on the home screen. Finding different workouts or gyms is below that, and the design is fairly barebones.
The iOS app almost feels like a slow and buggy mobile website. Quite a few times the app got stuck on a white screen when we tried to go back from any page. Selecting a different location was also hard as the form would not register our taps sometimes. Thankfully the Android app is much better. While it also feels barebones, at least it is snappy.
FitMeIn uses Fitcoins as a mode of payment. You can buy Fitcoins via in-app purchases. You can buy 10 Fitcoins at Rs. 1,099 or 30 at Rs. 2,499. These are valid for 99 days. Most classes we spotted cost between 1 and 5 Fitcoins. Paying via Fitcoins adds an unnecessary layer of currency conversion to the process. It might benefit the app makers to use this system, but we don't see how it benefits those who use the app, unlike - say - a payment wallet. Showing prices in Indian rupees will make it far more usable. On the other hand, once you've used the app to find a place for workouts, you could perhaps negotiate an even better deal at the studio, or use the app for discovery and pay at the fitness studio to avoid this altogether. Perhaps that's why the app includes these Fitcoins.
As an app that aggregates fitness studios, FitMeIn does a good job, particularly if you just want to discover places to workout nearby. The lack of details about any fitness studio, or the type of workout being featured on the app, and a needlessly complex mode of payment are problems that FitMeIn needs to solve.
FitMeIn's UI leaves a lot to be desired and unless you find a good discount on the app, there is no real reason to use it. If FitMeIn doesn't work for you, then you could look at alternatives such as Gymer, Gympik, MyFlexiPass or Fitpass, which offer a similar service.