The latest entry in Square Enix's series of puzzlers for Android and iOS is Deus Ex Go. It follows the excellent Lara Croft Go and Hitman Go games, so our expectations with this title were naturally high. Deus Ex Go is obviously based on the Deus Ex franchise that's known for its storyline, role-playing elements, and stealth-based gameplay, and Deus Ex Go lets you play as Adam Jensen.
You may recall Jensen as the protagonist in recent Deus Ex games such as Human Revolution, and the soon to be released Mankind Divided. The mobile game has a story that slowly reveals itself through dialogue at the bottom of the screen, as you solve puzzles.
From a design standpoint it'll feel familiar to those who've played Lara Croft Go and Hitman Go. It's a turn-based puzzle game, which means that you make a move, and wait for enemies on screen to make their move, and then you can move again. You can't move in any random direction - it's limited to a white line with various nodes.
The control scheme is very easy to understand and perfect for small screens as well. You swipe to move and tap to interact with various elements. Deus Ex Go looks good, even though, in our opinion, the art in Lara Croft Go was much better. The Deus Ex universe is set in a cyberpunk future and most of the action in this game takes place inside buildings, so it'd be unfair to expect art as good as Lara Croft Go's lush scenery. However, Square Enix has set the bar so high that it does feel like a bit of a let-down.
The game has 54 puzzles in the story mode and if you complete each puzzle within a certain number of moves, you earn the gold mastermind badge. This adds a lot of replay value to the game. We found ourselves going back to puzzles just to get that badge.
The puzzles are of varying difficulty levels - it's not a linear curve where each puzzle is harder than the last. The last 15 puzzles are among the game's hardest and we found it very hard to reach the end. The level of difficulty is just enough to keep you hooked. Many times we found ourselves stuck at a level and when we returned to it after a break, we managed to solve it. The puzzles have been designed well - killing every enemy at first sight is not a good idea. You often find that enemies can be used to clear your path or as a shield against other enemies.
We went into the game hoping for some of the Deus Ex franchise's role-playing elements. However, the story as a whole was a massive let-down. We couldn't get into in the story at all, even though we are big fans of science fiction. It often felt that the story had been written separately and forced to fit with the puzzles. They just don't gel.
The only real element of choice in Deus Ex Go is at the end, and you unlock one of two endings based on your choices. That is another disappointment. It'd have been a lot more fun if your choices throughout the game influenced the ending. There is one achievement in the game for completing a level without killing anyone. It'd be excellent if every level had this option and, say, the best ending in the game was reserved for those who complete all levels this way.
If you are stuck at any level, you can use a Solution to have the game give you a walkthrough. Deus Ex Go offers two solutions for free and if you want more, you'll have to pay. For a premium game that costs Rs. 300, allowing people to pay to win feels excessive. But it's also a sign of the times in an age where in-app purchases are the best way to make any real money.
We'd be very happy if the game let you earn Solutions without paying, but it doesn't. We used solutions twice and they sucked all the fun out of the game. When we ran out of free solutions and figured out one of the game's toughest levels on our own, the amount of satisfaction we felt was immense. We feel that this shouldn't have been there in the game at all, but others may appreciate the ability to pay and move past a particularly difficult level.
One more thing Deus Ex Go lacks is an undo button. If you make one mistake, you have to start over. At times we tried to swipe towards the top-left node but ended up sending Jensen towards death at the top node. In complex levels that need 47 moves to complete, an undo button would help ease frustration.
The game is also a massive battery hog. A half-hour session on our iPhone 5s led to around 30 percent battery drain. The phone also heated up quite a lot within minutes of opening the game. We also noticed this problem on an iPhone 6 Plus. We hope Square Enix fixes these issues in an update, but they aren't a deal breaker for us.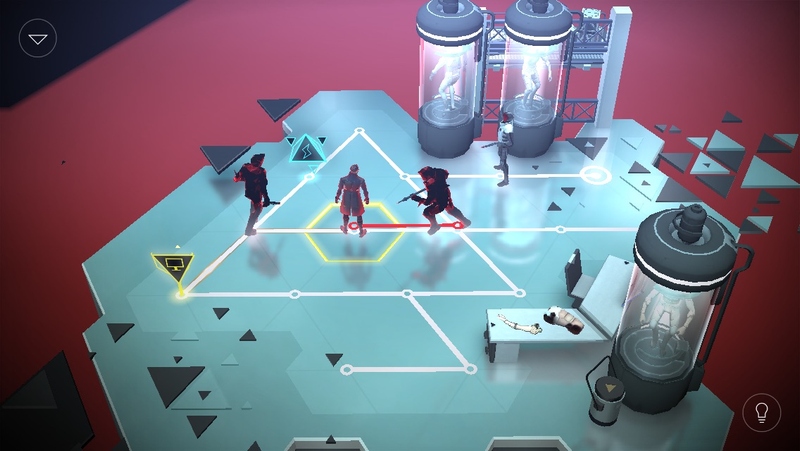 The good thing is that Deus Ex Go doesn't end with story mode. Square Enix has promised a new puzzle every weekday, and at the time of filing, there were five extra puzzles in the game. These are unrelated to the story, but are a great addition to the game nonetheless.
Overall, we did enjoy playing Deus Ex Go a lot. We have voiced a fair few complaints in our review and all of these stem from the fact that this is the third game in Square Enix's 'Go' series of puzzlers. At this point, we're bound to expect certain features such as an undo button and a great story. If you're looking for an good puzzle game, Deus Ex Go will not disappoint you, but if you arrived hoping for Deus Ex's story and role-playing elements, we suggest that you give this game a miss.
Deus Ex Go is available on Android and iOS for Rs. 300.
Pros
Challenging puzzles

More levels being added
Cons
Poor story

Lacks undo button

Pay to win unlocks
Rating (out of 10): 7