The next time you're shopping online, don't go straight to Amazon or Flipkart to make your purchase. DesiDime wants to be the place you check before you actually buy something, as it lists all the best deals and coupons you'll find for shopping online across over 500 stores. There are several other coupon sites around in India these days - CashKaro and CouponDunia are two of the best known. What makes DesiDime stand out is a price comparison feature on the website, so you can check for the best stores to shop from, and then find the correct coupon to use right away. The other big difference is its forum - which you can access from the app as well - where customers share their views about products; these forum posts are also shown when you search for a product, and can be quite useful.
Available on Android, Windows Phone, and iOS, the app lists all the deals available under various categories. The main page lists the Top and Popular deals, and lets you quickly drill down to see popular deals, or the most recent ones, or sort by discounts or even look for deals with specific sites. The deals you get aren't unique to DesiDime, but the good part of using the system is that you can find lots of different deals easily.
Aside from the Top and Popular deals, the DesiDime app also shows you its exclusive coupons - at the time of writing, there are two deals on TinyOwl, and one on eBay - and includes other features such as Price Comparison, where you can search for the product you want across many different sites, and see the cheapest options, complete with DesiDime's discount coupons. On clicking any coupon, the app gives you information on how the coupon can be used. The process is pretty simple actually - simply click on Get Coupon button, and the discount code is copied on your clipboard and then can be availed either via the website or the app.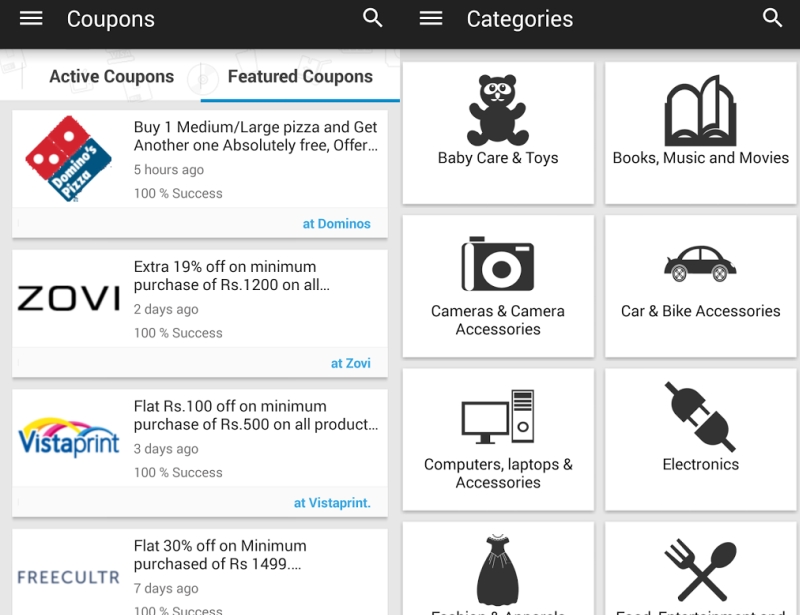 The Price Comparison feature is particularly useful. On the main page, it lists top products that people are searching for, such as the top five mobile phones, or top five cameras, or top five external HDDs. Tapping on any of these immediately shows you a buy button, and also shows you the prices on different websites - if you're not confident about buying an expensive phone from a site you've not heard about, you've got the choice of seeing the listing on better known sites right from the DesiDime app. You can also check out the specifications of items in this view.
Clicking the Buy Now button the app redirects to the mobile browser; it would have been really nice if DesiDime could use it to open apps of the stores instead, especially with many going app-only, but it's probably not feasible.
In the Stores tab, you can browse through the different stores that DesiDime gets its data from; at the time of writing, there are 44 stores in the Featured Stores section, including Amazon, Flipkart, and Snapdeal. All Stores includes a larger selection of sellers - we counted 100 at the time of writing, and this includes some well-known ones such as Amar Chitra Katha, but also many lesser known sellers. Tap on a store and you can see all of its deals, coupons, related forums posts, and reviews. Forums and reviews regarding products are posted by users, and they are a really helpful feature because there are quite a lot of posts so you get a lot of opinions from real users.
Apps like CouponDunia and MyDala also list most of the same deals, but we preferred using DesiDime because of its clutter free interface, and the fact that the forum quickly gives you a lot of information about the different products and sellers out there, so you can get a good deal when shopping online.
You can download DesiDime for iOS, Android or Windows Phone. The app is free to download and to use. We wrote this review based on our experience with the Android version of the app.
Affiliate links may be automatically generated - see our ethics statement for details.