Everyone loves a good discount, especially if they're buying digital content. If you're a regular reader, you've probably read our guide to finding the best deals on the iOS App Store, Google Play store on Android, Windows Phone, BlackBerry and even on Windows and Mac apps. Sites like AppSales and AppShopper, and apps like TouchArcade let you track discounts on your favourite apps and games.
But what about those who love buying songs or films online? Apple's iTunes Store makes it easy to buy music, films, TV shows, ebooks, and audiobooks, though the 1-tap buying experience means the expenses can add up very quickly. CheapCharts is an app that tracks sales for you so that you're notified the moment your favourite album or TV show goes on sale. Even if you don't have anything particular in mind, CheapCharts makes it easy to track the discounts on offer on iTunes.
Finding the best deals
CheapCharts makes it easy to find the digital media you need. It neatly categorises content by type - music, films, TV shows, books and audiobooks. You can access these by tapping the hamburger icon (three horizontal lines) on the top-left. It only shows one category of deals at a time, so you won't see deals for books mixed up with music. This makes it easy to sift through deals. Categories aside, you can use the search bar on each page to find content.
CheapCharts has a nice option in the sidebar that lets you see all content on sale. When you tap that option, the app orders items by the amount you're saving. Thus the best deals show up right at the top and a couple of taps take you straight to iTunes Store where you can complete the purchase. If you're looking for music, there's one more feature to find songs. You can tap Singles or Albums at the top to sort by genre or to find singles for $0.69 or $0.99 and albums under $5 or from $5 to $10. This is a great way to search for deals in the bargain basement.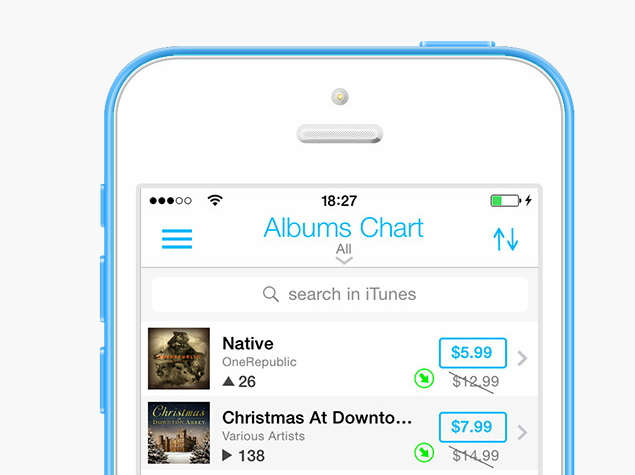 The problem is that this option doesn't work well with the Indian iTunes Store. It shows singles for Rs. 0.69 and Rs. 0.99, both of which return no results. Similarly, it shows albums under Rs. 5 or from Rs. 5 to Rs. 10. Surprisingly there are a bunch of albums from artistes such as Bach and Mozart for Rs. 9, but other than that these options aren't very useful in the Indian store. Some of the categories you can search through also make very little sense - for example, German Pop is a category, and Gangnam Style is a top song in this category. The Indian store also doesn't show deals on anything but music. You can also change the store region from the app's settings to check deals in other regions. Once you find something you like, just tap on the price and you're taken to the iTunes store to complete the purchase.
Setting up notifications
Tap any of the songs, albums or other digital content in the app and you can set a price alert, which will send you a notification when that item gets a price cut. One of CheapCharts' features is the ability to play all song previews in an album one after the other, which is a handy addition that lets you quickly decide if an album is for you. The iTunes Store app only lets you manually play each preview and doesn't queue these. The music section has another feature that other categories don't - Artist Radar. This lets you add your favourite artistes to a list and the app then alerts you whenever there's a sale featuring their songs or albums.
Too many notifications can get really annoying. Thankfully CheapCharts lets you customise alerts so that you don't get notified about deals you'd rather not see. You can disable alerts for entire categories such as movies or books or even for sub-categories such as singles or albums. You can also disable notifications by genre or choose only to get notified for music in the top list. Another neat feature is scheduled notifications, which gathers notifications and sends them to you up to thrice a day - at scheduled intervals.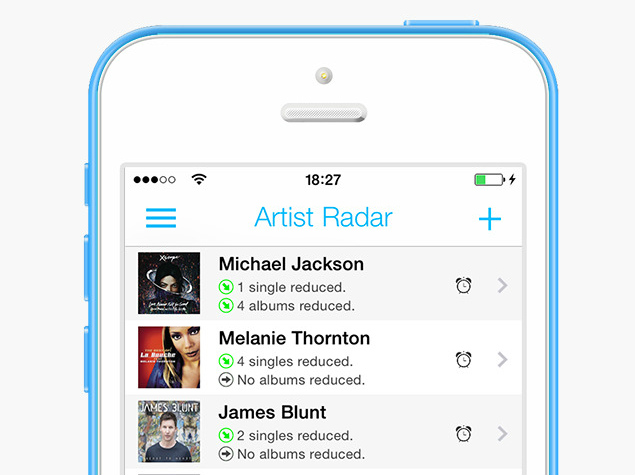 Conclusion
If you're buying digital media from iTunes Store, CheapCharts is a great app to have on your iOS device. One look at the app makes it clear that the developers' first language isn't English, but grammatical errors and some region-related bugs aside, it works as advertised. We really like the app's design and the way it lets you narrow down the number of alerts you want to receive. That coupled with its ability to find the best deals makes it a must have.
CheapCharts is a free download on the App Store