The oddly named Paper by FiftyThree is a brand new iPad app that combines the simplicity of free-hand illustration with an elegant interface.
The app opens to a welcome screen that tells all you need to know to use the app.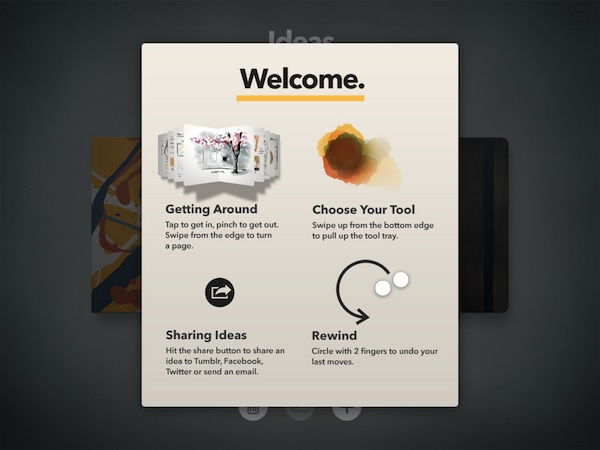 It's as simple as that.
Moving on from the welcome screen, you see three journals. The first one - titled "Making Paper" - showcases various illustrations purportedly drawn within the app. Feel free to ruin these illustrations with inane drawings at the most inappropriate places like we did. Sadly, those screenshots didn't make past the Editor.
The other two journals, titled "Ideas" and "Sketches" are blank. You are free to add your own journals, choose a name/ color and/ or cover for these journals. You can of course add/ delete pages to a journal or delete an entire journal (careful, there's no undo for that!). Navigation is simple as long as you remember the basic rules mentioned on the welcome screen.
You can enter drawing mode by tapping any page. The app offers the solitary "Draw" tool and an option of paltry eight colours for your masterpiece. Drawing is as simple as moving your finger around on the screen, with the thickness of the area of contact determining the width of the line drawn on screen. This meant we were literally trying to draw with our fingernails when we wanted to draw a particularly thin line.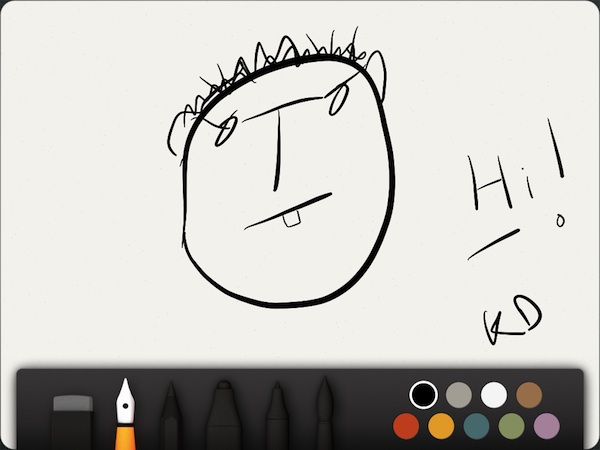 The only other option in the drawing mode is the interestingly implemented undo method. You hold down two fingers and move them counter-clockwise to invoke the "Rewind" option that lets you undo the most-recent drawing or go all the way back to the blank page you started with.
Did someone say too simple? You can buy additional tools like Sketch, Outline, Write or Color to give you additional options. Each tool is a $1.99 in-app purchase or $7.99 if bought together as the "Essentials" pack (that's 3 cents more than buying everything individually, for those doing the Math at home). The interesting part is the ability to test each of tools before taking the plunge.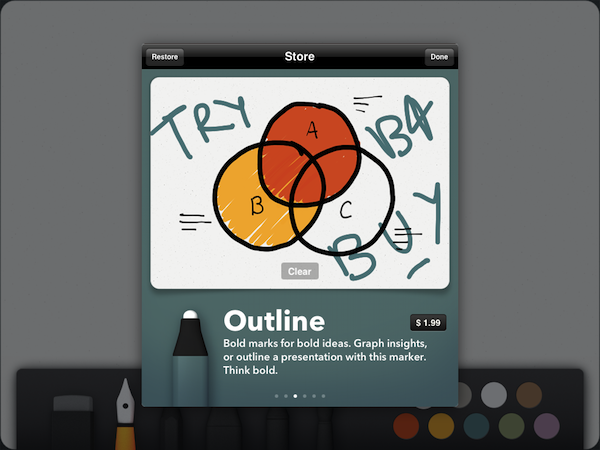 Once it's ready, you can share your masterpiece to Facebook, Twitter, Tumblr or via plain old email.
What can be improved? While the "Rewind" option is useful, the ability to quickly and precisely undo only one change, especially once you have a long series of operations that can be undone, can be tricky. Perhaps a dedicated undo button/ gesture would be nice. And the app is definitely crying for more than eight colours.
We hope the developers have a backup policy in place for deleted pages/ journals that we didn't see. Otherwise they can expect their inbox to be flooded with emails from customers, after their two-year old deleted the journal that contained months of hard work. What if someone accidentally deletes the app? Perhaps iCloud can be used to answer these questions? We'll definitely be keeping an eye out for these answers.
All in all, while we loved the simplicity of the app, those looking for more in an app than, well, a pen paper will be disappointed. But then, it's right there in the name!
Paper by FiftyThree (Free, iPad)