After gaining immense popularity on the iOS platform, Instagram finally makes an appearance on Android. Does it live up to the expectations? Does it offer the same functionalities as the iOS version or any less? Are there any Android exclusive features? We take a look.
The app interface is very similar to the iOS version allowing you to make minor edits to photos and share them with friends and other users via social networks like Twitter, Facebook, Tumblr and Foursquare. Flickr however isn't available in the Android version.
We did face issues while installing the app. It crashed several times on our Micromax A75 Superlite Fone despite installing the updated version. However, it worked fine on the Samsung Galaxy Nexus.
Existing users have the option to sign-in while newbies can sign up using email id, username and password. You can find friends through Twitter, Facebook or using your phone's contact list. If you know their names or usernames, you can search for them directly as well. You can comment on photos, Like them and even browse trending ones.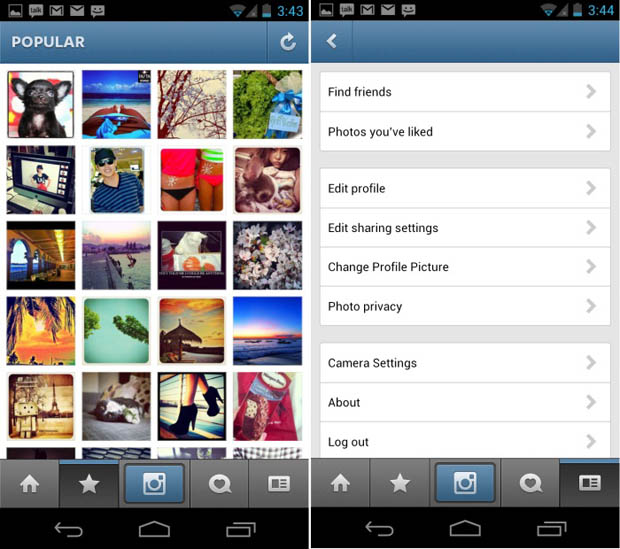 After you're connected, start clicking away using the camera button on the bottom menu bar. Once you've taken photos, Instagram offers 18 different kinds of photo filters to make them more creative. However, much like Instagram 2 on iOS, all the filters seemed rather similar to us. They are very basic and aren't that extraordinary to produce a stunning quality picture. Once clicked, you can then choose to upload them directly through your social networking accounts.
The app also allows you to increase the brightness, rotate your pictures or even add a border to them. The camera switch button on the top bar allows you to take self- portraits and play around with them. However, you can neither crop nor zoom into your photos once they're clicked.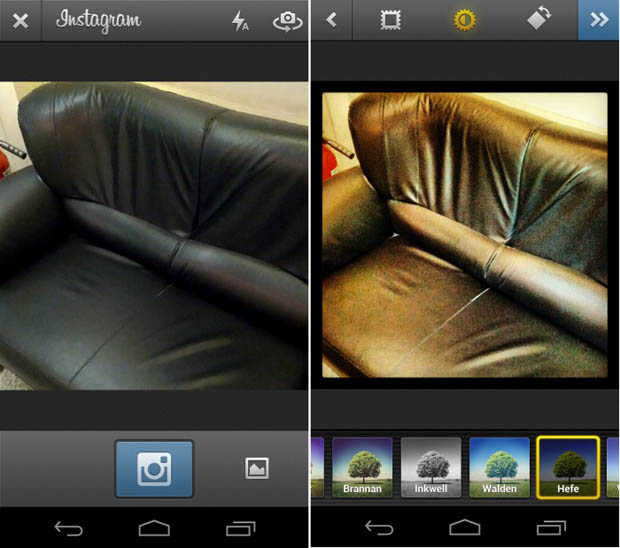 Let's look at some of the key differences between the iOS and Android versions. The iOS version of the app has a blur icon shaped as a drop in the top bar. It allows you to blur your photos either in a linear or radial fashion. This is however missing in the Android version. Another feature missing in the Android version is the Live Preview of the filters before clicking the pictures. Hopefully, Instagram developers will offer these in the next update. As mentioned earlier, Flickr integration is missing as well from the Android version.
Android users definitely have one less reason to feel left out as the app offers more or less all the necessary features as its iOS counterpart. So if you're a photo sharing addict and want people to follow you, this app is a must have.
You can visit our gallery to see the comparison between the iOS and Android versions of the app.


Instagram
(Google Play, Free - Reviewed here)
Instagram
(iPhone/iPod Touch/iPad, Free)