One of the oldest and most well-known comic book publishers in India, Amar Chitra Katha has been making comics on subjects like mythology and Indian history since 1967, and over the last few years, the company has been taking steps to digitise its library.
The ACK Comics app was launched on the App Store, Google Play and the Windows Store for Windows 8 tablets and PCs on Saturday, May 3, Free Comic Book Day.
The free app gives readers access to Amar Chitra Katha comics, ranging from its archive but also including the latest books that Amar Chitra Katha publishes, with both free and paid comics. The company also plans regular giveaways for some of the paid titles, so there's a lot of value to be had from the app.

So how does the app measure up against international offerings? We used theapp on an iPad for over a week, and here are our impressions.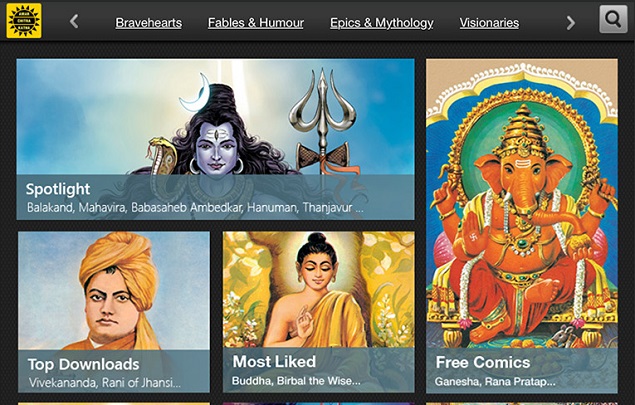 TheACK Comics app isn't going to win any awards for design, but it has a very competent user interface nonetheless. Everything is marked clearly,and you don't have to hunt around the screen to find out how to navigate.
The design appears to take its cues from the Windows 8 UI, with large squared-off tiles and text links. It's very neat, if a little dull, and there's a bar of text links on top to let you drill down into different categories. You can also easily see categories like "Most Liked" and "Free Comics", which helps in case you didn't have something specific in mind.
Thanks to a simple design, browsing is fast and easy, and once you've found something you like, just tap it and you come to a page for that title, with information, a summary, and a download/ buy button. Most comics are either free or Rs. 60, with some being Rs. 120, all available as a one-click in-app purchase, unlike Amazon's Kindle or Comixology.
( Also see: Amazon's Game of Thrones: Comixology changes aren't about selling comics, but fortifying ecosystems )

Once you buy a comic, you can tap it to start reading, or go to your download library to see all the comics you have.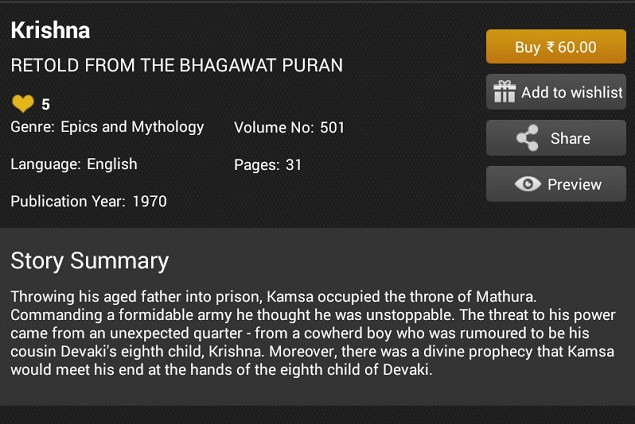 The actual reading experience is the same as it was with Amar Chitra Katha's earlier apps. Earlier, instead of the storefront, the company was releasing comics as standalone apps, which meant that if you were reading a lot of their comics, you'd quickly fill your home screen!
When you start reading, the comic fills the entire page, and you swipe to turn pages. Tapping on the screen gives you a toolbar on top - a help button, a favourite button to bookmark a page, and a share button, along with a back button in the top left corner to exit a comic.
At the same time, you also see a thumbnail view of the entire comic in a strip at the bottom of the page, so you can quickly jump to a page, or see how much you've read. It's all fairly standard - comic book apps have steadily evolved and today unless you've got some truly amazing idea, it doesn't make sense to reinvent the wheel.
If you loved Amar Chitra Katha comics while growing up, or if you want your child to read comics about Indian mythology, and historical figures like Ashoka and the Rani of Jhansi, then the ACK Comics app is a pretty good choice. The app is easy to use and finding both free and paid comics is uncomplicated. Even better, the comics themselves load quickly and the reading experience doesn't have any issues. The comics themselves are very reasonably priced, and the collection includes both new and old comics.

Of course, if Amar Chitra Katha's art style and fairly unique storytelling format never appealed to you, then this app is a complete waste of time, but for everyone else, we can safely recommend that you download this app.