Smartphones may have become more powerful, but are now also more susceptible to virus attacks, apart from the usual threat of getting lost or stolen. A security solution therefore is very much a necessity in these times.
BlueSprig's recently released AirCover Security app is a newcomer to the mobile security app segment when compared to apps from Norton, McAfee, AVG and Kaspersky.
Like most Android security developers, BlueSprig offers AirCover Security app as a free download from Google Play store. It comes with features to guard against malware and theft, help enhance your privacy, block unnecessary calls and messages, mails, and safeguard you on the web, as well as optimize your mobile's system.
While the free version of the AirCover Security app does offer most features available in the premium version, such as Anti-virus, Anti-theft, Web Protection, Privacy Advisor, Call and SMS Blocker, and Performance optimisation, the premium version offers Virus Database Auto Updates, Premium Anti-Theft Features (including 'Intruder alert', SIM removal alert, remote lock/wipe), Anti-surveillance, and a Vulnerability scan in addition. We got our hands on the Premium version of the app, which retails for $19.99.
Interface
On launching the app for the first time, you are given a brief overview of the services AirCover Security app provides. Swiping from top left to the bottom right of the screen will take you through the guide, and at last, you will be prompted to either sign into your AirCover account, or skip the sign-in to configure your account at a later time.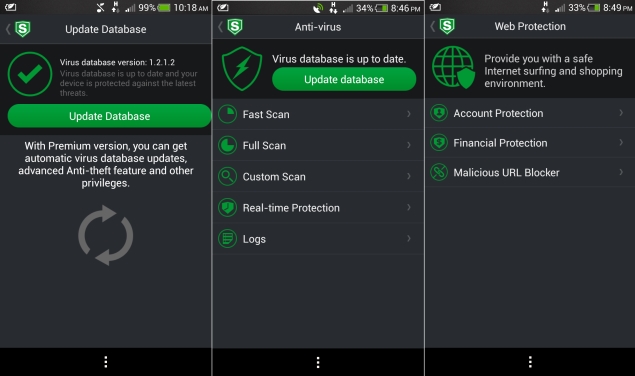 AirCover Security's user-interface is quite simple and very similar to other security solutions like Norton. The top of the app's homepage houses a status that shows how well is your device doing ,if it is safe or at risk. Below the status, you can find the 'Checkup' option which, when used, checks the various features of the smartphone like anti-virus, real-time protection, system performance, anti-theft and backup contacts.
Thankfully, AirCover Security keeps itself out of the notification bar, so unless someone is actively managing the security app, you won't notice it's running, though it is working to secure your mobile device in the background. The app did not hinder the smartphone's performance noticeably, we checked it using the AnTuTu benchmark test both with and without the AirCover Security app running, and found the difference to be negligible.
Features
The AirCover Security app has six categories: Anti-virus, Anti-theft, Web Protection, Privacy Advisor, Call and SMS Blocker, and Performance. There is a seventh option, which is dubbed Premium Zone, and as the name suggests it is for Premium account, and the previously mentioned additional features.
The Anti-virus option offers scan for the mobile system which can be done in Fast, Full or Custom modes. There is an option for 'real-time protection' that scans downloaded files or apps. The Anti-virus feature also includes a log section that shows the duration of the AirCover Security app on a particular device, as in, for how long the app has been protecting the mobile device. It also shows the number of malicious URLs blocked, and number of URLs and accounts protected by the Security app. There are Threat and Operation log sections too that offer details about the last scan or check-up. A big difference between the premium and the free version is that a user is required to manually update the virus database while on premium account the virus database is automatically updated once the update is available online.
Next is the Web Protection,which is fairly self-explanatory. It blocks malicious URLs instantly and protects your personal accounts like Gmail, Mail, Facebook, and YouTube from phishing. Though the Web protection feature is similar on any other Security app, AirCover Security app goes one step further with the AirCoverWeb Shield. When active, it scans every site for phishing, fraud, harmful sites and malware to ensure safe browsing and payments via mobile. For example, the app blocked Freecharge.in on our mobile device as the browser showed a few ads while we were trying to recharge our mobile number. However, we had to turn off the AirCover Web Shield as it eats into battery life.
The Anti-theft feature is perhaps the most important feature of a mobile security app. These days, our mobiles store a virtual wealth of information - contacts, emails, images, videos and much else. Losing a handset is the most frustrating feeling, and can be quite devastating if one doesn't have some anti-theft features in place. With AirCover security app, the user first needs to set up an account, and then enable Anti-theft. They will then be able to locate or lock a lost phone, sound an alarm, clean private data and backup contacts. One can even try the alarm and location features without setting up an account. However, we won't advise that because without setting an account, you would be unable to track your phone. The AirCover Security app's Anti-theft feature is quiet similar to the Norton Mobile Security app.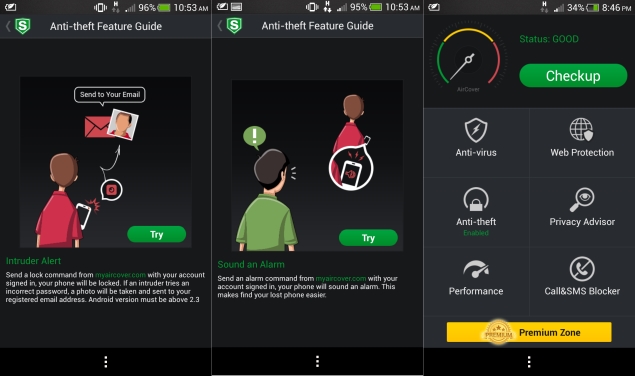 Much like Norton's Mobile Security app, you can control the AirCover Security app's anti-theft features from a Web portal; however, myaircover's web interface was a bit confusing and the Anti-theft setup was initially lengthy. Interestingly, you can even take a photo of the person using your lost or stolen device with the Intruder alert feature.The feature can also alert you when your SIM card is replaced. Users can access the www.myaircover.com portal in the free version also, though the web portal greys out all the available tools.
The Privacy Advisor feature is helpful in monitoring ads on the mobile. You can block annoying ads and uninstall unwanted apps. There is an 'app privacy list' that scans and displays the apps that can access personal details such as contacts, locations and messages. For premium account users, the app also offers Anti-surveillance feature, which can help you from being monitored and eavesdropped on.
The Call and SMS Blockerdoes exactly what you would think - it blocks certain numbers from being able to contact you on your mobile. We were able to block some telemarketers' numbers that disturbed us via calls and SMS. However, at times the feature was annoying as any call from a landline number was considered as a pesky call and was blocked instantly even without asking for permission. We had to unblock the number everytime.
AirCover Security's Performance feature is a new addition; it helps speed up the Android device's performance by closing apps/ killing tasks that run in the background, and cleaning your history/ app cache/ junk files. The feature also optimises shortcuts on the homescreens. It's worth pointing out that even the popular Norton Security app for mobile does not offer this Performance feature.
In addition, the AirCover Security app also keeps an eye on the mobile device, and warns the user as soon it detects something it doesn't like, which at times gets maddening! In one case, the app marked few old messages from the inbox as spam and blocked them.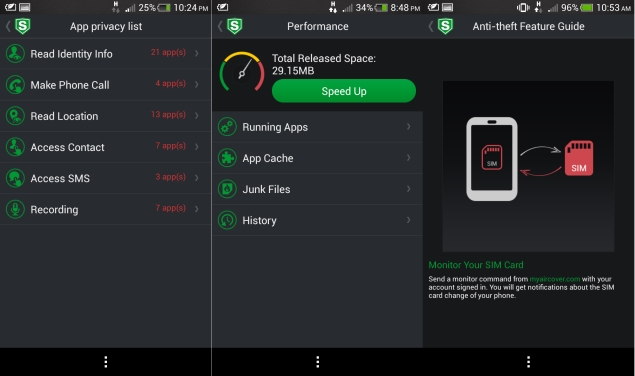 Other premium features include the Vulnerability Scan, which checks for third party apps' performance and overall safety. It automatically scans the device for apps and files stored in the built-in storage or microSD card for malware threats and marks them as 'Low-risk' or 'High-risk'. At times, it also randomly marked the Facebook as well as Twitter mobile apps as high-risk apps that can read mobile number, serial number and other identity data - so, this feature didn't work too well, or rather, erred on the side of caution.
Financial Protection is a feature that safeguards users when using banking and payment apps, by ensuring the gateway is actually secure, and that no suspicious activity is observed in the background. We tried the feature on Paytm app, and experienced no hiccups. This feature supposedly runs silently in the background, and therefore, we were not able to measure its efficacy, and will not be able to tell you just how well it performed.
Verdict
BlueSprig's AirCover Security app is a comprehensive option for those looking for a lower cost alternative to the more popular mobile security suites, or are not fans of big names like Norton or McAfee.
The anti-theft feature of the AirCover Security app work as advertised, as we tried to locate our phone from the Web portal and it didn't disappoint us.
The AirCover Security app's UI is well-designed, and all the features did work well - the result is it comes extremely close to some big mobile security app players.
AirCover Security is available for free on Google Play store and those who like to upgrade for enhanced features can choose a premium version that is available for $19.99 (Rs. 1,199 approximately) which if compared to some popular mobile security apps, is definitely good value.