Popular Microsoft programs like Word and Outlook used to be restricted to Microsoft's own devices, but that's something which has changed, and dramatically. Microsoft under Satya Nadella, who
took over from Steve Ballmer
last February, has been making strides to
change its focus
to be a "mobile-first, cloud-first" company, as the Redmond giant understands that it can
no longer rely on its PC dominance
with Windows.
Last year, Microsoft made editing documents free on Office for iPhone, iPad, and Android, but that was only the first step - it has now started offering apps bundled on select Android devices. Microsoft is clearly stressing on ubiquity of its services rather than taking Android head-on, unlike how Samsung has been pushing its Tizen-based operating system.
Recently, Microsoft also released its digital voice assistant Cortana on Android in public beta. The Cortana digital voice assistant was previously exclusively available to Windows Phone users; it will be soon available to all Android and iOS users in addition to Microsoft's own Windows 10.
In the meanwhile, Microsoft partnered with Samsung, resulting in high-end Galaxy devices such as the Samsung Galaxy S6, Samsung Galaxy S6 Edge, Samsung Galaxy Note 5, and Samsung Galaxy S6 Edge+ coming preloaded with Microsoft's suite of apps. This includes Bing Search, Skype, OneDrive, OneNote, Outlook, and the Microsoft Office suite. Cyanogen and Microsoft have already announced a strategic partnership that will see popular Microsoft services being integrated into commercial Android-based custom ROM. LG's recent G Pad II 10.1 tablet comes preloaded with Microsoft Office, and also features an additional 100GB of free OneDrive storage for two years.
This all ties in to the idea of mobility focusing on experiences, not devices. So, while Microsoft has been trying to get developers to build apps for its Windows platform, with new tools allowing quick and simple porting of iOS and Android apps, it's also trying to make sure that whichever platform a user is on, they will be using a Microsoft product. The release of Cortana in public beta for Android can be considered as part of the same plan as it can bring more search queries from devices powered by Google's mobile operating system. Apart from increasing Bing's marketshare for search queries, Microsoft will be looking to add more users, ones who would choose the Bing-powered Cortana over Google's search.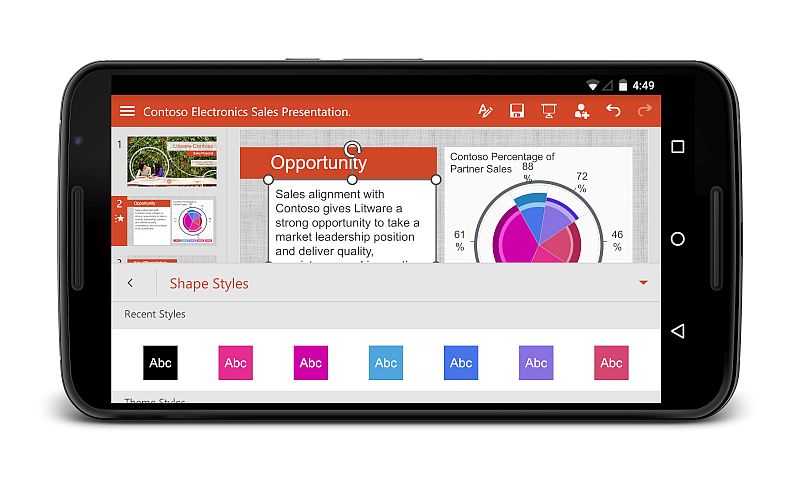 It's a sign that Microsoft is not backing off from the mobile race yet, and for consumers, the more competition there is, the better. That's what leads to deals, and innovation, and the development of new products. Should Google be worried by Microsoft's software push into its own ecosystem? Probably not, considering that Google's Android still rules the smartphone market with a report earlier this year claiming that Android accounted for 81 percent of all smartphones shipped in 2014. But Microsoft's push into Google's OS is good news for any Android user who, for example, has found apps such as OfficeSuite 7, Polaris Office, Kingsoft Office, and Google's own Drive, insufficient substitutes for Microsoft's Office suite.
In the drive for eyeballs, Microsoft is giving away its Office suite for free on small devices, something that you would have certainly had to pay a hefty fee for earlier, if it was available at all. Getting it pre-installed on devices makes the apps even more accessible to a user. Now that Google is cutting bloatware a user might actually find less of Google's apps on an Android device, and instead finds more apps from Microsoft.
For Microsoft, its new strategy might well pay off. For Android users, it means that we're getting a lot of value for free. And over time, it should mean more competition and therefore choice for the user, which might be the best result of all of this manoeuvring.