On Thursday, we came across a YouTube app apk file that enabled better viewing of vertical videos on full screen on Android. However, the company CEO Susan Wojcicki on Thursday during the 6th annual Vidcon YouTube fan convention at Anaheim, California, announced the new version of the app officially, which besides featuring the proper showing of vertical videos, also comes with an updated user interface.
The update is currently available for Android, mobile Web, and iOS devices. As per the announcement, the update brings three new tabs in YouTube namely Home, Subscriptions, and Account. The updated interface features are server-side changes that will rollout in a gradual fashion. For Android, version 10.25.57 is already showing the new tabs, but retains the hamburger menu on the left. This is not the case with v10.28 (which has also rolled out to iOS on the App Store) of the app, which removes the hamburger menu for some users. Some users are also seeing Trending as the fourth tab.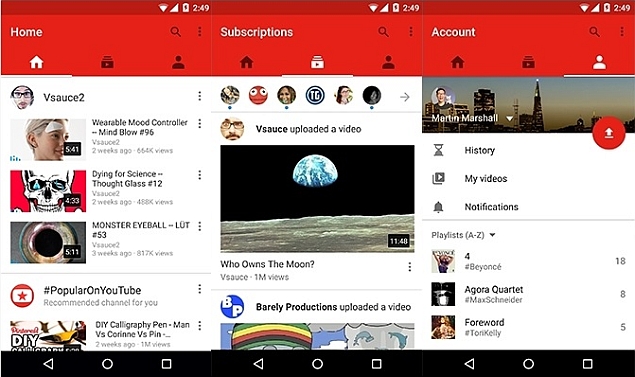 The Home tab would let users explore videos recommended by the video service, based on the viewer's video browsing history. The Subscription tab would enable users to find and watch their favourite videos from the channels and creators. Also added is the bell icon on the channels that would give users notification alert whenever a new video has been uploaded on the channel or by the creator. In the Account section YouTube users can check their playlists, watch history and the videos they have uploaded on the portal, all at one place. In the Trending tab, popular trending videos from across the world are showcased.
The redesigned YouTube app furthermore gives users the ability to use a new set of video creation tools. Creators can now trip their video footage, tint the image with filters, add music and upload, all from inside the YouTube app.
Other announcements by Wojcicki included the 12-step process of YouTube's live-stream feature would be reduced to 3-step process. She added that later this year, YouTube will start supporting 360-degree videos in 3D. "And we're going to make sure all our Spaces are outfitted with the latest Jump cameras that capture 360-degree video in 3D in unprecedented quality."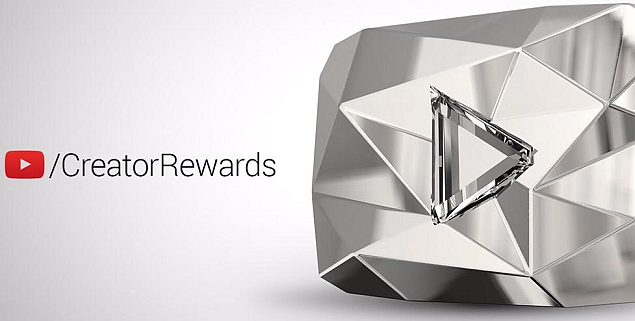 Before closing the session, Wojcicki introduced something called as "diamond" playback button reward, which would be received by those creators who have more than 10 million subscribers. Those with 1 million subscribers would get a gold play button rewards and those with 100,000 subscribers would receive a silver play button. Details can be seen in YouTube's dedicated Creator Rewards page.