Seems like Microsoft's Windows 8.1 and Windows Phone 8.1 platforms are finally witnessing some traction among users according to the latest statistics from the Redmond giant.
Bernardo Zamora, Director of Business Operations, Windows Apps and Store said that in September around 70 percent of the Windows users who downloaded apps from the Windows Store were running Windows 8.1 on their devices. Also, Windows Phone 8.1 became the company's 'Primary download OS version' for Windows Phone apps. The company said Windows Phone devices running OS version 7.xx barely reached the 5 percent mark of all app downloads.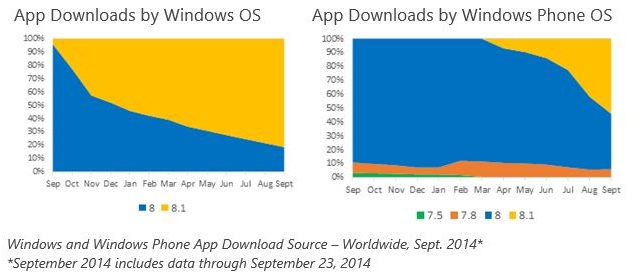 In August, the 'Games' app category contributed to a major chunk in total app downloads on both the platforms, followed by Music & Videos, Social, Entertainment, and Tools & Productivity categories.
Country-wise, in August the top 5 regions with the highest number of Windows app downloads were the US, China, France, the UK, and Russia, whereas the top Windows Phone users were the US, China, India, Brazil, and the UK.
Zamora also mentioned that the revenue generated by in-app purchases were more than the revenue made by paid apps in August.
"As this trend continues, even some paid apps are moving to a "freemium" model with a free base app and an in-app purchase feature," added Zamora in the blog post.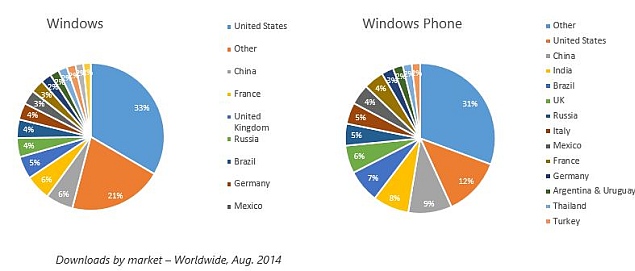 Zamora also mentioned that keeping a low in-app purchase limit may not always lead to higher revenue. "Another interesting data point is that lower price points on in-app purchases do not necessarily lead to higher revenue. While the majority of apps in the Windows Phone Store are offering in-app purchases at or below $2.00, the top 20 highest-grossing apps have in-app purchases ranging from $0.99 to $99.99, with the average being $24.84 and a mean of $10.99."
While Microsoft's figures indicate app downloads and the new platform adoption are on the rise, the Redmond giant is expected to offer a glimpse of its vision for next Windows version on Tuesday.
Although the new software won't be formally released until next year, analysts already consider its success crucial for Microsoft and Satya Nadella, who has made mobile devices and Internet-based services priorities since becoming CEO in February.
Written with agency inputs.