The much-awaited WhatsApp free voice calling feature seems closer to launch, with new reports citing evidence in the latest builds of the app for Android, complete with screenshots of the various parts of the voice-calling interface.
WhatsApp distributes to main builds for Android, with the one on Google Play less up-to-date than the one found on the company's own website. It's this latter build that supposedly features hidden material for the voice calling feature, probably being used for testing purposes.
As per a report by AndroidWorld.nl (via GSMArena), the screens seen in the latest WhatsApp build for Android from the company's site indicate the voice calling function is quite separate from the chatting function, with different screens meant for dialing, call logs, and contacts.
The report also points to an ability in the app to listen to conversations again, though this functionality is not immediately apparent from the leaked images, and the site may be referring to another screen.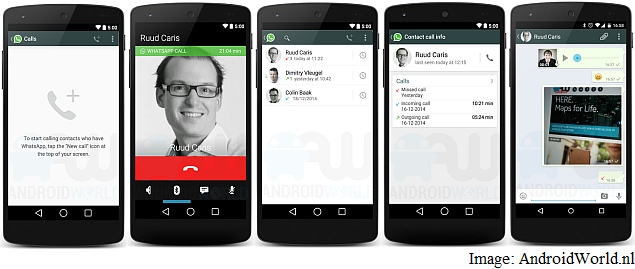 CEO of the Facebook-owned WhatsApp, Jan Koum, in October confirmed that the voice calling feature was in the works, but had revealed the release would be delayed till Q1 2015. Koum said the firm still has several technical issues to overcome before it can successfully launch seamless voice calling. Koum noted issues like how the app doesn't have access to certain microphones on the smartphone to properly enable noise cancellation.
Koum also added that the WhatsApp development team is looking for ways to implement the voice calling service in poor data coverage areas, considering that many WhatsApp users in emerging markets are still on 2G networks.
Catch the latest from the Consumer Electronics Show on Gadgets 360, at our CES 2022 hub.
Related Stories