We have already seen WhatsApp Messenger bringing numerous features to its app, from sharing of pdf files, a redesigned Settings page, to showing end-to-end encryption notification. Well, the Facebook-owned messaging application has now received a new set of features as a part of the version 2.12.535 for Android. In the meanwhile, the company has also rolled out an updated version of WhatsApp for iPhone, bring it to version v2.12.16.

The version at the time of writing is not available to download from the company website but is showing up as an OTA update on Google Play for beta testers (via Android Police). One can become a beta tester by visiting www.whatsapp.com/android. It is currently not available for iOS, regular Android users with app version number 2.12.510 or lower.
WhatsApp v2.12.535 for Android seems to be one of the major updates the app has received after document sharing. It now lets you format text inside messages as bold and italics. All you have to do is to put the text that you have to see as bold *inside asterisks* while typing and the phrase you need to italicise _between underscores_. The recipients can only see the text in bold and italics if they are on the same app version.
The text formatting is not only limited to messages but has reached to notification alerts as well. Users with the new WhatsApp version will see the name of the sender in bold inside the notification dropdown. In addition, if the sender has sent texts in bold or italics, it would show in the same format in the notification tray. Of course both parties should be on the same app version number 2.12.535.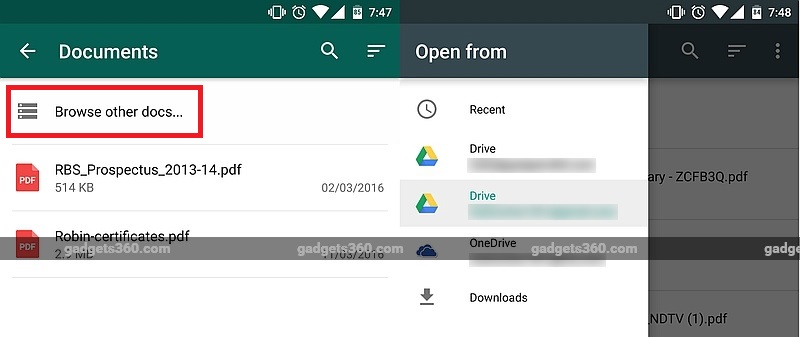 WhatsApp recently started letting us send and receive pdf files over chats. Now with the latest version, it lets Android users send pdf files not only from the device storage but from Google Drive and Microsoft OneDrive accounts as well. As a bonus, you can also send Docs, Sheets, and Slides files from Google Drive but they will be converted into a pdf format automatically before being sent.
Finally, the WhatsApp update v2.12.535 like before will still block the complete app when the scheduled backup starts, but will now display a progress bar, giving users some idea as to when they can get back to the app.
All these changes will be welcomed by users, as they can now do much more inside the app. The app version will probably see a rollout over the air soon via Google Play and also become available on the company's site.

In the meanwhile, the updated WhatsApp for iPhone (v2.12.16) is available on the App Store, brings the ability to share pdf files from other apps, missed call notifications within chats, quick reply to in-app notifications, and the ability to save incoming media in contact or group info.