Google has
updated
its Gmail app for Android to bring actionable notifications for incoming email for phones running Android 4.1 Jelly Bean. Following the update, users will be able to reply, archive, and delete incoming emails directly from the Android notification tray, without the need to open the Gmail app.
The app already allows users to customise notifications for and set up different sounds for mails with different labels.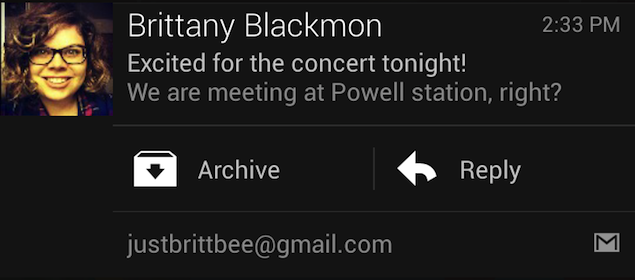 In addition to actionable notifications, the updated app also brings faster search and better search suggestions, and according to Google users can now find messages quickly online and offline. The faster search feature has also been extended to Android 4.0 Ice Cream Sandwich users via the update.
The latest version of Gmail can be downloaded via
Google Play
.
Google had introduced actionable notifications with Android 4.1 Jelly Bean, but it's not being utilised by a large number of apps. It's good to know that at least Google's implementing it for its own apps. We'd like to see more apps putting actionable notifications to use.
Recently, Google had
updated
the Gmail Offline app for Chrome as well as mobile web apps for Android, iOS, BlackBerry and Kindle Fire devices, bringing a refreshed user interface. The update had brought profile pictures in messages, some new animations such as swivels and transitions in addition to infinite scrolling in the message lists. It had also introduced the ability to sign-in to multiple accounts, RSVP to Google Calendar invites as well as +1 and comment on Google+ posts directly from the app.

What's new
Android 4.1 (Jelly Bean) and up
• Reply, archive or delete from notifications - no need to open the app
Android 4.0 (Ice Cream Sandwich) and up
• Faster search, even when you're offline
• Bug fixes and performance improvements
Android 2.2 and up
• New Labels API for 3rd-party app developers
• Performance improvements