UCWeb, the makers of popular Web browser UC Browser, has announced a partnership with Indian e-commerce giants like Amazon, Flipkart, Snapdeal and others, to give users of UC Browser the ability to search for deals and discounts over 15-days in the festive Diwali period.
Branded as the Diwali Shopping Festival, the promotion is visible in the UCshopper section of the UC Browser app. The firm says the tie-up with Indian commerce sites will extend beyond the Diwali season in India. It is available on UC Browser for both Android and Windows Phone.
"We (UCWeb and e-commerce sites) are not only doing it on Diwali, but we will work closely to provide more discounts in the future," said Kenny Ye, Managing Direction of UCWeb India. "The partnership will go further beyond Diwali Shopping Festival, as more in-depth cooperation is under way."
Participating e-commerce sites in India include Amazon, Flipkart, Snapdeal, Myntra, Jabong, Homeshop18 and Shopclues. UCWeb, an Alibaba Group company, says there are numerous prizes to be won and exclusive cash back offers from multiple partners. The firm adds every registered Amazon user will get a Rs. 150 giftcard after their first purchase of Rs. 1,000 or above via UC Browser.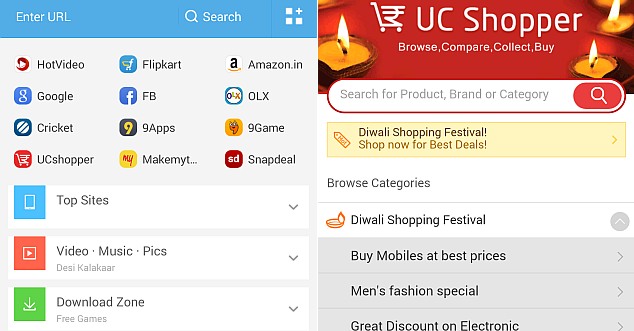 UCWeb says that its tie-up with Indian e-commerce sites "is the first partnership of its kind where mobile browser and e-commerce giants work together." The company in a statement added that with the move UC Browser "could become a game changer in the fierce competition prevalent in the e-commerce industry today."
Explaining its motivation behind the tie-up, UCWeb said mobile Internet users have been recognised by e-commerce sites, and has become a key focus area for them. It quotes a report by Avendus Capital to say mobile-only Internet users accounts for a half of India's Internet population to explain why 50 percent of the transactions made on Flipkart and Snapdeal come through mobile devices.
UCWeb says it has witnessed e-commerce traffic to India's major e-commerce sites increase by over 30 percent month-over-month in 2014. The UC Browser Diwali Shopping Festival ends on October 28.