Seems like there is no stopping Ubisoft from making new Assassin's Creed games, as the developer and publisher has unveiled its new Assassin's Creed Identity video game for iPhone and iPad users. The firm recently also introduced two new DLC for AC: Unity Season Pass holders, including the Assassin's Creed Chronicles: China side-scroller.
Assassin's Creed Identity has been soft-launched in Australia and New Zealand on Tuesday, and will only be launched globally sometime in 2015 after "incorporating feedback from players". No mention of an Android release has been made.
It is a third person action-RPG video game that is free-to-play, but includes in-app purchases that can mostly all be earned through gameplay. Players can customise their Assassin character with unique outfits and unlock other in-game items as they play through, as seen in the 22-minute Assassin's Creed Identity gameplay video courtesy TouchGamePlay. Players can also borrow help from their friends to complete certain objectives.
Ubisoft's Assassin's Creed Identity is set during the Italian Renaissance, and lets players complete objectives in iconic cities including Rome and Florence. The Assassin character in the mobile video game can be controlled via an on-screen analogue stick. The game also includes familiar features like parkour, climbing, stealth attacks from haystacks, and more. It requires iOS 7 or later to run.
The company last week announced Assassin's Creed Chronicles: China. Created by Climax Studios, the 2.5D sidescroller video game will launch in early 2015. It will feature female assassin Shao Jun as the protagonist, will only be available to players who have bought the Assassin's Creed Unity Season Pass.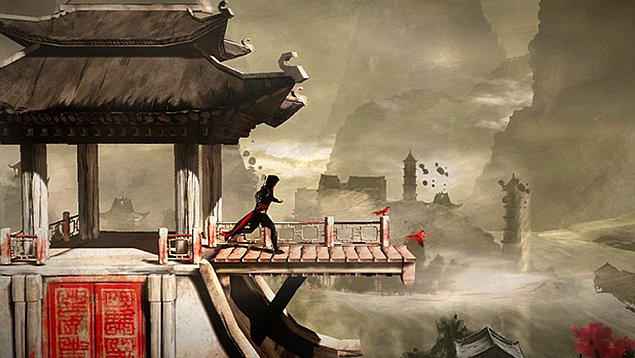 The art-style of Assassin's Creed Chronicles: China is based on traditional brush paintings, while the game includes locations like the Great Wall of China and the Forbidden City.
Ubisoft will also be offering a new DLC - Dead Kings - for Assassin's Creed Unity Season pass holders. The DLC, also due in early 2015, is set after the events of the AC Unity game, and lets players test the skills of Arno in Paris. New weapons and side missions also come as a part of the DLC.
Notably, the game developer also introduced Assassin's Creed: The Americas Collection last month, which includes 3 games from the popular franchise, namely Assassin's Creed III, Assassin's Creed IV: Black Flag and Assassin's Creed: Liberation HD.