A new low-cost service from Uber, the company that offers users luxury cars for hire via its mobile app, has arrived in India, called UberX. It kicked-off on Wednesday with three cities - Bangalore, Hyderabad and New Delhi.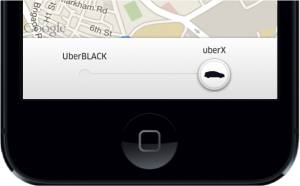 Users of the Uber app will see a new option UberX at the bottom of the app's screen, which they have to slide to from UberBlack (the regular priced version). About the pricing of the UberX service, it differs in respective cities, however, in each case, base fare, fare per kilometre, minimum fare, and cancellation fee is lower than the UberBlack service.
Uber has also added a Split Fare feature in the service to make it more affordable to customers. To perform a fare-split, users need to request a UberX or UberBlack ride, then tap the 'up arrow' icon next to driver's info, select 'Split Fare', choose friends, and send. The app will send a Split Fare request to the selected friends, and on accepting the request the fare will be automatically spilt.
"uberX is UberBLACK's little brother. He's a little less buttoned-up but just as fast and super affordable. He's the rebel who wears sneakers with a suit. uberX is, quite simply put, a cheaper version of the Uber you've come to know and love. It's the same Uber app, the same comfort and convenience, and absolutely the very same safe experience you're accustomed to," noted the announcement blog.
Earlier the UberX service was introduced in 16 cities in the US, out of 23 cities where UberBlack is offered. The cities included are Atlanta, Baltimore, Charlotte, Chicago, Dallas, Denver, Indianapolis, Los Angeles, Minneapolis-St. Paul, Nashville, Orange County, Phoenix, Sacramento, San Francisco, Seattle, and Tucson. At some places Uber had slashed the prices up to 30 percent.
The US-based startup - Uber - now operates in over 70 cities globally since its launch in March 2009. The company had
launched its operations in India
in August 2013, started first in Bangalore. At present, the regular UberBlack service is available in 6 cities - Bangalore, Chennai, Hyderabad, Mumbai, New Delhi and Pune.