Uber, the US-based startup that allows users to hire luxury cars via its mobile app, has stealthily rolled out its service in Bangalore, marking its entry into the Indian market.
In a blog post, Uber mentions that it will be in a secret testing mode in Bangalore over the next several weeks and that availability will be limited as it works to make more cars available and test its pricing. It has also mentioned that it's looking to hire people in India and that the position of a rockstar Community Manager is open in Bangalore.
The blog post mentions celebrity artists Raghu Dixit and Vasundhara Das were amongst the first to experience Uber in Bangalore. It doesn't give many details except for highlighting the process of summoning an Uber cab through the service's mobile app. It also doesn't mention anything about the fleet of cars, barring that the two celebrities were chauffeured around in a Mercedes E-Class.
Uber does mention an email ID and the company's Twitter handle for its Bangalore operations. It's not clear how it's selectively testing its services but the app is almost ready for use in India.
We tried using Uber's app and found that it detected our location and even allowed us to link our credit card, select the pickup and drop locations, and offer estimate fare. The interface has also been customised for India as the splash screen displayed the Rupee symbol.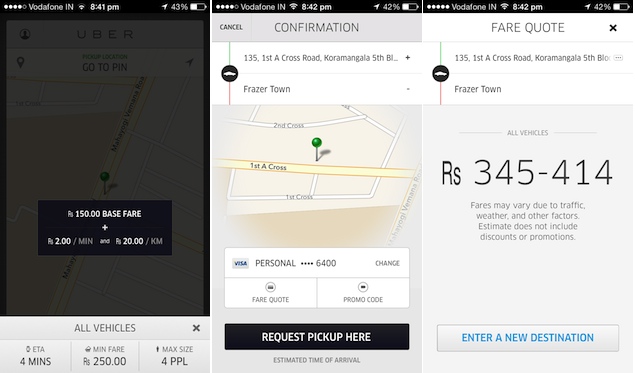 We're not sure if it's the final fare but the app currently lists Rs. 150 as the base fare with a charge of Rs. 2 per minute and Rs.20 per kilometre over and above it.
The news of Uber extending its service to India was first reported in June by NextBigWhat which pointed out to three job listings posted by the company looking for a community manager, a general manager and an operations & logistics manager in Bangalore.
Uber allows users to request for cab hires, connecting them to drivers of luxury cars. However, it doesn't let users make advance reservations and is an on-demand service so you can summon a car when you want to travel immediately. It keeps your credit card number on the file and deducts the fare automatically so there are no physical payments involved. It will be interesting to see how it competes with existing Indian players like OlaCabs, Meru and others, though it's clearly targeted at the high-end segment.
For the latest tech news and reviews, follow Gadgets 360 on Twitter, Facebook, and Google News. For the latest videos on gadgets and tech, subscribe to our YouTube channel.
Related Stories