Twitter is reportedly testing auto-playing videos and a 'quality filter' on its app platforms.
According to a report by Advertising Age, some Twitter users on iPhone and iPad in the US will start to notice some videos playing automatically in their feed starting Tuesday. The auto-play video feature is in testing stage, notes the report, citing a company spokesperson.
"We're running a small test on a few variations on the video playback experience," a Twitter spokesman said in an emailed statement to Advertising Age.
The auto-playing video test is said to be effective on promoted video ads, videos uploaded through Twitter's mobile app, and clips that are part of Twitter's Amplify program.
Some people will see the entire video playing automatically in a loop, while some will only see a six-second loop, notes Advertising Age citing a person familiar with plan. Further, both formats will play the videos on mute, but if users click on the videos they will expand to full-screen and play with sound. So far, Twitter-owned Vine videos will not play automatically as a part of this test, notes the report.
On the other hand, Twitter on Tuesday released an update to its iOS app bringing "Quality filter" feature, first noticed by Anil Dash via The Verge, to help users remove unwanted content from their timeline. The feature is in testing and only available to Verified users, a company spokesperson told Verge.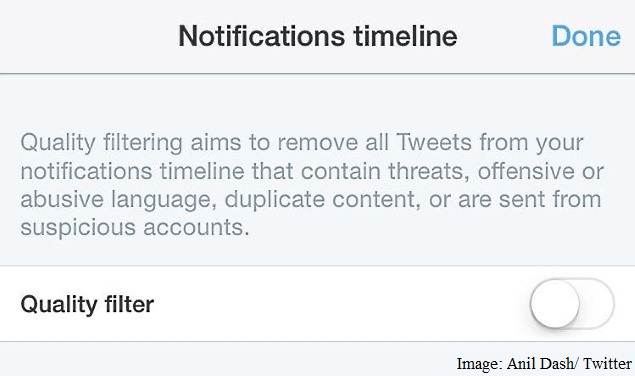 "Quality filtering aims to remove all tweets from your notifications timeline that contain threats, offensive or abuse language, duplicate content, or are sent from suspicious accounts," notes Twitter for the feature.
For the latest tech news and reviews, follow Gadgets 360 on Twitter, Facebook, and Google News. For the latest videos on gadgets and tech, subscribe to our YouTube channel.
Related Stories